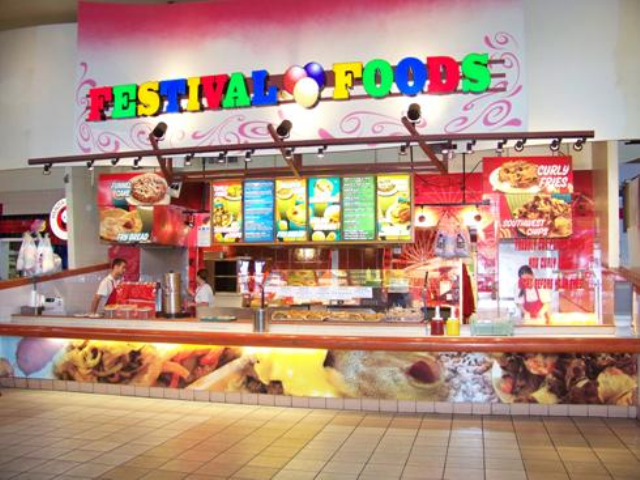 Is the best part of visiting the annual Arizona state fair getting to sink your teeth into food you wouldn't normally dare eat? Well, true fair fiends don't have to wait until the annual state fair rolls around each year to get their fill of funnel cakes and deep-fried, well, anything. Festival Foods Services, the first restaurant in the state to offer specialty foods and treats typically found only at festivals, fairs and special events, just opened at Temple's Arizona Mills mall. If you're one of those fair fiends, you can join in the grand opening celebration with a ribbon-cutting ceremony is scheduled for 11 a.m. tomorrow, Wednesday, Jan. 20. As part of the festivities, the restaurant is offering a free four-inch original Philly cheesesteaks from 12:30 to 2:30 p.m. and 5:00 to 7:00 p.m. In addition, shoppers will receive a free Arizona lottery ticket with any purchase during those times.
Festival Foods Services is offering the most popular festival and fair foods in one location year-round. Specialty foods include grilled Italian sausage, Italian beef, original Philly cheesesteaks, hand-carved gyros, fresh-cut curly fries, fresh-cut potato chips, funnel cakes, deep-fried Twinkies and Snickers and more. The restaurant also offers popular regional foods such as Indian fry bread, grilled southwest chicken sandwiches, southwest chips with steak and chipotle ranch, and the famous Arizona hot dog. "We are the first and only restaurant in the state offering a menu of favorite festival and fair foods," said Rich Hollerbach, owner of Festival Foods Services. "We believe that our unique food selection will complement the great shopping at Arizona Mills."
Nat Handler, director of mall marketing and business development at Arizona Mills, adds: "Festival Foods Services is a great addition to our already popular mix of dining options. We anticipate that this truly unique selection of foods will be well received by our local shoppers and area visitors." Festival Foods Service is located in the food court at Arizona Mills. Arizona Mills interchange is at the intersection of Interstate I-10 and US Highway 60 in Tempe, about 14 miles east of Phoenix. For more information, call 480. 752.0912, www.festivalfoodsrv.com.
About Festival Foods
For the past 25 years, the owners of Festival Foods Services, a Phoenix-based company, have catered their specialty festival and fair foods at national, regional and local events such as NASCAR, NBA All-Star Weekend Block Party, Fiesta Bowl Block Party, Coachella Music Festival, Stagecoach Music Festival, Bonnaroo Music Festival, Miramar Air Show and the Phoenix and Tempe Oktoberfests.