Sometimes, you do get a second bite at the apple. MIXT, the sprout-to-plate restaurant dedicated to bringing better eating to everyone, reopened in Scottsdale Quarter on November 16th.
The restaurant celebrated with a ribbon-cutting from Scottsdale Mayor Jim Lane, Former Arizona Cardinal Michael Bankston, and Mizz Arizona Yesenia Vidales.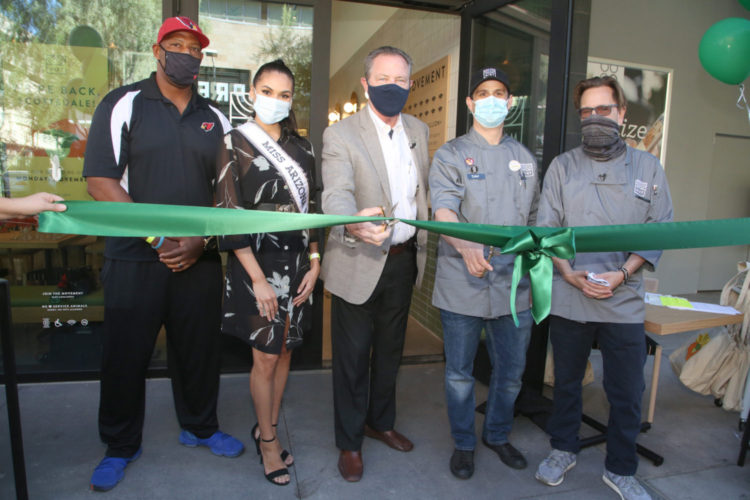 The ribbon-cutting is just the first in a schedule of events for the weeklong celebration which will include free food via BOGO on select dates and dedicated programming to support Child Help in Scottsdale. 
Known for its elevated take on healthy dining, MIXT offerings feature premium, fresh ingredients that are thoughtfully combined to create nutritious fast-casual meals that promote and encourage a healthy lifestyle.
The restaurant industry has been one of the hardest hit by the COVID-19 pandemic. As many dining locations have permanently closed, customers are finding it increasingly difficult to find healthy meal options. The leadership team at MIXT hopes the re-opening positively affects the Scottsdale community:
We've never been more serious about our mission and our responsibility to bring better eating to our customers than we have been this year. Access to healthy food shouldn't be a luxury. We are hopeful that the reopening of MIXT provides tangible support for our community.


– Leslie Sliverglide, MIXT co-founder and CEO
MIXT is proud to be a part of the Scottsdale community and is leveraging its reopening to support Child Help, a local non-profit charity organization that aids victims of child abuse.
Throughout the grand reopening week, MIXT will be donating a portion of proceeds during select timeframes to Child Help, as well as serve as a toy drop-off location for anyone looking to supply holiday gifts to those in need. 
With a menu that boasts hearty salads, grain bowls, sandwiches, and market plate meals, MIXT has built a following across the country with the most loyal fans dining at the restaurant an average of 21 times a month.
As of November 16, customers can enjoy MIXT signature dishes through in-shop and outdoor dining, as well as the restaurant's signature Salad ValetTM 'Salet' service.
Guests can follow MIXT on Instagram and Facebook for up-to-date news and special offers. For more information please visit www.Mixt.com. 
About MIXT 
Known for its chef-driven menu, commitment to quality, and focus on healthy cuisine, MIXT is wildly popular with a large and loyal following across the country.
The restaurant's dedication to bringing better eating to everyone is grounded in a sprout to plate philosophy featuring fresh, sustainable, and locally sourced ingredients. Fans can follow MIXT on Instagram and Facebook. For more information please visit www.Mixt.com.