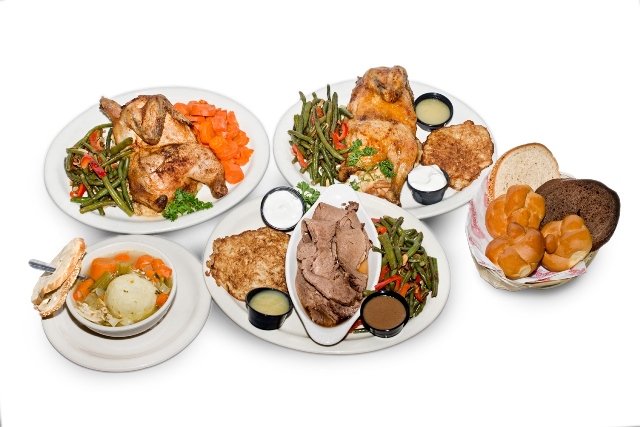 Whether for dine in or take out, Chompie's offers festive Chanukah menus that features family meals, sides and desserts at the restaurant's four Valley locations.
To-go dinner: 
The $149 meal serves eight and includes:
Matzo ball soup
Choice of sliced beef brisket or roasted chicken
Choice of two sides (latkes, roasted potatoes, homestyle green beans, and a broccoli-carrot medley)
Lovey Borenstein's holiday dessert (apple and cherry strudel)
Dine-in menu:
Chompie's will have a dine-in plate of its Chanukah dinner for $18.99 for adults and $9.99 for children under 10 during the eight-day celebration from Dec. 6 – 14.
For those who want to supplement their family meals, the restaurant's Chanukah favorites are also available for take-away by the pint, pound or piece.
Raisin Challah Bread ($6)
Jewish Rye Bread ($4.99)
Matzo Ball Soup ($7.99 / qt)
Homemade Brisket Gravy ($3.99 / pt)
Applesauce ($4.99 / pt)
Mashed Sweet Potatoes ($4.99 / lb)
Black & Whites ($5.99 / 6 pack)
Chocolate Bobka ($8.99)
Chanukah Cookies ($2.25 each)