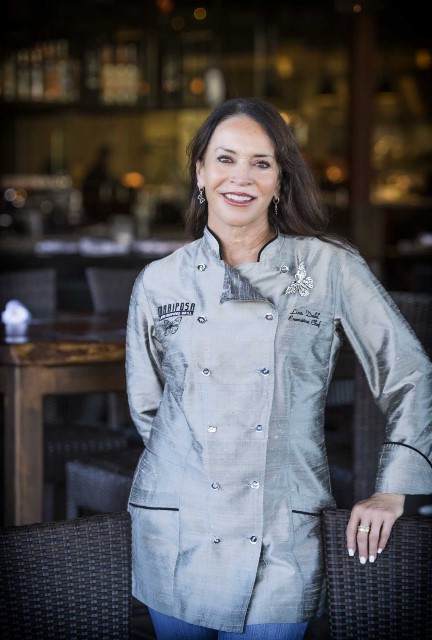 Chef Lisa Dahl of Sedona's mega-loved Mariposa Latin Inspired Grill and Dahl & DiLuca talks about her involvement with this weekend's azcentral.com Food & Wine Experience, taking place Nov. 4 and 5 at Salt River Fields.
How will you be taking part in the azcentral.com Food & Wine Experience?
The first year I did this I instinctively did very natural salads and such. I discovered that people were so thrilled to have this type of soul food that I decided I'm going to do something similar with an all-natural soup and salad pairing with favorites from my cookbook and at Mariposa Latin Inspired Grill. I will be in my booth on Sunday serving "dahlicous" food and greeting guests. I also have a live performance (demo) at 3 p.m.
Any teasers you can give as to what guests can expect?
I am planning to do a Peruvian-influenced salad called Bowl of Paradise with all sorts of exciting flavors and textures, and pair it up with a perfectly balanced garnet yam soup.  As far as the demo, I'm going to do a very special dish I call Veggie Nirvana stuffed roasted poblano relleno and show how fun it would be to make at home.
For a first-time diner, what can they look forward to at Mariposa?
Its Latin-inspired cuisine with an influence of my interpretation of South American meats and vegetarian dishes. I feel we are a serious Latin steakhouse with an emphasis on all-natural meats. We consider our seafood and wood-roasted veggies with equal emphasis. For dinner, expect a bonified Argentinian-style steakhouse fused with South American flavors. You really get the influence from a variety of cooking with the seafood and vegetable dishes.  The side dishes, like my mom's favorite au gratin potatoes, are bold and decadent and there is an array of wood roasted vegetables with a great variety of sultry sides to compliment the all-natural steak or fish. For lunch, you could eat the view with a spoon as you while away the time with highlights such as the Hipster Burger…a lick-your-fingers vegan burger or succulent pineapple scented pulled pork from Beeler's, heavenly fish tacos or the award-winning Gringo Burger that I won the People's Choice Award at the Burger Battle in 2016. And be sure to leave room for homemade churros or the best maple-coconut flan one would ever wish for.
Sedona is transforming into quite the dining destination. What do you think is drawing great restaurants and diners to Sedona?
Soon my Dahl & DiLuca will celebrate its 22nd anniversary in December, and is still considered No. 1 on Trip Advisor consistently since it began, bringing romantic Italian dining to a level of sophistication for over two decades. The work involved in keeping those standards pristine has been very inspirational for other restaurants as well. Although our labor pool is limiting and very challenging, we work hard to be the best. Also, my restaurants are four of the most unique dining destinations and guests tell us one of the reasons they come to Sedona. It has been a journey worth watching.
How did you get your start in the culinary realm?
By always loving to cook and starting fresh in Sedona.  As a sous chef at Dahl & DiLuca for 22 years, I am self-taught from day one.  I came from a long line of cooks, but nothing teaches you more about consistency than serving millions of satisfied guests.  Flavor and balance of ingredients is my style and I love to keep everything simpatico.
More and more female chefs are making waves in the Arizona dining scene than ever before. How does that feel?
It feels long overdue and like we've come a long way, baby!  My goal is to get an opportunity to meet, and hopefully cook with more women chefs of Arizona.
What are your hopes for the future of the Arizona dining scene?
My hope is that independent boutique restaurants will give more local culture to Arizona and continue to flourish among the influx of chain restaurants.
Fast favorites…
Favorite dish in Arizona: As many of you might know, I have a tendency to live in my own restaurants.  But in my heart of hearts (second to my own love of Italian and Mediterranean food), I literally adore Mexican food – from the more refined style of Jeff's at Elote, to the more elevated and sophisticated style of Chef Silvana at Barrio Café. These are the flavors of the Latin American flavors and spices and what inspired me to want to make that a very central part of Mariposa menu flair in my own way.
Favorite cocktail or bottle of wine: When it comes to favorite cocktails, I love a simple margarita but the quality of the tequila such as Fortaleza with fresh-squeezed lime and Cambier drizzled on top is right up my alley one night a week, but good old California medium tannin rich cabernets still float my boat about the other six nights a week.  I'm a perfect mixture of Italian and Latin in my soul, which means I chose the right profession.
To-go dish to make at home: Ha! Home is flax milk, aloe vera drinks and frozen bananas and blueberries. I haven't cooked in years at home but am looking for a good excuse.
Must-have kitchen tool: Can't live without a lemon zester.
Favorite pizza topping: Wood-roasted mushrooms I use in my Primo Portobello pizza at Pisa Lisa.
Favorite ice cream flavor: Hands down, Doc's coconut lemongrass sorbet paired with Peruvian chocolate gelato.