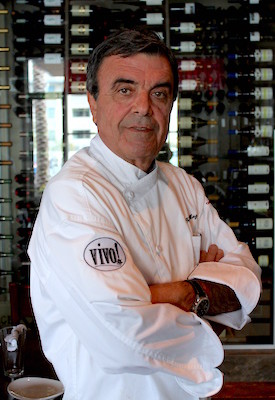 Get to know Chef Tomaso Maggiore of Tomaso's and Vivo! Ristorante.
How did you get your start in the culinary world?
Growing up in Italy as a young boy, I was fascinated by my mother and grandmother transforming simple products to an amazing meal.
What is your favorite memory in the kitchen?
During every holiday season, I loved seeing my mom, aunt and grandparents in the same kitchen, giggling, and having fun while preparing delicious food. I always cherish the memories I have with my family at the kitchen and dinner table.
What ingredients should at-home chefs experience with this winter?
Persimmons because they are sweet, delicious and have several nutrients. The peak season is November and December for persimmons.
Any holiday cooking tips for at-home chefs?
Experience is at the core of the Italian kitchen. Cooking fresh ingredients and simple preparation are the foundation of Italian cooking but it is people who bring a great meal to life.
What is your specialty holiday dish?
Every Christmas Eve, it's a custom for Italian families to prepare "The Feast of the Seven Fishes." In the Maggiore family, we make a Lobster and Prawns Fra Diavolo dish made with lobster tail, shrimp, clams, and muscles in a mildly spicy tomato wine sauce served on linguini. This Christmas Eve at my restaurants, Tomaso's and Vivo! Ristorante, guests can experience "The Feast of Seven Fishes" with a variety of seafood dishes prepared in a traditional Italian way.
What are your goals for the New Year?
My goals are to spend more time with my grandchildren and get them involved in the beautiful art of cooking.
What can diners look forward to when sitting down for a meal at Vivo!?
Diners can experience the new lunch, dinner and happy hour menus that I just launched with Italian wine hand selected by me and the best company — me! You can still find me in the kitchen and I love interacting and having dinner with my customers.