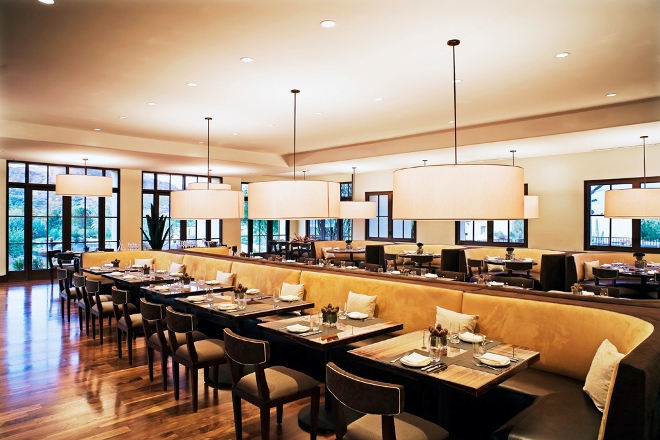 It's hard to believe that Scottsdale's BLT Steak is already turning a year old. I remember dining there when it first opened and devouring the amazing popovers, succulent steak and to-die-for desserts. I also recall the amazing service, cozy outdoor area and lovely sunset views that can be seen from the dining room windows. To celebrate this special birthday, FoodiesLikeUs.com presents BLT Steak's One-Year Anniversary Party on Monday, November 9th from 5:30 to 7:30 pm. The event will take place at BLT Steak located in the Camelback Inn, A JW Marriott Resort & Spa in Scottsdale. The anniversary event will feature passed hors d'oeuvres, exquisite menu selections, a pig roast, signature Prohibition-era cocktails, wine and a champagne toast. Tickets are $30 advance purchase and $40 at the event with a portion of the proceeds to benefit the Children's Miracle Network (http://www.childrensmiraclenetwork.org/).
BLT Steak Scottsdale Dinner Reception:
Passed Hors Douvres
Spicy Tuna Tartar
Mini Crab Cake with Tartar Sauce
Spicy Lamb Tenderloin with Tomato Chutney
Peppered Beef Filet with Mustard Tarragon Butter
Mini Grilled Cheese with Truffle Oil
Stuffed Mushroom Caps
Hors Douvres Action Stations:
Hamachi/ Orange with Honey Sauce
Stationary Platters:
Charcuterie
Artisan Cheese
Popovers and Salads
Gruyere Popovers
CeasarSalad with Parmesan Crostini
Spinach Salad with Bacon Dressing
Entrée Stations:
Char Grilled Hanger Steaks with Mushroom Fricasee
Bearnaise / Red Wine Sauce / BLT Steak Sauce
Suckling Berkshire Pig with Lemongrass Ginger Stuffed
Chimichurri / BLT BBQ
BLT Braisings:
Beef Shortribs with Red Wine Braising Jus and Garlic Confit
Atlantic Sword Fish with Tomato Caper Piperade and Air Dried Sausage
BLT Side Dishes:
Creamed Spinach and Garlic Bechamel
Grilled Asparagus and Sea Salt & Chives
Potato Gratin with Gruyere and Fresh Cream
Hen of the Woods Mushrooms with Thyme Brown Butter
Desserts:
Crepe Souffle with Passion Fruit
Peanut Butter Chocolate Mousse
Carrot Cake
Petit Fours
About BLT Steak
BLT, or Bistro Laurent Tourondel, is the personal stamp of acclaimed chef and restaurateur Laurent Tourondel, named 2007 Restaurateur of the Year by Bon Appétit magazine. BLT Steak opened in Manhattan in 2004 as a revolutionary modern American steakhouse and was named one of Esquire magazine's "best new restaurants in America" shortly after receiving a two-star review from The New York Times. At BLT Steak, Tourondel elevates the classic American steakhouse with his signature style, French training and all-around finesse. BLT Steak integrates traditional elements of a cozy French Bistro with those of a stylish, urbane boite. 5402 E. Lincoln Dr., Scottsdale, 480.948.1700. http://www.camelbackinn.com/.