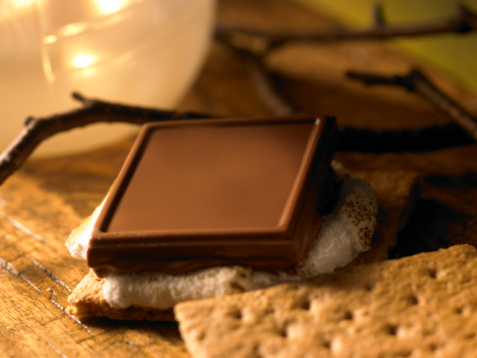 S'mores are synonymous with  summertime. Now that the start of fall is only a few weeks away, it is time to indulge in the Valley's tastiest campfire-inspired eats. Here are five Phoenix restaurants to enjoy a s'mores dessert.
Beckett's Table in Phoenix takes the traditional s'mores dessert (you know, graham cracker, marshmallow and chocolate) and kicks is up a notch–big time–with the addition of peanut butter and bacon. The chocolate-dipped, crispy bacon adds a yummy smokiness to the dessert, and the peanut butter adds some welcome creamy texture.
Salut Kitchen Bar in Tempe celebrates the sweet dessert with your own creative version with a make-your-own-s'mores set at your table over a small flame. The classic interpretation is served with graham crackers, marshmallows and Hershey chocolate.
Part of its summer menu, Z'Tejas is dishing up a unique interpretation of the classic campfire sweet. An ooey gooey cake of marshmallow, chocolate and graham cracker is served alongside another summertime favorite: a root beer float made with vanilla ice cream and IBC Root Beer.
Offering a straightforward, super traditional s'mores dessert, the Tableside S'mores at Frank & Albert's of Arizona Biltmore comes complete with Hershey chocolate, graham crackers and marshmallows–and a flame to cook up your dessert right at your table.
One of the Valley's most unique s'mores desserts, The Melting Pot offers the chocolaty deliciousness in fondue form. The fondue version of this classic dessert presents milk chocolate with marshmallow cream, flambéed and topped with bits of graham crackers. The fondue is served alongside strawberries, bananas, cheesecake, Rice Krispies Treats, marshmallows, pound cake and brownies as dippers.
Check out these roundups of the Valley's best restaurants for visitors and best sweet corn dishes!