In a pickle as to what to do? Head to JW Marriott Desert Ridge Resort & Spa where they've just added 12 new pickleball courts. Along with the new courts, the resort's racquet center has added pickball gear and accessories to its pro shop plus a full-time certified pickleball instructor. The center will offer pickleball lessons, clinics and tournaments and recently hosted the Super Seniors International Pickleball Association's Holiday Classic tournament in December. And for those interested in upping their game, the resort is planning to host pickleball camps and tournaments in the future.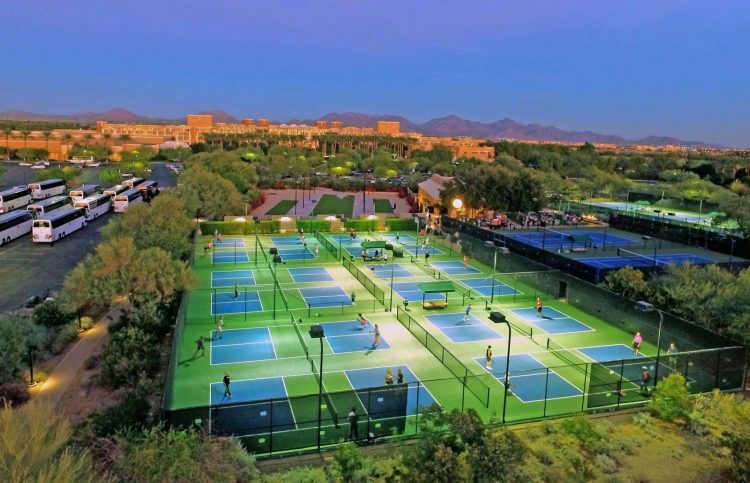 "This is an exciting enhancement for our resort guests, our conference attendees and our club members," said Steve Hart, the resort's General Manager and Area General Manager. "Pickleball is a fun, interactive sport for players of all skill levels, and given its growth in popularity, this gave us the opportunity to offer our guests an amenity that isn't widely available at other Arizona resorts. As a result, we're able to offer and tailor a variety of packages for leisure guests, create teambuilding options for our group guests and the courts provide a picturesque outdoor venue for private buyouts and special events. We definitely hit an 'ace' with this addition."
For added fun, guests can indulge in a tailored menu of pickled specialties that can also be enjoyed with in-house groups who may opt for a team building pickleball challenge followed by a creative breakout session or reception on the courts. According to the resort's Executive Chef Ryan Lamkin, the menu isn't just pickles but an extensive selection of pickled fruits and vegetables, many of which originate in the resort's 20,000-square-foot Chef's Garden and are pickled on site by the culinary team.
"Pickles provide an abundant supply of essential vitamins, minerals, antioxidants and help to improve digestion, so upon completion of the pickleball courts, I saw an added opportunity and was inspired to develop menu options that feature pickled favorites that tantalize the taste buds and cleanse the palette. Pickles have personality and there are a lot of fun ways to incorporate pickles and the pickling process into drinks, dressings, appetizers, salads and beyond. From pickled-infused vodka to fried green pickles, the sky is the limit," said Lamkin.
Lamkin said menus can be tailored for private parties, special events or groups interested in tying in the pickleball theme.  The resort's 12 pickleball courts can host up to 200 guests for a reception and are conveniently located at the resort's tennis and pickleball center.
For more information, visit: jwdesertridge.com