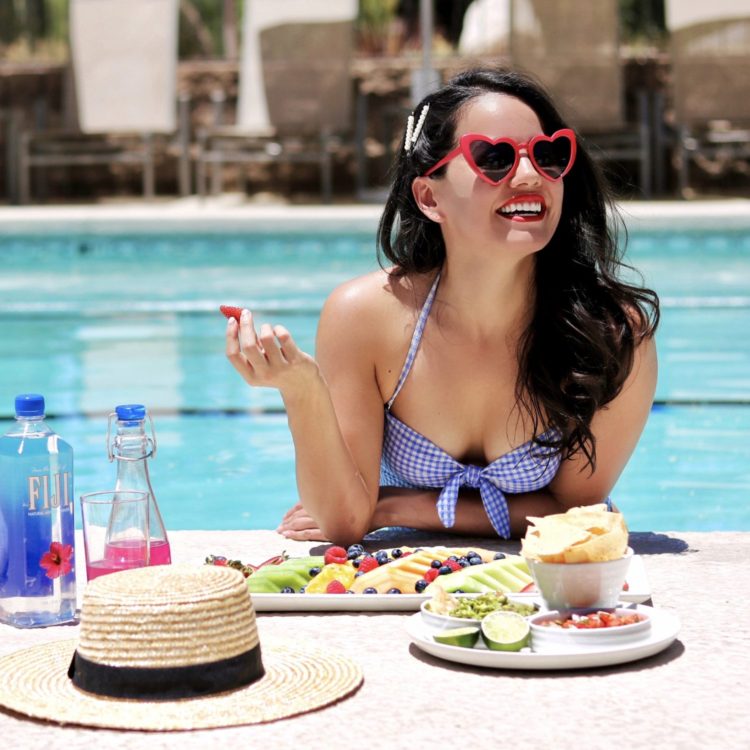 Name: Natalie J. Moe
Instagram: @HappilyPinkBlog
Website: happilypink.com
Title: Founder and Content Creator
Age: 30
Married/Single: Married
Kids: 1 fur baby, Gigi
My city: Tucson, AZ
My favorite parts about my city are… the majestic mountains that frame all of Tucson, and the extensive food scene.
The mountains are something I took for granted. When I went to Illinois for my freshman year of college, I quickly found myself missing this part of Tucson the most. I didn't recognize their beauty until I no longer had it. Now, I take the time to acknowledge the mountains anytime that I'm outside!
The food scene I dived into after I moved back from New York. When I lived in Manhattan, my girlfriends and I loved trying new restaurants and cafes. So, I figured, why not do the same in Tucson?? I am thankful my husband enjoys food as much as me since it's fun to go to a restaurant that neither of us has eaten at!
The best time of year to visit is… the "spring." I love to see the Sonoran desert in bloom! From mid-February to mid-May, you get the most beautiful weather in Tucson! The temperature ranges from 65-80 degrees, and it's ideal for outdoor activities. When I used to cycle on a regular basis, I loved riding through Tucson during this time of year. Palo verdes bloom yellow, while cacti showcase vibrant shades of magenta, orange and yellow! While Tucson is home to many different types of wildlife, the quail families are something I always look out for in the spring. They are positively adorable!
My ideal weekend in town… is a staycation at a resort. The Ritz-Carlton, Dove Mountain or Loews Ventana Canyon are my go-to resorts in town. Both resorts are exceptional: The Ritz-Carlton received their verification as a Forbes Travel Guide five-star luxury resort and spa for the fifth consecutive year, and Loews Ventana Canyon received recognition as a AAA four-diamond property. The culinary teams work diligently to produce bold and flavorful menus. With their unique localization initiatives, they implement vendors and produce from the area when possible. My personal favorite activities at these resorts include: hiking, eating and lounging by the pool. 
The one attraction you can't miss… Tumamoc Hill. While it is beautiful at both sunrise and sunset, I recommend sunrise for a less-packed and more tranquil experience. Get there 30 min. before sunrise to see the saguaros and downtown skyline covered in golden light.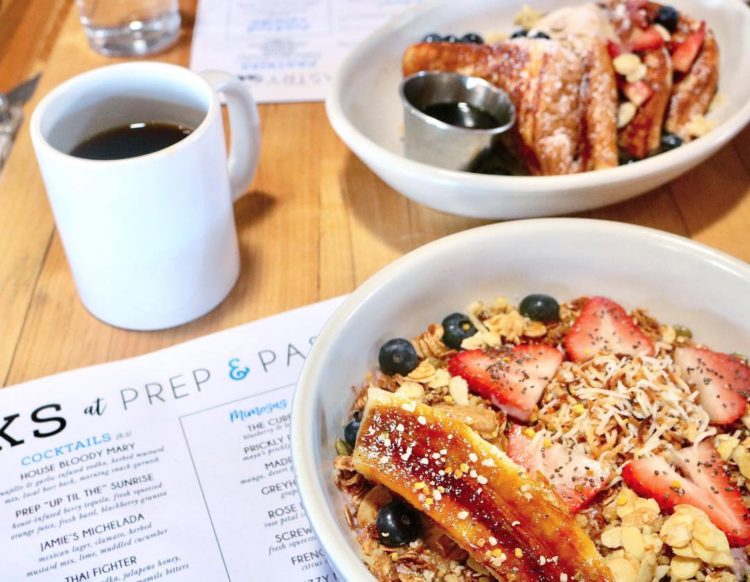 My top 2 picks for breakfast… 1. Prep and Pastry 2. CORE Kitchen and Wine Bar at the Ritz-Carlton, Dove Mountain.
I first experienced Prep and Pastry when I was a student at the UA. Since then, it's my go-to spot for cute brunches with my girlfriends or athleisure brunch dates with my husband, Alex. Go to their central location for the Prep Omelette and Plain Jane pancakes. The omelette's tea-smoked tomatoes, herbed-goat cheese and kale pesto is such a fresh and savory option. Don't forget to order the House Bloody Mary, which includes a 3oz. pour of EXO coffee stout by Ten55 Brewing Company. 
The canyon views at CORE Kitchen are usually something I seek out with out-of-town guests, or when Alex and I want somewhere close-by for brunch. Get the chilaquiles as a heavier option, and the avocado toast or the egg white frittata as lighter options. The cold brew is great as well. One of the many things I love about CORE is their colorful plating. There's so much attention to detail.
My top 2 picks for lunch… 1. Seis 2. Wildflower
Seis is hands-down my favorite taco and breakfast burrito spot! The two things I always get are the smashed beans and horchata. Their taco menu features the different regions of Mexico. If you're downtown, visit the beautiful Mercado and sit in the open courtyard. Even pop-in at La Estrella next door for pan dulce– I've eaten their Southside pastries since I was a little girl! If you have a larger group, their location off of River and Campbell is better.
Wildflower is a special restaurant to me because it's where my father took me before a father-daughter dance in elementary school. Twenty years later, I enjoy coming here for lunch with my girlfriends. I typically order the Tuscan Kale with the salmon; the Irish cheddar vinaigrette pairs so well with the grapefruit. An appetizer we like to split is the Cold Smoked Salmon, which is a galette with crème fraiche. 
My top 2 picks for dinner… 1. Yamato 2. Flying V at Loews Ventana Canyon
Yamato is my most favorite restaurant but isn't one I recommend to everyone. To appreciate it, you need to be a fan of quality nigiri and sashimi. If you like rolls, I do not recommend this spot for you (but you can still order rolls). I first encountered Yamato for my birthday a few years ago. Chef Noboru prepared an omakase for Alex and I, and it was one of the best sushi experiences that I've had in my life. Chef Noboru is the only one who prepares the fish. You can see the pride he has with his work. I usually order the Chef's Choice, or if it's not busy…omakase. Noboru is a fun individual to share conversations with. This is a humble spot but it offers some of the best sushi that you will ever taste. I'm grateful that Noboru moved from Japan to Tucson and opened his restaurant in 1988.
Flying V at Loews Ventana sold me instantly on their green chile cornbread. The restaurant is off to the side of Loews Ventana and features a serene waterfall view on the patio. Since tequila is the restaurant's speciality, I would recommend ordering a margarita or cocktail with one of their 70+ tequilas. As an avid avocado fan, the tableside guacamole is something I experience on every visit. On the menu I'll sometimes deviate and try something seasonal, but Alex and I like to order the Ahi tuna and filet.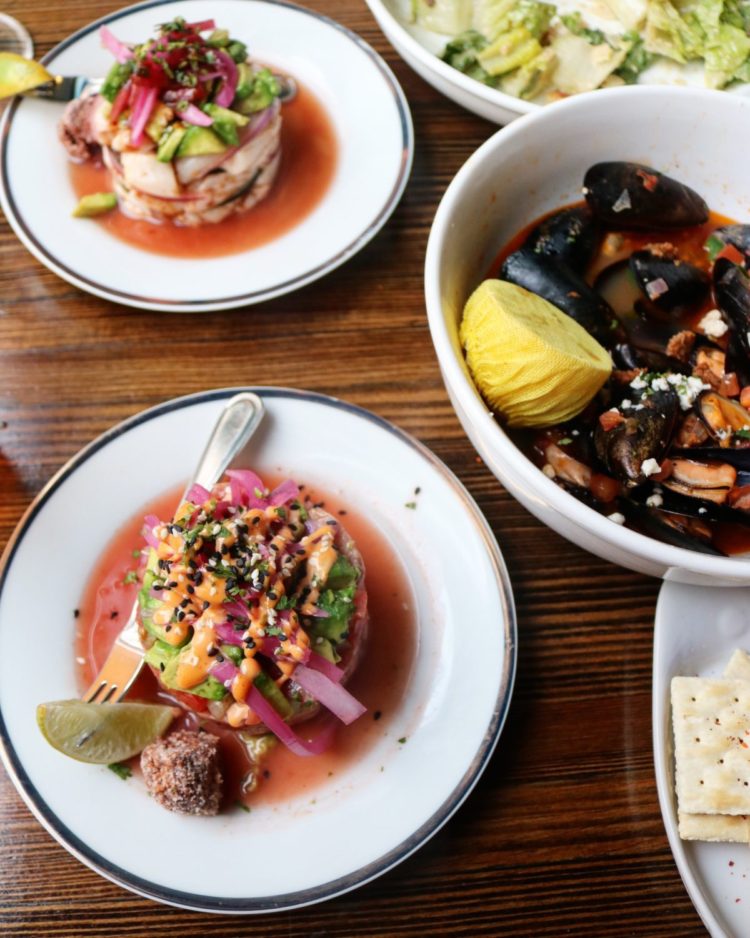 The best happy hour is… Maynards Market & Kitchen. Maynards' happy hour is something I quickly became acquainted with. When I was on a young professionals board, I recommended that we host our board meetings after work at Maynards. Their market area is spacious, and the happy hour prices are fantastic. The sangria is great but you can't go wrong with the wine. Since 2015, they've made the list for the Wine Spectator Restaurant Award.
The best local cup of coffee… Caffe Luce, the downtown location is my favorite! I love black coffee and they offer a variety of roasts. At their downtown location, they also offer a full menu of breakfast and lunch items.
My go-to for the best Instagram photo op is… Sabino Canyon, Windy Point or Tumamoc Hill! What makes Tucson so beautiful are the outdoor scenes.
The best place for a great cocktail… The Independent Distillery. The pre-prohibition bar distills their own spirits then crafts them into both well-known and original cocktail creations. Dirty martinis are my go-to at social events but at the Independent, I like to order their Vesper.
When I want to shop local, I go to… Creative Kind. Creative Kind is a local store at the La Encantada Mall. You can find anything from stationary to Tucson gifts. Additionally, they host a variety of workshops: floral arrangement, mixology class, vision boards, etc. I love how well-connected they are with the community since their workshops often include collaborations with other business owners or service providers in town!
My tips for a great night out… include: cocktails at the Independent Distillery, dinner at Charro del Ray, and a performance by Arizona Opera or the Tucson Symphony Orchestra. If classical and opera isn't your scene, the Rialto and Fox Tucson Theatre often feature bands, rappers, etc. At the end of the night, there's a 100% chance that I will swing by Empire Pizza for a slice and cheesecake.
I recommend staying… at The Ritz-Carlton, Dove Mountain; Loews Ventana Canyon; or AC Hotel.