Grand Canyon University has quite a name for itself here in the Valley, but this expansion of Grand Canyon University is not what we are used to hearing about.
Grand Canyon University has acquired a formerly seedy hotel on 27th Ave and Camelback and has completely transformed it to Grand Canyon University Hotel.
Unrecognizable from its former self, Grand Canyon University Hotel has become what it is today thanks to the hotel's General Manager, Brett Cortright. Brett came to Grand Canyon University Hotel from the Ritz, and brought with him a wealth of knowledge.
We had a chance to interview Brett and pick his brain. Below is the conversation.
What made you decide to leave the luxury hospitality industry to join the creation of GCU Hotel?
I spent most of my career working at high-end properties, including Four Seasons and The Ritz-Carlton. It would have been easy for me to continue down that path, as I know the ropes and very much enjoyed the work. That said, the opportunity to join Grand Canyon University in reinventing this hotel was something I couldn't pass up. This job provides a real challenge – and an opportunity to make a real difference.
Many people don't know that students in GCU's Hospitality Management program have a hand in the operations of the hotel as well as our hotel restaurant, Canyon 49. Learning all aspects of the business is a core tenet of the program, so our students are employed here in service and management positions. Working with our students gives me an opportunity to share the things I've learned during my career and to share my passion for this industry.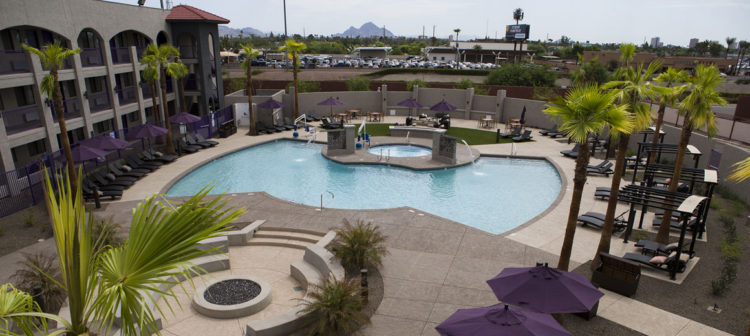 Was the idea to create GCU Hotel yours or did you come in to help see it through?
GCU had already acquired the hotel when I came to GCU. In creating the vision for the university's hospitality management program, Brian Mueller and Jerry Colangelo (the namesake of GCU's Colangelo College of Business) wanted to provide real-world training for our students. They hired me to oversee the renovation, get the hotel up and running and establish the training program for GCU students.
It has been a career dream-come-true for me. The university gave me a lot of latitude in the redesign. I had a hand in every detail – from choosing the lavender scent for our toiletries and picking the right bedding to bigger decisions like creating a culture of exceptional customer service at a value.
Tell us a little bit about the history of the GCU Hotel location.
The hotel was built in the late 1960s. When GCU acquired the property, it was in desperate need of an overhaul..
Located at 27th Avenue and Camelback Road, it's no secret that the hotel was once in an area riddled with criminal activity. You wouldn't believe it now. GCU, as part of its work to reinvigorate the neighborhood surrounding its west Phoenix campus, has invested millions of dollars in a commercial hub at that corner. Nearly 2,500 university employees come here to work each day, fueling a turnaround of the area.
What do you think and hope GCU Hotel will bring to the Valley?
My hopes for GCU Hotel are limitless! Among them are that we provide an exceptional level of customer service at a reasonable price. We are here to serve west Phoenix, as well as families of our students who visit from out of town. We want our guests to have the best possible experience without having to spend a fortune.
We already have an amazing hospitality industry in Phoenix, but 15 years from now, I hope it's even better – and I hope that GCU will have a hand in pushing the industry forward by graduating top-notch professionals.
For our hospitality management students, we offer a hands-on approach to learning. Beyond our hotel, we're also providing on-the-ground training for our students at our restaurant, Canyon 49, and for our golf management students at Grand Canyon University Golf Course. It's an opportunity for them to hone their craft before they hit the job market.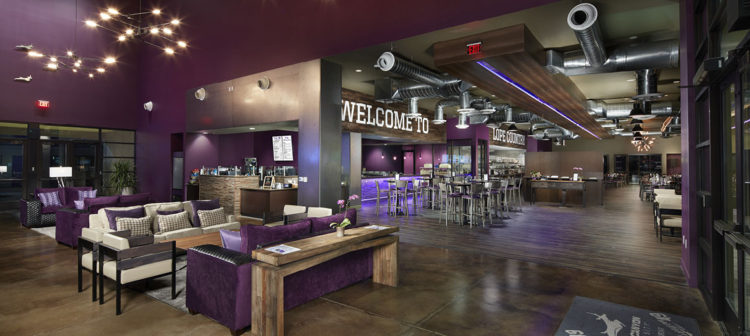 What are some of the major differences between managing for Ritz-Carlton and managing GCU Hotel?
As the Ritz likes to say, we're ladies and gentlemen serving and ladies and gentlemen. Customer service is the keystone of the brand. At GCU Hotel, we're committed to providing the same level of service, but to a much larger guest base.
The Ritz and other luxury hotels serve a very limited demographic, offering a premium service at a premium price. Here, we're interested in a premium service, but at an incredible price that makes our hotel much more accessible.
So far, we have enjoyed great success. Our guests repeatedly tell us that they're impressed with the value, and our reviews on Google and Yelp are encouraging, too. GCU Hotel is new and we are still establishing our identity, so it's crucial that we provide every guest with the best possible experience.
What is your favorite part of GCU Hotel?
I love the day-to-day operations of the hotel, but my favorite experience has been watching our students learn and grow, and knowing they will be a tremendous asset to their future employers.
In April, we graduated our first class of hospitality management students. It has been a rewarding experience to take part in their education.
I have also loved seeing guests' reactions to our hotel. They can't believe the transformation! I'll never get tired of that.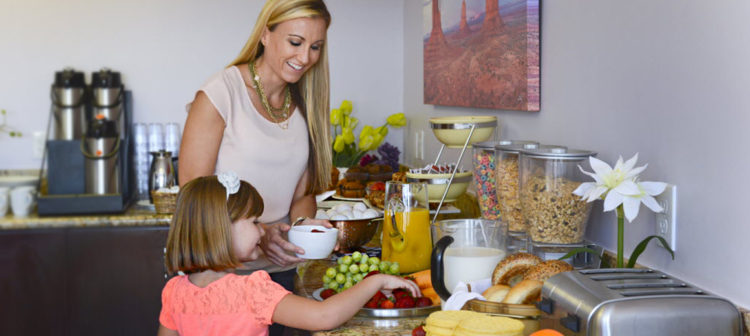 Who is your ideal guest at GCU Hotel?
Many people mistakenly believe that we serve only GCU guests, but that's not true. We're here for anyone who is looking for clean, safe, high-value accommodations. We're located in a central, accessible part of Phoenix near major freeways. Especially given our low price-point, we're a strong option for Phoenix businesses and conventions.
What would you like to see happen with GCU Hotel over the next few years?
Our goal over the next few years is to refine our processes and procedures and refine the services we offer. Since we officially launched the renovated hotel last January, my days have been consumed with managing bookings and trying to keep rooms available! We're operating between 95 and 100 percent consistently. To keep pace with demand, we're talking about adding rooms and meeting space for corporate and special events.