I'm all about multipurpose. There is just an added sense of convenience and value when a new purchase does more than you expected it to do. I can think of numerous items around my home that perform more than the main function I originally desired. An excellent tip for any home is to find multipurpose versions of items you are in the market for. Many kitchen gadgets perform several useful functions, however the multipurpose mentality has also crept into the designs of furniture, appliances and accessories. 
 This piece from Hollandia International seems to fit the multipurpose bill. Different than other convertible style sofas, The Versant from Hollandia international lays flat for sleeping, upright for sitting, angles for lounging and compartmentalizes so that multiple people can sit as upright or slouched as they so desire.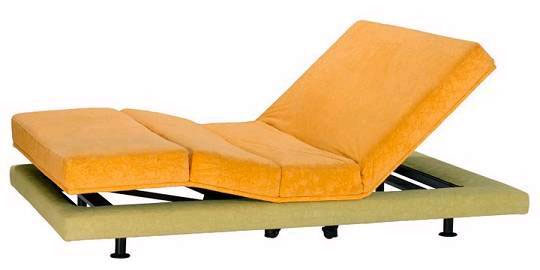 The Versant from Hollandia International is as versatile a seating option as I have seen in a long time. Furthermore, the piece also features a 12 setting massage program. I don't even know if I'd let guests use the thing since they'd likely never leave. The Versant is also a neat idea for at-home spa escapes, because of it's built in massage program, ladies can lounge back with cucumber slices on their eyes for respite right in the middle of their own homes.
 
Available in more than 200 colors, the Versant is manufactured in Israel by a company that has been in the business since 1981. The Versant as well as Hollandia international's other offerings are also available via U.S. stores in Philadelphia and Short Hills. Of course, if you are not in those areas, you can browse and purchase products from HollandiaInternational.com.
Hollandia International has made a name for itself through its well thought out sleep systems which are based on the fact that sleeping flat is actually not the proper way to get a good night's sleep. Hollandia Internatinal products are built so that the head and feet are slightly elevated so as to improve circulation and maximize the benefits from daytime naps or nighttime slumbers.