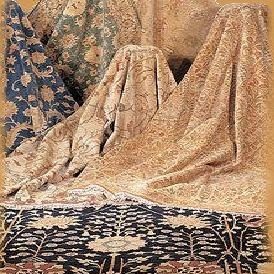 Pet-lovers, this one's for you. There is nothing worse than coming home from a busy day at work and finding your oh-so-cute puppy has destroyed something of value that does not belong to you. Can you relate? I can, because it happened to me. For the past few months I have been training my five month old Labrador puppy named Emerson, not to chew on anything other than her toys. Well, that's like talking to a wall. Literally.
After uncovering she had climbed a puppy barricade and entered my living room, she proceeded to gnaw at the corner of an antique Navajo rug. (Did I mention it's not mine?) I thought by leaving her with another dog—her mother and my four year old Lab named Jersey—she would be less inclined to get into trouble. Boy was I mistaken! Looking back, I was extremely lucky when Jersey only destroyed socks. Now, with two Labradors, I admit I forgot how hard it is to housebreak a puppy without using a kennel. Lesson learned—just a little late. After endless hours of searching I came across a company that mends rugs from unfortunate doings, such as mine.
Passion of Persia, located in Scottsdale, repairs premium exotic rugs including Persian (Tabriz, Esfahan, Qom, Kashan, Kerman, Mashand, Shiraz, Nain, Heriz, and Bijar), Navajo, Chinese, Indian, Tibetan, needlepoint, oriental and antique rugs with convenient door–to-door pick-up. (Additionally services provided by Passion of Persia include carpet cleaning down by hand.)
My saving grace is Manuchair Bastani, master weaver. Currently, Manuchair is one of only two master weavers in the world and the only master weaver in the United States. Lucky for us desert dwellers he is located smack dap in the middle of Arizona.
Like any repair, it takes time to fix. Well, in my case it took five months to restore a one inch area due to the rugs age and thickness. Educated and trained all over the world to master his craft, Manuchair slowly matches up colors to a rug using commercially dyed wools. And like any repair the more colors involved the more time needed to make the repair. To date, Manuchair's expertise has impressed the likes of the Heard museum so much that they've decided to showcase his work. This quick drive to Phoenix will help alleviate any misnomers you may have had in repairing your homes most noticed accessory.
For more information visit, www.passionofpersia.com.