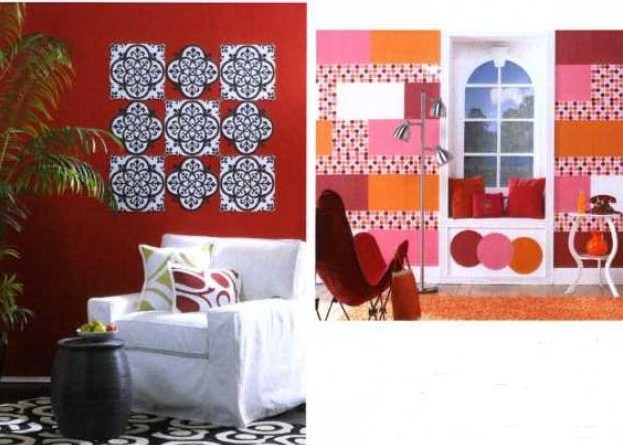 Forget wallpaper – check out the new design trend in wall design and decor.
The following trends are proven by sales of the company's WallPops offering, the premier line of peel and stick wall art on the market today, sold at retailers nationwide:
Colors:
While the line is updated frequently to stay current with trends, the "Flirt!" Dot from WallPops remains the top-selling color of the 13 Solid colors currently offered, reigning as number one since 2007. "Flirt!" combines the softness of a pale pink with the excitement of a brighter shade and features the perfect shade of pink. Available in large 13" circles (Dots), 13" squares (Blox) or 6 1/2 " x 16' continuous rolls (Stripes) that can also be cut to customized sizes and shapes, WallPops gives consumers lots of options when creating their own pink oasis.
For trendy color combinations, customers are matching the popular "Flirt!" pink with other WallPops colors as "Hot Chocolate" brown, "Totally Orange" and shades of blue like "Way Cool Blue," "Shh!" and "Electric Blue." In fact, the "Hot Chocolate" colorway ranks number two in sales of WallPops Solid colors and capitalizes on the obsession in the fashion world with deep and rich hues that make a statement.
Patterns and Designs:
While solid colors produce a classic look, patterns and designs can create an edge and element of surprise. The most popular current WallPops design is the "Tangier" print from the
Tribeca collection, with an arabesque pattern in a graphic black and white that adds an exotic,
Moroccan-like element to a space. In a close second, the "Animal Instinct" pattern has a brown and white zebra-inspired style that serves as a way to bring the wildness of nature indoors.
"With the emphasis on eclectic decorating, animal skins of all types are very popular these days," said Berberian. "We chose to include a zebra print with the WallPops line because it is bold and graphic with a wide audience appeal – from young girls who mix a classic zebra design with pink for a fun and funky environment to the more sophisticated decorators who love the simple, bold combination of brown and white. Further, we live in a global world that pulls designs from every corner of the earth – contributing to the success of the Moroccan-influenced Tangier print."
Aside from just animal prints, animals in general are in style! The ZooWallogy collection from WallPops, featuring farm and safari animals in bright colors and funky vintage retro prints, is a big hit. Young and old decorators alike can choose from large-scale monkeys, giraffes, elephants, horses and more in argyle, paisley and other stylish patterns.
WallPops are available at select retailers nationwide for approximately $24.99 per ZooWallogy animal, $10 for a pack of five Dots, $10 for a pack of five Blox and $10 for a 6 ½" x 16' continuous roll of Stripes. Visit www.wall-pops.com.