As a pool owner who gasps at my electric bill, especially in summer when it quadruples, I was interested to learn more about the new swimming pool at Encanterra – it is the state's first commercial pool outfitted with new "green" filtration system, something we can all do at home to in order to save some bucks.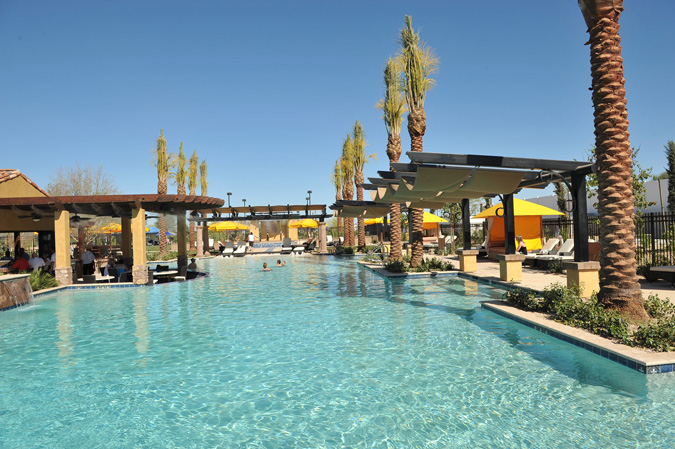 The Club at Encanterra, A Trilogy® Country Club, is pioneering the use of new energy efficient swimming pool filtration technology that has been shown to reduce energy requirements by up to 90 percent in pool applications. Red Rock Pools and Spas has outfitted the 120,000-gallon pool with the first commercial-sized variable frequency drive (VFD) filtration system for swimming pools in Arizona. The company expects Encanterra to save thousands of dollars in utility costs each year while further reducing the environmental footprint of the development.
Shea Green Certified features such as satellite-controlled sprinkler systems, recycled insulation, wood from sustainable forests and water-conserving appliances help to reduce the carbon footprint of a Trilogy home by up to 30 percent over comparable homes. Other environmentally conscious features include solar electricity generation systems, solar-powered attic fans, Energy Star appliances, and high performance windows and insulation.
Currently under construction, La Casa at Encanterra features a state-of-the-art Athletic Club, the full-service Alvea Spa, four dining options and several outdoor amenities including Solaz, the Tommy Bahama-style pool and golf grill/bar built by Red Rock Pools and Spas and sister company Red Rock Contractors. The outdoor amenities are now complete and open to members. All Encanterra homeowners will have access to this 60,000-square-foot member club, designed by renowned architect Bing Hu, when it opens to the community in 2010.
Variable-frequency drive technology, widely adopted in other industries that demand hydraulic efficiency, from dairy farms to water treatment plants, has only recently been adapted into variable-speed pool pumps. In a standard hydraulic system, motor speed is almost always locked at too high a flow rate, wasting energy. Automobiles offer a simple analogy – it is more efficient to drive at 55 mph than at 70 mph, even if it means more time on the road. In many mechanical applications, the lowest effective speed will be the most efficient.
A variable-drive or variable-speed system can be programmed to meet the exact requirements of the pool at any given time, allowing the system to operate at much lower rates throughout the day. Slowing down the motors by 10 percent can produce energy savings of nearly 25 percent. With its Acu Drive™ XS variable frequency drive system from Pentair Water Commercial Pool and Aquatics, the La Casa pool can adjust its flow rate by up to 45 percent.
La Casa pool can expect to pay off the cost of the more energy efficient pumps within its first year of operation. They have seen similar results for residential customers using the industry-leading IntelliFlo® variable speed pump, also from Pentair. A 2008 study by the Natural Resources Defense Council estimated that even with the city's relatively low energy costs, the average Phoenix pool owner will save $300 a year by upgrading to a variable speed pump. Pentair customers have reported annual savings as high as $1,360. By comparison, the average total annual savings for an Energy Star-rated home compared to a standard efficiency home is $250 to $700.
For more information about the company, visit www.buildredrock.com. For more information about variable frequency drive technology for commercial or residential pools visit www.pentairpool.com. For more information about Trilogy visit www.TrilogyLife.com or call (800) 685-6494.