I, for one, love the appearance or shall I say non-appearance of a concealed refrigerator. A cabinet-door-fronted fridge is so much more appealing to me than the eyesore some refrigerators can be.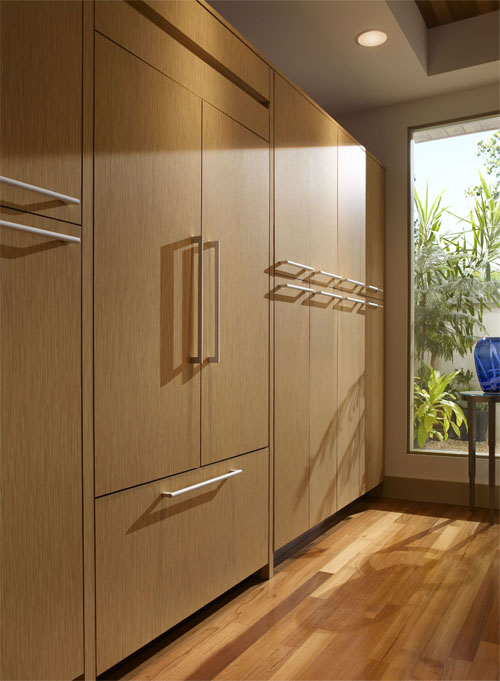 Jenn-Air recently introduced a new collection of high performance built-in refrigerators that integrate design and functionality. Available configurations in the new fully-integrated flush built-in refrigerator collection include 36-inch bottom-freezer and side-by-side door models along with an industry-first 42-inch French door bottom-freezer model offering the widest interior space available in any flush refrigerator currently on the market.
"The clean, seamless aesthetic brings a refined, polished look to any kitchen," notes Juliet Johnson, of Jenn-Air. "The smartly designed hidden articulated hinges allow for minimal gaps, no larger than that of surrounding cabinetry, making the refrigerator virtually disappear in its environment."
The thinner exterior door provides a flush fit with custom cabinetry for a seamless exterior, while the interior features even greater usable cubic space. High performance vacuum insulation panels help maintain energy and keep food fresher, longer. The articulated hinge is equipped with a multi-pivot arm mechanism for smooth opening and closing. This hinge allows the refrigerator door to swing beyond a 90 degree angle. This is a nice feature  considering the wall alongside my fridge is currently sporting a lovely dent courtesy of a forceful opening.
The French door bottom-freezer provides wide refrigerator space with twin doors that make for easier storage of platters and wide trays for entertaining. Fresh food is stored at eye level giving access to items used more frequently while providing ample space for less-frequently used frozen items below. The narrow door radius provides greater maneuvering space, particularly in center island kitchen layouts.
All refrigerators in the new line feature Advanced Climate Control Technology which allows customized drawer storage at lower temperatures than the refrigerator for highly perishable foods through independently controlled Advanced Climate Control bins. Four settings provide more precise control of different temperatures including deli, produce, meat and Quick Chill. The Quick Chill setting lowers the bin temperature below liquid freezing point for a period of one hour, ideal for quickly chilling white wine, sparkling water or other beverages.
Launching this spring, style options include the sleek Euro-Style Stainless and the commercial look of Pro-Style Stainless. Beginning this fall, the warm hued tones of Oiled Bronze and the contemporary Floating Glass in both black and white will be added to the collection and all finishes will be available with updated style options. For consumers who may redecorate frequently, the exterior panels of the refrigerators are designed as separate pieces and can be easily switched out with a different style panel without having to replace the refrigerator.
To learn more, visit www.JennAir.com