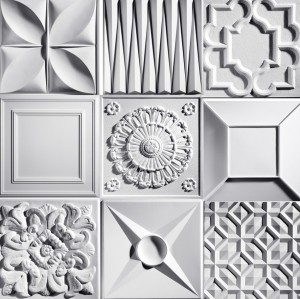 Look up. Does your ceiling need some work?
Ceilume's innovative ceiling tiles are available in 50 styles and eight colors, can be easily painted and work with modern, traditional, Victorian and even country decor. Plus they are "green." What makes Ceilume tiles eco-friendly? The specially formulated vinyl material and feather-light design of the tiles uses far fewer resources to manufacture and ship compared to standard tiles, and material is 100 percent locally recyclable. Ceilume ceiling tiles are incredibly easy to install, very cost effective (only $1-2 per square foot) and are a fun way to revamp the entire look of any room or home. The tiles are especially ideal for kitchens and bathrooms because they are unaffected by water or moisture, do not harbor any smells, mold or bacteria and are easy to clean. Talk about an easy DYI project.
Ceilume offers the ONLY ceiling tile made from a vinyl plastic, making them incredibly lightweight and easy to install in suspended or direct mount ceilings. The tiles can be painted to match any existing color palette and once installed, they give the illusion of a heavier, tin or mineral fiber tile. The advantages of a Ceilume plastic ceiling tile, as opposed to a typical ceiling tile, include affordability (Ceilume tiles cost only $1- $2 per square foot), usability (easier to install) and dependability (Class 1 Fire Rated, not affected by water or moisture, resist sagging and staining, GreenGuard certified for indoor air quality, do not harbor dust, mold, mildew, bacteria or odors).
www.ceilume.com