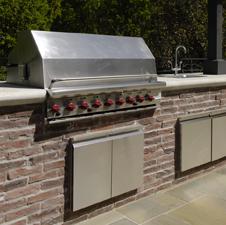 It's backyard bbq time and perhaps its also time to update your outdoor kitchen setup. While outdoor kitchens and entertainment areas are a hot trend, creating them can be anything but entertaining. They typically require days of messy masonry work and even then, a distinguished custom result can not be guaranteed. Eldorado Stone is pleased to transform this process entirely with the introduction of Eldorado Outdoor, a collection of modular units that quickly assemble into custom barbecue islands, kitchen counters, bars, fireplaces, fire rings and more—all ready to be dressed with Eldorado Stone and Brick within hours. Eldorado Outdoor trims a multiple-days process to just hours, while adding the look and feel of timeless stone and/or brick for a signature style.
Eldorado Outdoor features modular components, provided by an exclusive partnership with OLP, which quickly assemble on-site into a virtually limitless combination of configurations. Each piece is made of glass-fiber reinforced concrete, or GFRC, providing no need for concrete foundations, masonry blocks, bending rebar, or any of the mess, waste and time associated with traditional installations. The exclusive Eldorado Outdoor products can be assembled in just hours (even cutouts for custom features such as barbecues, sinks, drawers and burners can be done on-site); modular components are then immediately ready, with no extra prep-work required, to accept the beautiful stone profiles from Eldorado Stone.
"Eldorado Stone is providing an easier solution to create an outdoor kitchen quickly and in a more eco-friendly way," notes Brent Spann, vice president of marketing for Eldorado Stone. "An L-shaped island that would normally take 64 hours of labor can now be done in just eight."
The Eldorado Outdoor product line is currently available through the increasing Eldorado Outdoor network of more than 120 national dealer locations.
For more info, visit www.eldoradostone.com.