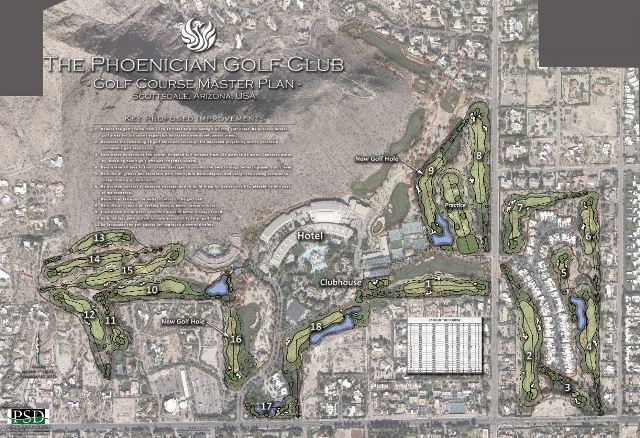 Transforming from a 27-hole facility to an 18-hole golf course, The Phoenician Golf Club will undergo a complete redesign and rerouting beginning in January. The project is expected to take 10 months to complete, with the new course is expected to open for resort guests and daily-fee play in late fall 2018. Troon manages the golf operations at the AAA Five Diamond property (The Phoenician itself is undergoing its own renovation at this time) and is working closely with golf course architect Phil Smith on the project.
"The new Phoenician Golf Club will be a tremendous experience for golfers," says Smith. "While challenging, everything will be in front of the golfer – no surprise bunkers or blind hazards. Players will have the opportunity to make an informed decision on how to approach each shot." Smith has been in the field for 24 years, with notable projects being TPC Scottsdale's Stadium Course and Desert Mountain's Cochise, Geronimo and Renegade courses.
According to the press release, the redesign will create one new and cohesive 18-hole golf course with a natural rhythm and flow in the routing while also matching the reputation and quality of The Phoenician. Though no holes will be retouched, existing fairway corridors will be used in the rerouting of the golf course. The redesigned and rerouted course will play to a par of 71 and will offer five sets of player-friendly tees ranging from 4,418 yards from the forward tees to 6,501 yards from the championship tees. The new course will feature consistent bunker styling, while the overall theme of the landscape design will showcase the unique beauty of Arizona's Sonoran Desert.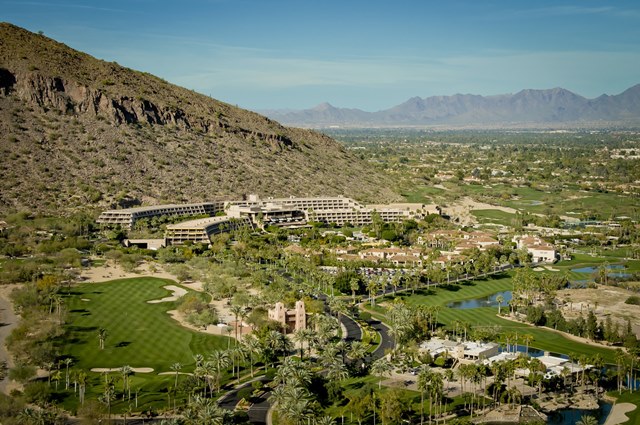 In addition, every green will be rebuilt and resurfaced with new hybrid Bermuda grass; new putting surfaces will allow for additional pin placements; fairways will be recontoured; the cart path system will be rebuilt; water features will be reshaped and renovated; all tees and bunkers will be repositioned to provide the best strategy for each player's skill level; a new highly-efficient irrigation system will be will installed; among other changes that are planned.
The new 9th hole, currently Desert No. 3 and Oasis No. 8, will be a long, downhill dogleg left par 4. The approach shot will be to a peninsula-shaped green that will be well-protected by a lake and greenside bunkers. The new 16th hole, currently Desert No. 9, will have a lower elevation than what currently exists, providing more expansive Sonoran views from the main Camelback Road resort entrance.