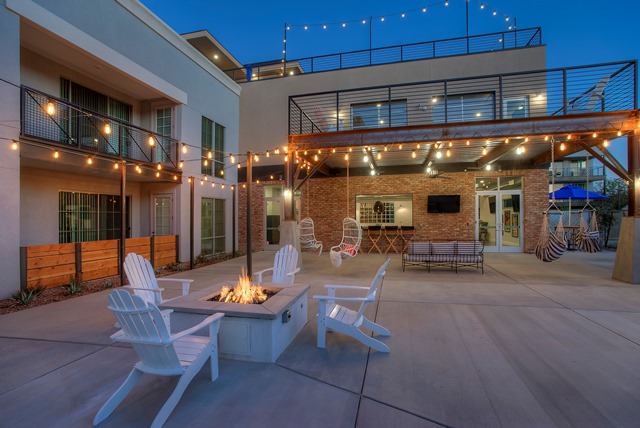 Downtown Gilbert's Heritage District is booming with some of the area's top dining, shopping and arts and culture activities. And the now-open District Lofts from Mark-Taylor is the sole upscale rental community in the ever-growing area (Gilbert is consistently named one the best places to live in the nation). District Lofts offers a premium live-work-play experience in a neighborhood setting.
Some of the unique appointments at District Lofts include industrial sliding doors to patios and balconies, vintage lighting and plumbing fixtures and cabinets with exposed shelving. Perfect for gathering with pals and taking in mountain views is the resortlike rooftop lounge with comfy seating area, an outdoor kitchen, a barbecue and a community table. When not enjoying the endless amenities and activities in the Heritage District, residents can spend time at the spa, pool, large fitness room, community garden, dog park and more. Or grab a space at the clubhouse's co-working space to log in some hours at work.
The apartments themselves offer stainless steel appliances, expansive windows, tile backsplashes, walk-in closets and many more desirable fixtures. One- to three-bedroom units are available, from 686 to 1,424 square feet.
Heritage District rental prices range from $999 to $1,824.
For a complete list of Mark-Taylor's luxury apartment offerings, click here. 480.270.8529, www.mark-taylor.com.