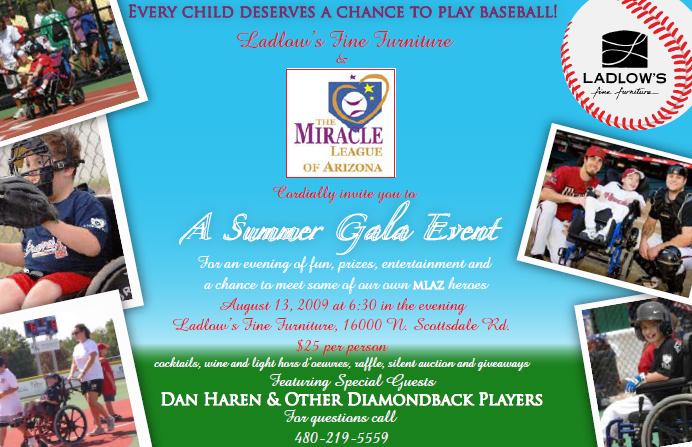 What are you doing tonight? For only $25 per person you can have a great time and support a fantastic cause at the Summer Gala at Ladlow's Fine Furniture.
Join Dan Haren of the Arizona Diamondbacks and numerous other D-back VIP's on August 13, 2009 at 6:30 PM.
Where? Ladlow's Fine Furniture, 16000 N. Scottsdale Rd.
Only $25 per person
Why? For an evening of fun, prizes, food, drinks, entertainment, incredible silent auction items including a luxury suite for 18 people, Framed autographed Danny Haren jersey, Batting practice VIP, and many more outstanding items.  The event will feature cocktails, light hors d'oeuvres, a raffle to win a Ford Mustang from Sanderson's Ford, silent auction featuring sports memorabilia, gift certificates for golfing, spa's and women's hair care and giveaway prizes.
RSVP to 480.219.5559
About the Miracle League:
The Miracle League of Arizona (MLAZ) is an IRS recognized 501 (c)3 nonprofit, volunteer organization that is focused on developing and promoting facilities for special needs / adaptive recreation, specifically baseball , in the State of Arizona.
The Miracle League of Arizona removes the barriers that keep children with mental and physical disabilities off the baseball field and enables them to fully enjoy America's favorite pastime. A barrier for these children arises from the natural grass fields used in conventional youth leagues, Miracle League teams play on a specially designed, rubberized turf field that accommodates wheelchairs, walkers and is designed to help prevent injuries and promote fun!
Find out more info at www.miracleleagueaz.com.