I've always wanted an elevator in my home. Strange request, yes. But not absurd. There is just something about it that is so novel and I have seen some very nice residential elevators that have wet my appetite. The only problem is I currently have a single story, so I'll have to wait until my next home to explore the option.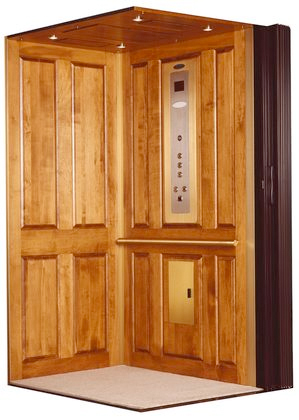 Residential elevators provide smooth vertical transportation. Installing residential elevators offer various advantages since these products:
• Increase the value of your home
• Add elegance and value to every level
• Increase your standard of living
• Enhance convenience
• Offer safe, easy and comfortable ride
Residential Elevators in Simple Designs with Easy to Operate Functions
Many individuals suffer from various disabilities with growing age, and in such cases home elevators are of great utility value. Federal Elevator and Savaria Concord offer excellent residential elevators for your practical use. Panorama elevator, Renaissance elevator, Eclipse Elevator, Infinity Luxury Elevator, Profit Voyager and Telecab are some of the models that come with great looks and a number of standard features.
Features of Federal Elevator's Residential Elevator
• Loading capacity of 1000 lbs (454 kg)
• Maximum speed of 50 fpm
• Maximum stops: 8
• Travels at a maximum height of 60 ft (18.29m)
• Manual or automatic swing entrances
• 1:2 cable hydraulic drives
• Stainless steel control panel
• Instantaneous safety device
• Emergency battery lowering & car lights
• Hydraulic pump unit of compact design
Savaria Concord's Infinity Luxury Elevator is available in a large variety of sizes, finishes and colors. It has a travel capacity of 60 feet, standard weight capacity of 1000 lbs with a possibility of six stops, a maximum number of openings: two and 1:2 cable hydraulic drive system.
Nowadays, there are many accessibility equipment manufacturers and professional suppliers, who provide installation, maintenance and repair services in addition to distribution.
To learn more, visit www.savariaconcord.com or www.dayelevator.com.