Happy Friday! We thought this little weekend warrior, available through Design Within Reach and Airstream Dealers, would get us all excited for summer road trips and weekends away.
The story starts way back in 1936. An avid outdoorsman, Airstream founder Wally Byam married a woman who had little interest in camping and sleeping on the ground. When he built his bride a tent on a Ford Model T chassis that he could tow behind the car, marital bliss was restored. The project gave Byam an idea for a travel trailer that moved like a "stream of air" and in 1936, America got its first look at an Airstream.
Fastforward to the year 2000. The company's motto, "Make only improvements, not changes," was shaken by architect-designer Chris Deam who decided to gut a vintage trailer to create a booth for the International Contemporary Furniture Fair. Deam's ability to respect the history of the iconic aluminum shell, while bringing a lighter, more spacious feeling to the interior, was praised by Airstream purists and the design community. The design caught the attention of Design Within Reach, who contacted Deam about creating a special edition trailer.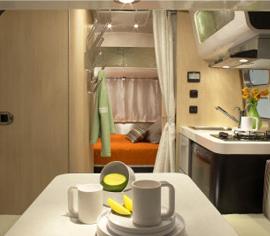 This new Airstream has been outfitted with the works. The galley kitchen comes equipped with cooktop, stainless sink, Elkay faucet, fridge-freezer, Nelson Ball Clock and four Heller Dinnerware place settings. There's also a lavatory and shower. The eco-friendly flooring has a matte ebony finish. The panoramic windows have custom aluminum window treatments imported from Europe. A fabric awning and two Tripolina Chairs are included. There are Matteo linens and a Maharam Pillow, and the electronics package includes rooftop AC, Sony sound system and television.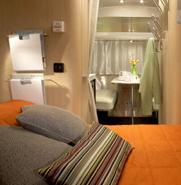 Priced at $49,066.
The Design Within Reach model is sold through Airstream dealers. Find a DWR Airstream dealer near you. www.dwr.com.