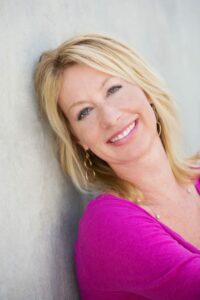 Bio on yourself/company: 
AB Design Elements is a residential interior design firm specializing in fine custom homes, remodels over 100k, and furnishings. Amy Bubier is the principal, with 24 years of experience in interior architecture and design. We are an empowered team focused on transforming homes and lifestyles through seriously beautiful design and we value client relationships, creative thinking, the importance of details, and the power of positive thinking!
Name: 
Amy Bubier
Age: 
49
Title: 
Principal, AB Design Elements
City you live in: 
Scottsdale
Where were you born? 
Newton Centre, MA
What made you realize you wanted to be a designer? 
Well I can tell you it wasn't the way I kept up with my room as a teenager! I was familiar with design from my dad who was an architect and my mother who had been an art consultant. The idea of architecture or design seemed creative and fun, and my college program had interesting, inspiring entry level classes so I launched into it and stayed on the path!
A typical day in my life includes… 
walk the dogs (rescued greyhounds) with my sweetie, get coffee at Whole Foods, get through part of my inbox, meetings/project work etc, track down my 18/21 year-old boys and make dinner together with Jay for anyone who's up for it (or go out!), and then sit out back enjoying the evening.
My favorite thing about Arizona…
the smell of the desert after the rain. (And I'm sorry but it's true, the stunning sunsets!)
What inspires you? 
Music, love (in all its forms), shapes in nature, colors.
Describe your favorite design project that you have completed: 
That's like choosing a child, not fair. Right now, it's probably the most recent one we did in MA that is light and fresh and classic and joyful. It has a New England style with lots of trim and charm, but clean, contemporary details throughout.
What is your favorite type of space to design? 
Can't answer—seems like I need to change them up or I get bored. Too many bathrooms or outdoor living spaces would leave me feeling uninspired.
My first design job was…
an internship with Cruella deVille at an architecture firm in Washington, DC. I may have her name wrong, can't recall, but the personality is dead on. It was tough but I learned how NOT to treat employees and how women can either empower each other or dim each other's light…we are powerful influencers of each other.
I'm currently working on…
a few homes of full furnishings, a custom home, a few remodels, and balancing marketing and that darn billing thing.
What is your dream design project? 
A custom home or complete gut/remodel and then full furnishings….I love affecting the entire feel, the scale, the style of a space. I like to shift the axis, move walls, lift ceilings and add light, and then layer it with the unbelievably beautiful and functional furnishings/fabrics/accessories that are out there as resources.
The one person who motivates me is…
hmmm, probably me. I've always had a strong drive. I tend to need people around me to de-motivate me, but as I get older I'm pretty darn good at turning off work and going on lots of short vacations to enjoy life and love.
Who is a designer that inspires you and why? 
Candice Olson and her amazing talent with using artificial layered light. Also, Barbara Barry and her level of exquisite subtlety with color, form, texture, line.
Favorite quote?
"Space is the breath of art," and "You wouldn't worry about what people think of you if you realized how seldom they actually do." 
Who would you like to have lunch with if it could be anyone? 
Hmmm, I can't decide. Any kind of thinker, philosopher, the kind of amazing humans that rise above the minutia and see the huge incredible picture and then articulate it into a few perfect words….I want to have lunch with a whole bunch of those. I'd also sprinkle in some really funny people since I like to laugh.
Twitter: 
Nope, not gonna do it. One more thing to manage.
Facebook: 
www.facebook.com/abdesignelements
Instagram: 
abdesignelements
Houzz: 
http://www.houzz.com/pro/amybubier/__public
Website: