While I do enjoy a game of pool on occasion, it is one design item you're not likely to find in my home. However, these exotic designs from Brunswick Billiards, just might change my perspective.
The Zanzibar
Zanzibar, the tiny island off East Africa in the Indian Ocean, is believed to be the birthplace of Swahili, and is a melting pot of Arab, Indian, African and European style. Brunswick Billiards has fused these rich styles together, unlikely to be seen or duplicated anywhere else, for the Zanzibar table.
A rare mix of international woods, including European Mappa burl and rails of American Cherry, give the table its striking presence. Yet, the most unique feature is its African-inspired brass monkeys, which support the rail next to each pocket. This international flavor and fine features evoke a bold sense of adventure that place the Zanzibar in a category of its own. Priced at $24,999, as an exclusive, limited edition product, only 10 of the tables will ever be produced and offered to the public.
The Isabella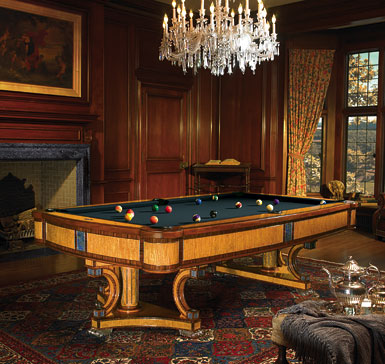 Historians called Isabella of France, "The beauty of beauties…in the kingdom if not in all Europe." It'll come as no surprise then, that Brunswick Billiards has named the industry's most exquisite table ever, "The Isabella." Limited to a production run of just 30 tables, The Isabella is hand-built with the detail and craftsmanship that's only found in 18th century European collectibles. Fine features like Lapis inlays, mother-of-pearl rail sights, and exotic woods such as Karelian birch make The Isabella worth her $40,000 price.
The Bridgeport
From its deep espresso finish to its distinctive legs and drop pockets, the Bridgeport table blends form and function beautifully. This clever transitional table features two spacious storage drawers. Available in chestnut or espresso finishes, the Bridgeport is a steal at $3,999.
The Metro
The unique design of the Metro table combines the durability and precision necessary for tournament play along with elegant styling for any man's home. Brushed aluminum and deep pockets, typically found only on tournament tables, are just some of the features of the Metro. Available in black, maple or blue, the Metro goes for $5,349.
The Black Wolf
Brunswick's Black Wolf is styled for the trendy gentlemen, living life in the fast lane. The table features a dramatic contemporary design, with hardwood rails dressed with satin nickel corner castings. Sitting atop a laminated base frame, this table makes a bold statement in any home. For $1,849 you can get it in any color, as long as it's black.
The Park Falls
Without compromising the classics, the Park Falls features a casual design style that is rustic, yet trendy. It is a man's pool table, constructed of select pine and finished with an antique pine color, giving each Park Falls a unique look. It features leather bucket pockets, black metal rail sights and wood pegs on the sides of the head and foot rails. The table is a perfect complement for homes designed with casual elegance or cabin style living. Entertain at the cabin for
$5,689.
Exposition Novelty
While Brunswick Billiards produced more than 130 different table models during its first 100 years, it comes as no surprise that the company has resurrected the Exposition Novelty to celebrate the 165th anniversary. Extraordinary limited to a production run of 25 tables, The Exposition Novelty is hand-built with the detail and craftsmanship that's only found in late 19th century European collectibles. Fine features like sapele rails, solid white oak legs, and rail sights made of Asian Water Buffalo bone give The Exposition Novelty its $40,000 price.
The 1878 J.M. Brunswick and Balke Co. catalog defined the Exposition Novelty as a table manufactured for "gentlemen's private residences" that was a "marvel of artistic excellence."
To learn more, visit http://www.brunswickbilliards.com.