Ever since one of my friends told me that placing your purse on the floor with (superstitiously) make money fall out the bottom, I always look for high ground when at a restaurant, friend's home or anywhere else for that matter. This little gadget will have your friends singing your praises when they come over for a visit. It is also a stylish way to display purses or anything else that needs hanging around the house.
It has been described as jewelry for your handbag,but it is much more practical than that. The Clipa is a sleek, circular handbag hanger that clips effortlessly to any handbag strap. Clipa protects and extends the life of the handbag by preventing germs, water, dirt, and more from coming into contact with the bottom of the bag. The 3-inch diameter, bracelet-like Clipa has non-slip clip pads on each end, making it perfect for hanging almost any bag.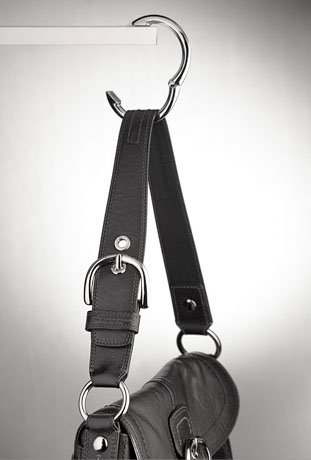 In fact, the patent-pending Clipa safely hangs handbags, backpacks, cases, purses, totes, book bags, diaper bags, umbrellas and more. The Clipa's durable, heavy-duty construction makes it ideal for most bags including today's larger handbags. It can be used with single and double-strap bags and is so elegant it can even be worn as a bracelet or bangle. Unlike other hangers on the market, the Clipa always stays on the handbag for instant access-there's no need to hunt inside the handbag for it. That's why it has been called "the instant handbag hanger."
To use, simply open one end and slide Clipa onto the strap: Clipa's spring mechanism will automatically close. To hang a handbag, place one end of the Clipa on the table or other surface and hang the bag from the other end. When ready to leave, simply pull the handbag strap and let Clipa fall back onto the bag, ready for next time. For bathroom stalls, just guide Clipa up and back onto the bag. This handy item is perfect for restaurants, bars, outdoor cafes, sporting events, concerts, movie theaters (hang bag from the
seat back in front of you or on the drink holder), poolside, and especially bathrooms where a hook isn't always available. It works on most tabletops, counters, chairs arms and backs, bathroom stall walls, rails, cubicle walls, fences, even many sinks. Also works great in airplane lavatories where there are handles but no hooks.
The Clipa's timeless, modern design blends in with most handbag hardware. Clipa, which means "instantly" in Romanian, is made from high strength zinc alloy and is made in the U.S. from North American parts.
The Clipa retails for $24.95 and comes in polished silver or gold, brushed gold or hematite (gunmetal). To learn more, www.clipa.us.