By Melissa Larsen
BEST PRIVATE OR CHARTER SCHOOL: Scottsdale Christian Academy
With its rich traditions, timeless core values and 50 years of providing a Christ-centered education, Scottsdale Christian Academy (SCA) is a private K-12 covenant Christian school with a mission to maximize the God-given potential of each student. SCA, in partnership with the school's parents, strives to prepare students for the future by offering a transformational education model, with a program that truly transforms not only minds but also hearts, preparing students to live lives of purpose and distinction. scarizona.org.
BEST PRIVATE HIGH SCHOOL: Xavier College Preparatory
Located in Phoenix and founded in 1943, Xavier College Preparatory is an all-female, college preparatory high school that has built a tradition of excellence with academic achievement and community service being integral to the school's mission. The National Blue Ribbon School's 194 courses are sophisticated, innovative and global in nature. The student body, which collectively contributes 32,000- plus hours annually to serving the local community, is comprised of 1,195 young women in grades 9 to 12 from many different ethnic, cultural, socioeconomic and faith backgrounds. The school is so successful that 100 percent of its graduates attend college. xcp.org. Also a 2016 winner!
BEST ACADEMIC TUTORING SERVICE: Pimentel Academic Services
Since it was founded in 2010, Pimentel Academic Services has worked to facilitate independent learning and give guidance to students to navigate the academic world. The small business, located in Phoenix, offers subject tutoring services and standardized test preparation to elementary, junior high, high school and college students on an individual basis or in small groups. pimentelacademicservices.com. Also a 2016 winner!
BEST BIRTHDAY PARTY SPOT: Stratum Laser Tag
Leave Pin the Tail on the Donkey in the dust, and celebrate your kiddo's big day within Stratum Laser Tag's 18,000-sq.-ft. facility in Mesa. The laser tag arena has 15 different levels, 90 towers, bridges and ramps that can accommodate up to 60 players at once. Birthday packages are available and may include pizza, themed paper goods, arcade tokens and more, in addition to games of laser tag. stratumhq.com.
BEST KIDS' ENTERTAINMENT: OUTDOORS Fairytale Events
Fairytale Events was founded in 2013 to bring entertainment to kids of all ages, whether at birthday parties, weddings, dance camps and more. There are more than 30 character options, including Rapunzel, Cinderella, Ariel and Snow White, and packages are available that may include meet-and-greets and kid-friendly activities, like nail painting, face painting and story time that your little one won't soon forget. fairytaleeventsaz.com.
BEST HOLIDAY EXPERIENCE FOR CHILDREN: Spring Carnival & Eggstraordinary Egg Scramble at Desert Mountain
Once Easter time rolls around each year, kiddos at Desert Mountain count the minutes until the community's spring carnival takes place. Games, bounce houses, face painting, pics with Mr. and Mrs. Bunny and, of course, the Eggstraordinary Egg Scramble (with more than 4,000 eggs to hunt) are on the agenda. desertmountain.com.
BEST CHILDREN'S HOSPITAL: Cardon Children's Medical Center
Since it was established nine years ago, Mesa's Cardon Children's Medical Center has provided comprehensive, family-centered medical care for children. The hospital campus is home to the largest emergency room in the state, and acute care specialties include cancer care, diabetes and endocrinology, digestive care, heart care, neonatal intensive care, neurosciences, orthopedics, surgery and more. bannerhealth.com. Also a 2016 winner!
BEST DAYTIME SUMMER CAMP: Pinspiration
At Pinspiration's Maker Camp, campers starting at age 5 get to enjoy some hands-on creativity and learn to build their own Pinterest-inspired toys and games. During the week-long camp, the participants each craft a large project per day, with smaller ones throughout the week. (Projects may include a ribbon crown, a gumball machine, a fairy house and more.) pinspiration.com. Also a 2016 winner!
BEST KIDFRIENDLY HOTEL: The Wigwam
Summertime at The Wigwam in Litchfi eld Park means non-stop entertainment—for the entire family, but especially the resort's littlest guests. Bocce ball and pools, one with a 25-ft. tower with two waterslides, are just a few of the family-friendly attractions. Last year, the resort introduced Camp Wigwam to keep kids entertained during summer months with activities like kickball, scavenger hunts, cooking classes, poolside movies and more. wigwamarizona.com. Also a 2016 winner!
BEST KIDS' CLOTHING STORE: Cheeky Chic Baby Boutique
At its outpost at Scottsdale Quarter, Cheeky Chic Baby Boutique carries the latest and trendiest designer clothing in the kids' fashion industry (newborn to size 10), from too-cute tunics to rock-'n' roll kids' fashions, as well as an organic collection and labor gowns. P.S. Check out its Best of Our Valley-winning Instagram account for outfit inspo. cheekychicbb.com. Also a 2016 winner!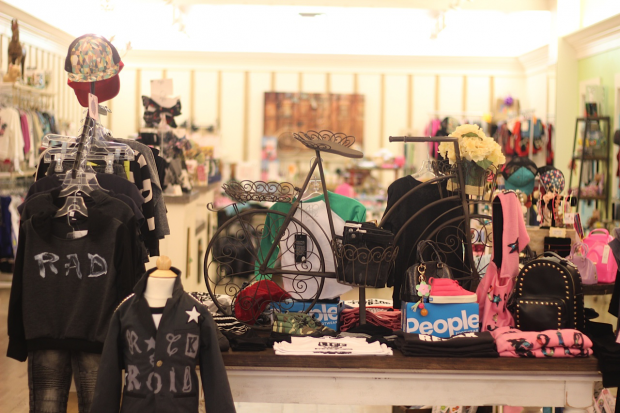 BEST KIDS' ENTERTAINMENT: INDOORS Dance Academy North
Dance Academy North, a children's dance studio located in North Phoenix, prides itself on offering a fun dance experience—with age-appropriate choreography, music and costumes—while emphasizing the importance of strong character. All levels of ballet, tap, jazz/musical theater, jazz funk, contemporary, acro and combo classes are available for little dancers ages 18 months to 18 years. danceacademynorth.com.
BEST MASTER-PLANNED COMMUNITY FOR CHILDREN IN THE VALLEY: DC Ranch
In addition to offering incredible kid-friendly amenities, like pools, plenty of neighborhood parks and a youth theater, Scottsdale's DC Ranch also prides itself on hosting events that kids will be counting down "sleeps" to attend. TGIF Fun Nights for Kids give children and tweens the chance to hang out with kids their age and enjoy age-appropriate games, contests and more. Summertime calls for dive-in movies (where munchies are provided), and all-out holiday parties are favorite annual occurrences. dcranch.com.
BEST TOY STORE: Toys & Playtime Oasis
Whether searching for the ultimate birthday gift for your favorite kiddo or seeking a safe, fun indoor play space, Toys & Playtime Oasis (formerly The Doll House & Toy Store) in Scottsdale has long been a favorite of Valley moms and dads—and their tots, of course. The beloved mom-and-pop shop offers dozens of games, books, puzzles, toys and more in the child-proofed store. The Playtime Oasis, which is for kids under 5, is a super-fun indoor play space with toys, climbing equipment and more. The owners, Sari and Sam Powazek, celebrate 40 years in business this year. toysandplaytimeoasis.com.
BEST KIDS' RESTAURANT: The Teapot
After being frustrated with the limited family-friendly dining-out options, Jonathan and Raelynn Pring, parents of a 2-year-old son, opened The Teapot in the Roosevelt Neighborhood of Downtown Phoenix. The restaurant offers a safe, fun setting for kids to play (via a two-story playhouse in the back garden) alongside healthy menu items and great coffee and beer selections. The Teapot even hosts a variety of family-inspired events, like story times, movie nights and yoga classes. theteapotus.com.
BEST NANNY AGENCY: A Perfect Fit
A Perfect Fit, which was established in 2009, is a full-service nanny agency dedicated to delivering personal assistance in finding the right candidate for every family. Nannies, household managers, after-school and summer nannies, newborn care specialists, night nannies and post-partum doulas are just a few of the positions that A Perfect Fit can fill for families, while also ensuring the safety and qualifications of the candidates. perfectfitnanny.com.
FAST FAVORITES:
BEST OVERNIGHT SUMMER CAMP: Camp Ponderosa Ranch, campponderosaranch.com.
BEST PEDIATRICIAN: Dr. Arturo Gonzalez, scottsdalechildrensgroup.com.
BEST PLACE FOR KIDS HAIRCUTS (TIE): Cool Cuts 4 Kids, coolcuts4kids.com; Treasured Cutz 4 Kidz, treasuredcutz.com.
BEST SPLASH PAD: Scottsdale Quarter, scottsdalequarter.com.
BEST WATER PARK: Wet 'n' Wild, wetnwildphoenix.com.
MOST ENTERTAINING DINNER SPOT FOR KIDS: Pita Jungle, pitajungle.com.
Buy your copy of Arizona Foothills Magazine Best of Our Valley 2017 Collectors Edition issue here.