By Emily Glynn
Grand wineries, world-class spas, gorgeous mountain terrain. Some of the Southwest's greatest escapes are no more than an hour or two away from the Valley by car.
Best Arizona Lake Escape: Alamo Lake State Park
This man-made reservoir, located on the Bill Williams River at the junction of the Big Sandy and Santa Maria Rivers, is home to some of the best fishing in Arizona. High-caliber anglers, eager for bluegill, largemouth bass and black crappie, visit the park year-round to participate in tournaments, while recreational fishers cast a leisurely line nearby. The lake is also a popular camping destination. With the nearest city lights some 40 miles away, visitors often shimmy outside their tents, opting instead to fall asleep beneath the starry sky. azstateparks.com.
AFM FAVE: Best Arizona Lake Escape: Lake Powell
With more than 2,000 miles of scenic shoreline and 96 major canyons, Lake Powell is one of the country's top destinations for outdoor adventure. Although it's popular year-round, activity booms during the summer months when things start heating up. Many visitors choose to enjoy the crystal-clear water and sandy beaches from the comfort of a private houseboat, available for rent along with recreational powerboats and high-octane lake toys. The area is also peppered with restaurants, campgrounds, swimming pools and plenty of luxurious lodging options, making it the perfect spot for a rejuvenating getaway. lakepowell.com.
Best Arizona Ski Resort: Elk Ridge Ski & Outdoor Recreation Area
Nestled along Route 66, just outside the historic town of Williams, is Elk Ridge Ski Area, a family-oriented ski, snowboard and tubing destination. Unlike most ski resorts, lessons at Elk Ridge are offered on a first come, first served basis and are capped at 10 people in order to keep things intimate and personal. Visitors will find state-of-the-art ski and snowboard equipment available on-site, as well as tubes for gliding down the newly installed hill area. Call before your visit to ask about group pricing as discounts may apply depending on the size of your party. elkridgeski.com.
Best Northern Arizona Adventure: Bearizona Wildlife Park
This drive-thru park provides an authentic look into the natural habitats of North American wildlife and a day brimming with family-friendly adventure. Most visitors kick things off with a three-mile excursion along the park's well-maintained roads, happening upon bears, bison and wolves from the comfort of their own vehicles (or opt for the park's Wild Ride Bus Tour). Post- drive, you'll stroll through Fort Bearizona, a walk-through area featuring up-close animal encounters, a petting zoo and the Mine Shaft Experience, filled with nocturnal creepy crawlies. bearizona.com.
Best Northern Arizona Annual Event: Standin' on the Corner Park Festival
This annual celebration takes place on the last full weekend of September in Winslow, a modest town famously mentioned in the Eagles' 1977 hit "Take it Easy." The reference was so monumental that it was eternalized in the form of Standin' on a Corner Park, for which the festival is named. Nearly 6,000 tourists attend each year, keen to enjoy country rock, Eagles' tribute bands and photo ops on the street corner made famous by rock n' roll. standinonthecorner.com.
Best Northern Arizona Hike: Boynton Canyon
Thirty-two miles south of Flagstaff is Boynton Canyon, one of Red Rock Country's most scenic natural retreats. The trailhead is accessible from well-paved roads leading to and from nearby towns, a perk that draws large crowds of locals and tourists year-round. The beginning of this heavily used trail borders Enchantment Resort, then quickly returns hikers to the canyon floor. Walking is pleasantly easy and the scenery, absolutely breathtaking. Keep your eyes and ears peeled for lyrical songbirds and timid whitetail deer, just several of the desert creatures often encountered here. fs.usda.gov.
Best Northern Arizona Winery: D.A. Ranch
Minutes from Sedona's breathtaking Red Rock mountains is the historic D.A. Ranch, a boutique vineyard and special-event destination. The estate spans 250 acres of pristine land and offers an exquisite setting for weddings, group events and private tastings. If you can't make the journey up north, D.A. Ranch's 100 percent estate-grown wines, always crafted using traditional production methods, can be purchased at fine retailers and restaurants throughout Arizona. daranch.com.
AFM FAVE: Best Northern Arizona Winery: Page Spring Cellars
For delicious Rhône-style wines, gourmet food selections and breathtaking views, look no further than Page Spring Cellars, a family-owned vineyard and winery overlooking Sedona's immaculate Oak Creek. The winery produces about 70 wines each year, most of which are inspired by Southern France and other arid Mediterranean areas. Spend an afternoon acquainting yourself with award-winning vinos in the tasting room, shop for local artwork, take a guided tour on the weekend or simply lounge on the scenic deck where guests often encounter herons, bald eagles, hummingbirds and river otters. pagespringscellars.com.
Best Sedona Resort/Hotel: Hilton Sedona Resort at Bell Rock
For a luxurious stay in the heart of Sedona's magical Red Rock Country, book a suite at the Hilton Sedona Resort at Bell Rock. The chic hotel is the only full-service spa and golf resort in the area and is located just a short drive from both the Tlaquepaque Arts & Crafts Village and Oak Creek Canyon, where guests often find themselves immersed in the local scenery and culture. On-site, the resort offers a number of amenities including an upscale spa and athletic club, an outdoor pool, a championship golf course, tennis courts and a Southwestern-inspired restaurant.hiltonsedonaresort.com.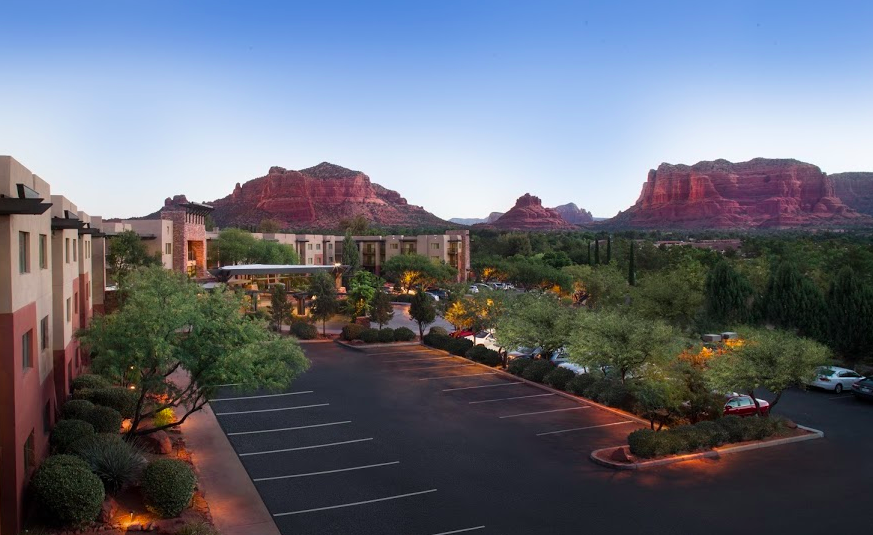 AFM FAVE: Best Sedona Resort or Hotel: L'Auberge de Sedona
This destination resort features 62 newly renovated luxury cottages and 21 lodge-style guest rooms, all equipped with Italian linens, down bedding and locally curated artwork. Spa Cottages take things one step further with Jacuzzi tubs and nightly turndown service with rotating meditation cards. When you aren't busy enjoying the view from your private terrace, mosey down to Cress on Oak Creek for world-class al fresco dining. For a truly transformational experience, the L'Apothecary Spa offers nature-inspired treatments and a signature blending bar where guests create their own body treatments from local botanicals and oils. lauberge.com.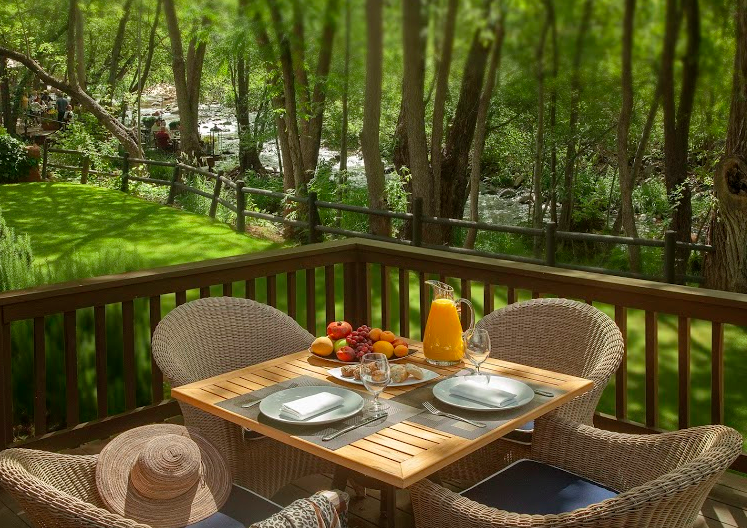 Best Sedona Spa: Uptown Massage
This quaint Sedona gem serves as a relaxing oasis for locals and travelers alike. The staff is comprised of a small team of independent contractors, all of whom are experienced therapists specializing in massage, couples massage and facials. Though any session can be customized, Uptown offers a selection of flawless packages and treatments, like the hydration wrap and Saydrin massage, an Asian therapy that focuses on healing both mind and body. massagesedona.net.

Best Southern Arizona Adventure: Hot Well Dunes Recreation Area
This popular recreation area popped up in 1928 when drillers in search of oil broke into a pocket of hot water beneath the dunes. Ever since it became public in 1985, the 2,000-acre expanse is frequented by off-highway vehicle enthusiasts and campers, who enjoy rolling sand dunes and two solar-operated hot tubs. The hot mineral water is perfect for soaking aching muscles after a long day of riding the dunes, but keep in mind that the temperature is a scalding 106 degrees. blm.gov.
Best Southern Arizona Annual Event: Rex Allen Days
September 2016 will mark the 65th anniversary of this beloved Willcox event, a multi-day extravaganza celebrating the life of country music singer, film star and rodeo enthusiast Rex Allen. The highly anticipated affair will commence with the Willcox Chamber of Commerce and Agriculture's Cowboy Hall of Fame dinner, followed by a three-day rodeo showcasing the talents of World Champion cowboys and cowgirls. In addition to the annual parade (themed "Cowboys and Indians & Aliens, Oh My!") through historic Downtown Willcox, guests will enjoy award-winning food vendors, a weekend-long craft and country fair, and an all-ages carnival. rexallendays.org.
Best Southern Arizona Hike: Wild Burro Trail
The trailhead of this often underrated hike is located 6.5 miles north of Tucson at the base of Tortolita Mountains, leading northeast into Wild Burro Canyon and eventually merging with trails that take hikers along the scenic crest overlooking Cochie Canyon and Ruelas Canyon. With more than 29 miles of trails, the area is equipped to accommodate outdoor enthusiasts of all levels and interests – biking and equestrian activities are also permitted on most trails. Whichever direction you set off in, expect breathtaking panoramic views of the Catalinas, Santa Ritas and Tucson Mountains and their accompanying ridgelines. maranaaz.gov/trails.
Best Southern Arizona Winery: Callaghan Vineyards
Callaghan Vineyards, located in sun-drenched Sonoita, relies on traditional winemaking practices to produce its wines, paying careful attention to reveal the distinctive character of Arizona-grown grapes. Owner Kent Callaghan has personally tended to the vines and overseen production of each varietal since the vineyard's inception in 1990. The payoff has been huge. Three of Callaghan's best wines have been served at White House dinners and many others have received awards for their exceptional quality, complexity and flavor. callaghanvineyards.com.
Best Tucson Resort/Hotel: The Ritz-Carlton, Dove Mountain
On land once inhabited by the indigenous Hohokam tribe sits The Ritz-Carlton, Dove Mountain, a majestic Marana resort surrounded by the Sonoran Desert and towering Tortolita Mountains. Guests have direct access to 20-plus miles of world-class trails and are encouraged to explore the mountainous terrain via hiking, biking and horseback riding. For an urban adventure, the city of Tucson is just 30 minutes away, although there's plenty to enjoy on-site. The resort's Jack Nicklaus Signature Golf Course, destination spa and collection of gourmet restaurants are just several of the many luxurious amenities offered at this magical escape. ritzcarlton.com.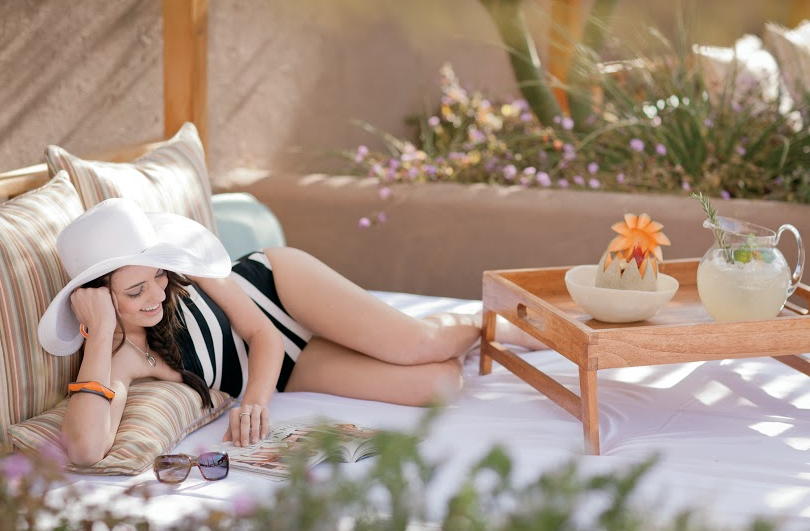 Best Tucson Spa: Canyon Ranch Wellness Resort
This world-famous spa is more than just a quick fix—it's an opportunity to reconnect with body, mind and soul. The Tucson branch opened in 1979 and has been helping guests achieve their highest potential through an integrative and comprehensive approach to wellness ever since. In addition to an 80,000-sq.-ft. Spa Complex, Canyon Ranch offers a vast menu of health, fitness and pampering services, including Asian-inspired therapy and Ayurvedic body treatments, to ensure guests depart feeling balanced and renewed, ready to tackle life's curveballs with a greater sense of perspective. canyonranchdestinations.com.
Buy your copy of Arizona Foothills Magazine Best of Our Valley 2016 Collectors Edition issue here or get the digital version here. Winners will also be able to get copies at the Best of Our Valley Bash on May 6!