By Emily Glynn
BEST LOCAL FILMMAKER/ VIDEOGRAPHER: CS Marketing Studio
Crissty Santana, owner and founder of CS Marketing Studio, is your go-to girl for homemade creativity. The multitalented filmmaker and marketing guru has been building brands through her edgy photography, feminine aesthetic and streamlined graphic/Web design, collaborating with some of the Valley's top health, fitness and beauty professionals. Since launching her business in February 2016, Santana has made more than just a few visions take shape; the past year has been a nonstop whirlwind of creation, innovation and glamour. csmarketingstudio.com.
BEST CIVIC ORGANIZATION: Scottsdale League for the Arts
This nonprofit volunteer organization, originally founded in 1978 as the Men's League of Scottsdale for the Performing Arts, is the driving force behind the Scottsdale Culinary Festival. Each year, 300,000 hungry Arizonans flock to the League's signature event, with their attendance directly benefi ting artists, arts programs and arts education. One hundred percent of net event proceeds are generously donated to Maricopa County art entities and since its inception, the organization has raised more than $4 million. leagueforthearts.org.
BEST ANNUAL FASHION EVENT:  Xavier Scholarship Fashion Show
Since its inception as an alumnae event back in the 50's, the Xavier Scholarship Fashion Show has evolved into an annual tradition that aims to raise funds for student scholarships. This year, more than 1,000 guests gathered at the JW Marriott Phoenix Desert Ridge Resort on April 1 to watch models grace the runway in looks from Dillard's spring collection and choreographed performances by talented Xavier and Brophy seniors. xcp.org. Also a 2016 winner!
AFM FAVE: BEST AUTOMOBILE AUCTION: Barrett-Jackson
It's no secret that Barrett-Jackson, The World's Greatest Car Collector Auctions, reigns supreme over the international auction scene. Each year, the company hosts four whirlwind events in Scottsdale, Palm Beach, Connecticut and Las Vegas, drawing crowds of more than 500,000 car enthusiasts, eager for a glimpse of the world's most distinctive and valuable automobiles in an exhilarating, high-energy setting. barrett-jackson.com.
BEST ANNUAL VALLEY EVENT: ALS Bite Nite
Each year, the ALS Association Arizona Chapter, a branch of the only national nonprofit devoted to championing victims of Amyotrophic Lateral Sclerosis (ALS), hosts Phoenix Bite Nite, an evening of philanthropic celebration and culinary genius. Last year's event drew a crowd of more than 650 guests and raised more than $216,000, which went toward patient and family services, community outreach, medical equipment and a recently established children's program. The ninth annual Bite Nite event returns on June 3 at the Westin Kierland Resort & Spa. bitenite.org.
BEST AUTOMOBILE AUCTION: Russo and Steele
Specializing in European sports cars, American muscle cars, hot rods and customs, Russo and Steele lives up to its bold slogan. This collector automobile auction, founded in 2001, is an event "for enthusiasts, by enthusiasts," a uniquely personal and visceral experience that seamlessly fuses cars and camaraderie. This year's blockbuster auction featured 850 cars at the company's new space at Salt River Fields at Talking Stick Resort. If you missed the fl agship Scottsdale auction, don't fret—you can catch Russo and Steele in Newport Beach in June, and Monterey in August. russoandsteele.com.
BEST PHOTO BOOTH: Snapbooth Entertainment
Say cheese! This award-winning company has hosted more than 2,000 events across Arizona and SoCal, indulging its clients with aesthetically pleasing photo booths, unique designs and interactive staff who encourage guests to strike a pose. Apart from professional-grade Cannon cameras, live slideshows on LCD screens and instant social media shares, Snapbooth prides itself on speed. The sought-after Bulb Booth churns out 160 high-quality prints per hour, three to four times the industry standard. snapbooth.com.
AFM FAVE! BEST PHOTO BOOTH: Cruisin' Photo Booth Bus
Meet Milo, the bohemian, electric blue '69 VW Transporter Bus of Crusin' Photo Booth Bus. Restored in 2016 by husband-and-wife team Austin and Sammie Merrell, Milo now operates as a mobile photo booth, making people smile everywhere he goes. The charming little bus frequents weddings, parties and photo shoots throughout the Valley, instilling genuine joy in everyone lucky enough to pop inside for a pic. Crusin' Photo Booth offers three packages for events of different lengths, all of which include props, a working attendant, and digital copies and prints for everyone in the photo. cruisinphotobus.com.
BEST LOCAL ARTIST: Antoinette Cauley
After just one year of full-time artistry, Antoinette Cauley's unique melding of hip-hop music and social/political issues has earned her a devoted fan base that stretches from California to London. The Phoenix native, who finds inspiration in the gritty corners of her hometown, is known for bright colors, vibrant patterns and her involvement in the local community. Cauley runs a teen painting program through the Phoenix Center for the Arts, as well as a lyricism music program in Chandler and her J.A.R.R. initiative, which focuses on bringing fine art programs to lower income neighborhoods. antoinettecauleyart.com.
AFM FAVE! BEST ANNUAL CHARITY EVENT: Compassion with Fashion
Each spring, the Valley's most passionate animal advocates come together for the Arizona Humane Society's (AHS) Compassion with Fashion to raise critical funds for the nonprofit's lifesaving programs and services, including AHS' field rescue program and animal trauma hospital. This year's show-stopping Hollywoof event, sponsored by PetSmart Charities, will feature a Hollywood Boulevard silent auction, a Glitz and Glamour Champagne raffle, and photo ops on a dog-friendly green carpet. The real stars of the show, however, will be the adoptable dogs and cats, all expected to find loving homes by the end of what is sure to be a spectacular night. azhumane.org/cwf.
BEST LOCAL BAND/MUSICIAN: SoSco Duo
Laura Strickland and Alex Mack began making music together in 2014, combining their respective talents to form the SoSco Flute and Guitar Duo. Named for the location of the studio in South Scottsdale where the two musicians began performing together, SoSco Duo has quickly become one of the most sought-after professional wedding and special event ensembles in the Phoenix area, creating memorable experiences through elegantly dynamic live music. soscoduo.com.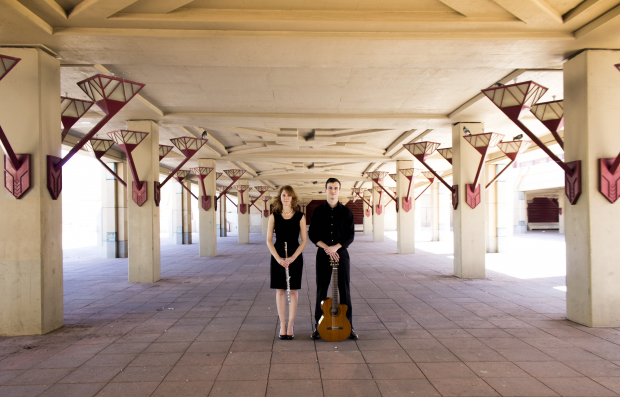 BEST THEATER: Theater Works 
For the past 30-plus years, Theater Works has reigned over Peoria and the West Valley, providing full seasons of adult, youth and puppet theater, educational camps, workshops, internships and youth performance troupes for budding thespians. The award-winning nonprofit, which is in the midst of its 31st season, also boasts a 270-seat state-of-the-art Main Stage theater, as well as set design shops and dressing rooms. theaterworks.org.
BEST LOCAL ART STUDIO: Gallery Andrea 
Gallery Andrea features works by international artist Andrea de Kerpely-Zak and her daughter Andrea Zakrzewski's healing fl owers, as well as artists from around the globe including landscapes, fi gurative, abstract, sculpture and wearable "artsyandreaz floral fashion." Gallery Andrea is located in the heart of Old Town's Gallery District. artandrea.com.
BEST CONCERT VENUE: BLK Live
There's no better place for dinner and a show than BLK Live, Scottsdale's hottest hybrid restaurant and entertainment venue. Apart from a mouthwatering American Contemporary menu and killer happy hour, BLK Live boasts a 1,000-person capacity concert hall with a rotating schedule of performances from bands and musicians of all genres. When they're not enjoying the show, guests go wild for BLK Live's Aqua Lounge, a unique hangout complete with a poolside stage and custom cabanas. blkliveaz.com.
BEST CHILDREN'S THEATER: Greasepaint Youtheatre
The acting world can be intimidating, especially for budding young thespians. Enter Greasepaint Youtheatre, which aims to educate and challenge local youth to explore the deepest corners of their imaginations in a safe and open environment. The theater's professionally designed acting programs focus on providing child-centered arts curriculum through regular classes, summer camps and jam-packed show seasons starring kids of all ages. Unlike many other theaters, Greasepaint keeps things fresh and exciting by hiring the majority of its production staff (everyone from directors to choreographers to costume designers) on a per-show, -camp or -class basis. greasepaint.org.
BEST ACTING STUDIO AND BEST IMPROV GROUP: Dearing Acting Studio and Chaos Comedy at Dearing Acting Studio
Dearing Acting Studio, founded and owned by Matthew and Leeann Dearing, is recognized Valley-wide for churning out some serious talent. The studio provides exceptional opportunities for budding and established actors alike through full-length plays, showcases, corporate entertainment and acting classes for all levels of experience, taught exclusively by the studio's staff of working actors. The courses, designed for youth (4 to 10), teens (11 to17) and adults, commence at the beginning of each month and always focus on a different topic. Also worth checking out is Dearing Acting Studio's Chaos Comedy, a side-splitting improv show offered every Friday evening at 7 p.m. dearingstudio.com.
BEST ANNUAL GALA: Black & Purple Epilepsy Gala
Despite covering the needs of more than 65,000 Arizonans suffering with epilepsy, The Epilepsy Foundation of Arizona receives zero federal funding to further its mission of providing education and awareness about the devastating disease. Support the cause by attending the foundation's annual fundraiser on Sept. 16. This year's black-
tie, 1950's-style event will be held at the Mountain Shadows Resort in Paradise Valley. Brownie points for those who don purple, epilepsy's official color. epilepsyaz.org.
AFM FAVE! BEST LOCAL BAND/MUSICIAN: The Rich Berra Band
The Valley is familiar with Rich Berra as part of 104.7 KISS FM's The Johnjay and Rich Show. When he isn't on the radio, he helms The Rich Berra Band, an electric party-pop experience. Among its jam-packed set list, party-goers can expect to hear the likes of "Uptown Funk," "Let's Go Crazy" and "Thriller." richberraband.com.
AFM FAVE! BEST LOCAL ARTIST: Nicole Royse
After graduating from Arizona State University with a degree in art history, Nicole Royse pursued her passion for creating art, accumulating more than 70 exhibitions over the last 10 years. But Royse's talents don't stop at artist (her works focus on nature and abstraction); she is also a talented arts consultant, curator and writer. nicoleroyse.com.
BEST ANNUAL VALLEY EVENT: LARGE SCALE: Scottsdale Culinary Festival
Scottsdale's tastiest culinary event returns to Scottsdale Civic Center Mall on April 8 and 9 with yet another mouthwatering lineup of food, drink and family-friendly entertainment. This year's festival, hosted by and benefiting Scottsdale League of the Arts, will feature 40 local restaurants, live music, a teen cooking challenge, chef demos and the newly minted Local Lounge showcasing Arizona's best wineries, spirits and craft beer. scottsdalefest.org. Also a 2016 winner!
BEST SPECIAL EVENT VENUE: Warehouse215 @ Bentley Projects
Nestled in Downtown Phoenix's urban-chic warehouse district is Warehouse215, a former 1918 linen laundry building that has since been transformed into one of the Valley's most sought-after event venues. With 15,000 square feet of fl exible interior and an expertly landscaped patio, the industrial, multi-functional space serves as the perfect locale for occasions of all kinds, ranging from weddings and rehearsal dinners to intimate cocktail parties and photo shoots. warehouse215.com.
FAST FAVORITES:
BEST ANNUAL VALLEY MUSIC EVENT: Phoenix Lights, phoenixlightsfest.com.
BEST DANCE STUDIO: Ballet Arizona, balletaz.org.
BEST MUSEUM: Arizona Science Center, azscience.org.
BEST RECORD STORE: The Record Room, recordroom.com.
BEST ROOFTOP FOR EVENTS: AC Hotel Tempe, marriott.com.
BEST TATTOO ARTIST: Paulski, tattoopaulski.com.
BEST WORSHIP TEAM: Scottsdale Bible Church, scottsdalebible.com.
BEST HAUNTED HOUSE: Jack and Jill's Haunted Hill, jackandjillshauntedhill.com. Also a 2016 winner! 
Buy your copy of Arizona Foothills Magazine Best of Our Valley 2017 Collectors Edition issue here.