By Becky Antioco
Best Anchor: Weekends and Favorite Female TV Personality: Afternoon or Evening News: Tram Mai, NBC 12
Tram Mai joined the 12 News team in 2003 and has won Emmys for anchoring and reporting. After graduating from UCLA, she began her career in Los Angeles and has also worked as a reporter in Florida and Ohio. In addition to covering hard-hitting news and natural disasters, she has interviewed celebrities, reported from the red carpet at the Emmys, covered the Cardinals' Super Bowl game, and hosted alongside Regis Philbin. But she is most passionate about reporting on the issues that affect Arizona's children, and her favorite stories are those that inspire others. As a journalist, the most rewarding part of her job is making a difference in people's lives. 12news.com.
Best Country Radio Station : 107.9 KMLE
For all of the best contemporary country music, the Valley has been tuning into KMLE since 1979. They are the long-running sponsor of the Country Thunder music festival, which features up-and- coming performers as well as current favorites like Eric Church, Jake Owen and Florida Georgia Line. You can listen and follow the latest news in country music on their Web site, or take part in the Saturday Night Party every week at Denim & Diamonds. kmle1079.cbslocal.com.
Best Local News Website: KFYI.com
The latest news and talk, including Kim Komando, Rush Limbaugh, Terry Gilberg and more, can be heard on 550 KFYI. In case you miss the show on air, the station's comprehensive Web site has local and national news updates, blogs, photos, video and shows on demand. From politics to local news, weather and traffic, opinions and features, it's all online. As of the iHeart radio network, KFYI can be found on your smart phone via the app as well. kfyi.iheart.com.
Best Local Radio Talk Show or DJ: Afternoon : Drive Robin Nash, 103.9 KEXX
Robin Nash is fun, lovable and funny.  She channels this positive energy through the airwaves every day and loves to throw in her natural sarcastic humor when it comes to some trending stories—the new Blake Shelton-Gwen Stefani romance, Macklemore owning a naked painting of Justin Bieber, or Kanye West singing along to a Bieber tune. Nash has been in the Valley and on the radio for 17 years and takes pride in giving the locals a taste of what's going on around town, especially on the weekends. Whether she's giving away trips to Disneyland, San Diego or a trip to attend a music event in Napa Valley called "Live In The Vineyard," she gives her listeners a place to detach from their day and enjoy moving to the music on their drive home. hot975phoenix.com.
Best Local Radio Talk Show or DJ: Midday Lady Stephanie 101.1 The Beat
Lady Stephanie has been doing radio for almost 18 years. After getting her start in San Francisco, she's worked in Sacramento and Wichita, with multiple stops in Phoenix. She feels that she has a truly awesome job, and her enthusiasm for it comes through on her midday show on 101.1 The Beat. She's been able to meet some amazing artists and celebrities, gets to listen to her favorite music at work and be her usual weird self while working in an amazing city. When she's not at the station, you'll find her at home watching "Jeopardy," playing online poker or hanging with her cats (all rescues). azthebeat.com.
Best Local Radio Talk Show or DJ: Morning Drive Bruce St. James, 92.3 KTAR
Bruce St. James, along with his co-host Pamela Hughes, attempt to make sense of the madness Monday through Friday from 9 a.m. to noon on KTAR News 92.3, where he's been on the air for six years. Originally from the Washington, D.C. area, he spent his formative years in Tucson, and attended the University of Arizona. He started in radio as a music DJ, then transitioned into management, but found that hosting, entertaining and delivering news and information was the greater challenge. He aims to do a show that appeals to adults who want to be informed about the world around them, and therefore covers a wide range of topics. ktar.com .
Best News Station: 3TV
Known as Arizona's Family, 3TV is one of the largest independent television stations in the country, providing more local news coverage than any other station in the state. From Good Morning Arizona, Your Life, 3 On Your Side, and traditional news, weather, traffic and sports coverage, 3TV delivers nine and a half hours of local news every day. You'll find award-winning journalism with a strong focus on community from some of Arizona's favorite television personalities. Their coverage continues online with video highlights of the day's newscasts, more news, recipes featured on the shows, health tips and information on local businesses. azfamily.com. FC: web@azfamily.com
Best Radio Station and Best Today's Hits Radio Station: 97.5 KMVA
Hot 97.5 plays the latest music from the hottest artists like Justin Bieber, Selena Gomez, Fall Out Boy, Ellie Goulding and more. In between all the music, the on-air talent is some of the best in the Valley, and includes Monica in the Morning, Mike G. midday, Robin Nash for the afternoon drive, and Dee Garcia in the evening. You can listen online via the new Trending Radio app. hot975phoenix.com.

Best Rock Radio Station: 97.9 KUPD
Arizona's real rock station is home to the state's morning show, Holmberg's Morning Sickness. It is the source for hard-hitting rock music like Social Distortion, Reverand Horton Heat, Five Finger Death Punch, Disturbed, Sevendust and more. Stream music online and learn about upcoming rock festivals and tours, and follow Holmberg's blog on their Web site. 98kupd.com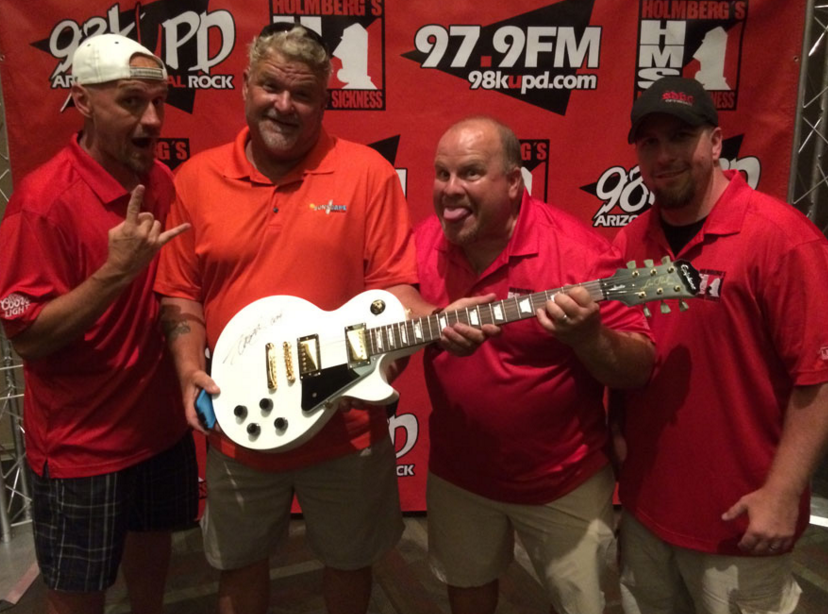 Best Talk News Radio Station : 92.3 KTAR
The longtime source for news and talk, KTAR is the source for local news, sports and traffic, as well as national headlines. Valley favorites and legends like Pat McMahon, Rosie on the House, Silent Witness and Data Doctors all call KTAR home. Their shows include Bruce St. James & Pamela Hughes, The Dave Ramsey Show, and Mac & Gaydos. Programming gives listeners advice on everything from the great outdoors, home improvement, money matters and car problems. ktar.com.
Best Traffic Personality : Mark Jeffrey, 99.9 KEZ
Mark Jeffrey has been a traffic anchor in Phoenix for 34 years, currently part of Beth & Friends on KEZ and on KFYI. He has won dozens of news reporting awards and has even DJed at weddings. As the current operations manager for the Total Traffic & Weather Network, Jeffrey has been on 21 different Phoenix radio stations, and more than 60 around the region. kez999.iheart.com.
Best Variety Station: 99.9 KEZ
Valley radio fans have enjoyed Beth & Friends as their workday radio voice for years. During the holiday season, KEZ is the place to go for non-stop holiday music from Thanksgiving through Christmas. Their playlists appeal to a broad audience, ranging from Taylor Swift to nostalgic classics from the 1980's, and everything in between. kez999.iheart.com.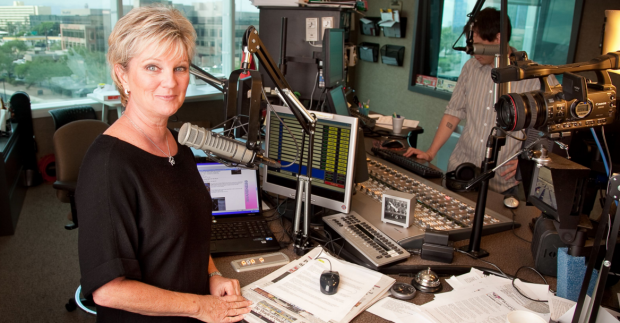 Favorite Afternoon or Evening Show and Favorite Nightly Newscast : ABC 15 News
Steve Irvin and Katie Raml hold down the anchor desk at ABC15 News at 5, 6 and 10 p.m. Irvin has earned three Rocky Mountain Emmy Awards, including two for Best Anchor. Raml has won Emmys for her series on border issues, and her expertise in the area of Arizona wildfires. She is a member of the Walter Cronkite Hall of Fame at Arizona State Univesity. They have covered everything from political conventions, terrorist attacks, national news, bringing it home to the local Arizona audience. The rest of the outstanding news team includes consumer advocate Joe Ducey, sports director Craig Fouhy, and other faces familiar to the Valley for their quality reporting. abc15.com.
Favorite Anchor Team : Kari Lake & John Hook , FOX 10
Hook and Lake is the longest running news team in the Valley. Kari Lake is an Emmy Award- winning anchor and reporter, receiving awards for her stories on the landmine removal efforts in Cambodia and a half-hour special that she wrote and anchored. Before joining Fox 10, she worked as an anchor, reporter and weather caster in New York and Illinois. John Hook has been covering Arizona news for more than 24 years, starting his career in radio. He is also a multiple Emmy Award winner, and a five-time recipient of the Associated Press Anchor of the Year Award. You can catch Hook and Lake at 5 and 9 p.m. on Fox 10 News. fox10phoenix.com.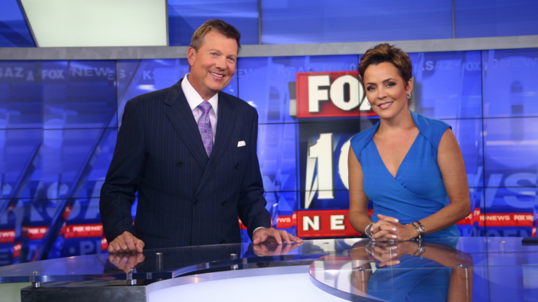 Favorite Local Daytime Show: Your Life A to Z, 3TV
Your Life A to Z is 3TV's lifestyle show featuring tips on better living, your health, and your family, as well as fashion ideas from local boutiques and recipes from Arizona's best chefs. Every weekday at 10 a.m., host Suzanne Bissett, along with co-host Gina Salazar, provide tips for living your best life. Providing information on wellness to what's trending, recipes to the latest styles, local businesses are featured so that viewers are in the know on where to go for whatever they need. azfamily.com.
Favorite Local Morning Show: Good Morning Arizona, 3TV
The Good Morning Arizona team is made up of Scott Pasmore, April Warnecke, Javier Soto and Gina Maravilla. The show features news and lifestyle segments that run the gamut from recipes and local news to car reviews and Valley favorites. With their fun approach and easy rapport, the team is good company as you get ready to start your day, and, if you see something you like, the information they provide can be easily accessed online anytime. azfamily.com.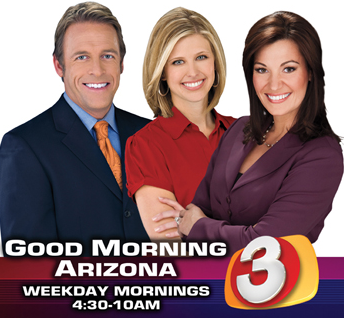 Favorite Local Website: dealsinaz.com
Contacted. Waiting for info. FC: Alicia@dealsinaz.com
Favorite Meteorologist or Weather Personality: Kristy Siefkin, Fox 10 
Kristy Siefkin has been in the public eye since winning her first public speaking competition at the age of 8. Her first on-air job was as the national spokesperson for the American Kennel Club. A graduate of Duke University, she was hired as a video journalist, weather anchor and sometime traffic reporter by a San Francisco television station. She started her career in Arizona at CBS 5 as a weather anchor and reporter, and continues her career as both on Fox 10. In addition to the weather, she continues to cover stories about her other passions: dogs and community. Fox10phoenix.com 
Favorite Sportscaster : Brad Steinke, FOX Sports Arizona
Brad Steinke has covered the Arizona sports scene for 19 years, working as an anchor in both Phoenix and Tucson. He joined Fox Sports Arizona in 2001, and during his time as an anchor and host, has established himself as one of the best in the business, as evidenced by his 11 Emmy Awards. Brad has also hosted Arizona Diamondbacks post-game shows and has been the in-game reporter. At the latest Emmy Awards, he took home an Emmy for his work on "In My Own Words: Grant Hill" which was named Best Interview/Discussion Program/Special or Series. local12.com.
Favorite TV Male Personality: Afternoon or Evening News: Dave Munsey, FOX 10
Munsey has been with Fox 10 since 1975, and currently presents the weather weekdays at 5, 9, and 10 p.m. In 1980, Munsey started his water safety program, "Watch Your Kids Around Water". The program is still going strong and is the most recognized in Arizona. Munsey's major awards during his career include a National Emmy award, a Regional Emmy Award and the Governor's Award Emmy for "Watch Your Kids Around Water". fox10phoenix.com.
Favorite TV Female Personality: Morning or Daytime and Most Fashionable News Anchor: Yetta Gibson, CBS 5
An Emmy Award-winning journalist, Yetta Gibson is an Atlanta native who has reported news and entertainment for nearly two decades. Most of her airtime has been spent right here in the Valley of the Sun. She started on her career path in the 90's as a college intern and eventual radio news reporter for one of Atlanta's hottest radio stations located inside the CNN Center in Atlanta. Gibson's coast-to- coast career has given her versatility as a high-energy personality. Her passion is telling great stories, getting out and about to meet and talk to people in the community, and making what she calls "that comfortable connection" with her viewers. You can see her every morning on CBS 5's Wake up Arizona morning show. cbs5az.com.
Favorite Male TV Personality: Morning or Daytime: Javier Soto, 3TV
As part of the Good Morning Arizona team, Javier Soto helps Arizonans greet their day with news and information. A graduate of California State University, Long Beach, went from intern to producer in a matter of weeks at the award-winning KTLA-TV news. He decided to step out from behind the scenes and work in front of the camera, and has found a home here in Arizona and on 3TV. azfamily.com.
News Anchor of the Year: Scott Pasmore, 3TV
Scott Pasmore has been on 3TV since 1989, anchoring Good Morning Arizona shortly after its debut. He has won an Emmy and several local awards for his reporting. His sense of humor and upbeat personality are the reasons Arizonans tune in each morning for the latest news, lifestyle segments, and more. Away from work, Scott enjoys exploring the state he loves in his airplane. He also enjoys remodeling homes, riding motorcycles and anything that goes fast. azfamily.com.
Buy your copy of Arizona Foothills Magazine Best of Our Valley 2016 Collectors Edition issue here or get the digital version here.