The license plate game, road-trip bingo, choruses of "Ninety-Nine Bottles of Beer on the Wall" and "Are we there yet?" – all are hallmarks of the great American road trip. Love 'em or hate 'em, road trips have been a staple of summer vacation since the dawn of the automobile era.
Prescott artist Dave Newman has an affinity for nostalgia, and his mixed media collages are heavily influenced by the road and the automobile. License plates, road signs, hood ornaments, old gas pumps, advertisements – he scours junkyards, yard sales, swap meets and antique stores for these objects that evoke the fun and whimsical aspects of life and travel.
Originally from Anaheim, Calif., Dave's original car art was the vehicles themselves. He customized cars, then took them cruising down the popular boulevards, and showed them at car shows. As for how he got into the collage work that is the staple of his work today, Newman says, "I have always been a collector, even as a kid. But I had no idea it would ever turn out to be what I'm doing now."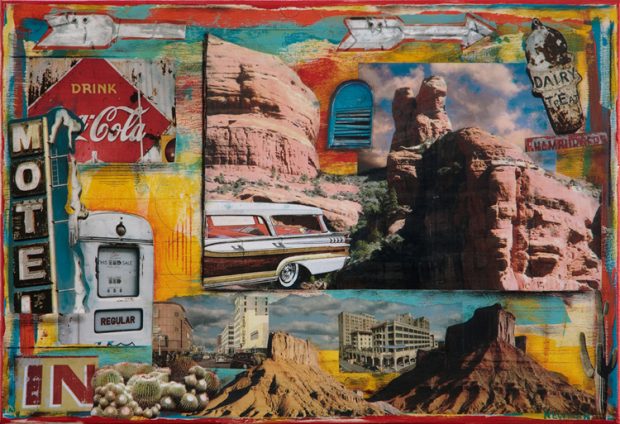 There is a strong connection between cars and art. Witness the wild popularity of Scottsdale's annual auction season each January. People collect cars like they collect art pieces, often because of the nostalgic feeling they get when owning a piece of automotive history. When you look at Newman's work, pieces  like "See the USA in a Chevrolet," "Power Fuel," "Desert Outskirts," and "Ride, The Open Road," they inspire that same feeling. Newman explains phenomenon by saying, "I think my work speaks to people because of the memories they have of road trips and their childhoods. And because everything made from the '40s to the '60s – from cars to toasters – was just plain cool."
A self-proclaimed "car guy," Dave has a 1955 Ford Fairlane, and owned a 1977 Chevy pickup truck that he collaged and painted. His first car was a 1963 Ford Falcon that he purchased when he was 15 years old. "It was parked on the street, and didn't even have a 'For Sale' sign on it. I went to the door to ask if they would consider selling it, and $35 later, it was mine," he recalls. "I couldn't even drive it home. Although, I did sneak it out once in awhile before I turned 16."
To own a snapshot of Newman's brand of nostalgia, you can visit the Newman Gallery in Prescott during your own family road trip to escape the heat this summer. In Scottsdale, he is represented by Xanadu Gallery in Old Town.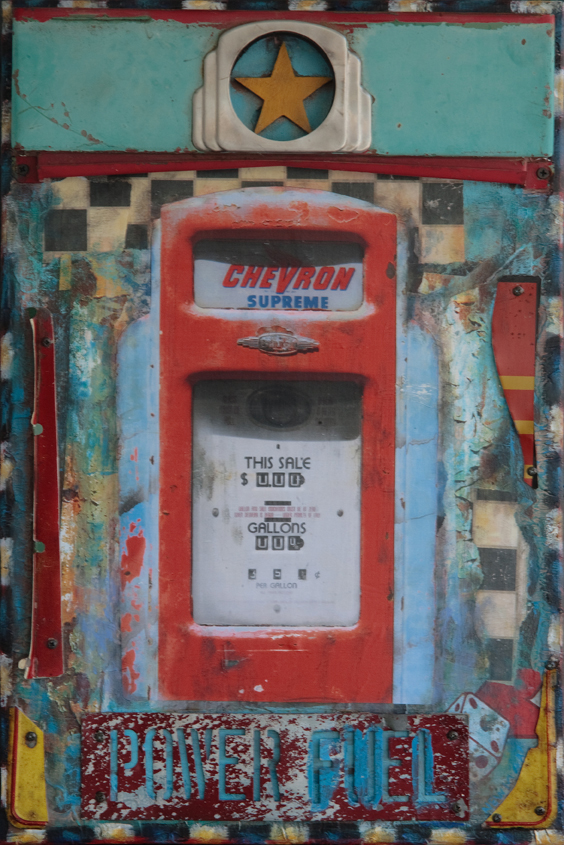 For more information:
Newman Gallery
106-A S. Montezuma St., Prescott
928-442-9167; azrtist.com
Located on Prescott's historic Whiskey Row, the gallery features Dave Newman's work as well as cutting edge sterling silver jewelry by Kit Carson, Richard Schmidt, J. Forks Designs, Cindy Huff, Beverly Cole, Margaret Thede, Liz Jonas, Golden Fleece and many others. You'll also find ceramics, Trapp Candles and Day of the Dead items and pieces from a number of local artists.
For more information about Dave Newman, and to preview his art, visit his website.