Toyota RAV4 was the first small crossover vehicle, making its U.S. debut in 1995. And, my, how it's grown up since then. Now entering its fourth generation, the bigger, sportier, redesigned RAV had its coming out party during the Super Bowl, with the popular "Wish Granted" spot starring Kaley Cuoco. It's garnered 14 million YouTube views since then, which Toyota hopes will translate into sales. In case you missed it, here's the ad:
[youtube id="iymBRSUfz9U" width="600″ height="350″]
So, what did consumers wish for when considering a new RAV4? According to Jim Colon, Toyota's vice president of product communications, there are some critical items that influence buying decisions. First, while price is important, value is more so. People don't want a stripped-down vehicle with no options, even if it comes at a bargain price. Standard features and amenities are crucial, as are style and technology, which consumers say, enable them to better enjoy the vehicle with family and friends. At the same time, people want only the features that are important to their lifestyles: Give us a variety of models and options to choose from, but not so many as to overwhelm.
In response to this feedback, Toyota equipped the new RAV4 with all of the desirable amenities, even in the base trim, while becoming a price leader in the segment. For this new iteration, Toyota has discontinued the V-6 option in the RAV, instead equipping it with a 2.5-liter four cylinder that produces 176 horsepower, coupling it with a new six-speed automatic transmission. There are some other notable changes as well. Thankfully and finally, Toyota has moved the spare tire off of the liftgate, hiding it instead under the cargo area. And, it truly is a liftgate, rather than a side-hinged door as in previous models, and it is height-adjustable to accommodate shorter drivers or low garage ceilings. Lexus would do well to take note of this for its GX SUV, which still inexplicably sports the side-hinged rear tailgate.
The other big change is the removal of the optional third row seat, which was fairly useless in this vehicle anyway and, according to Toyota, only accounted for about five percent of sales.
I had the opportunity to drive the new RAV4 at the launch event at The Boulders in Carefree. The drive routes took us down wide desert straightaways, through twisting mountain roads and the towns of Cave Creek and Carefree. The RAV handled all of these roads deftly, though there was some body roll on the sharper curves and turns. The revised transmission was smooth, and transitioned through the gears fairly seamlessly, with little "hunting" sensation during up and downshifts.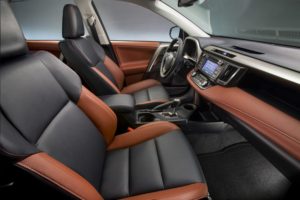 All three trim levels are nicely equipped, and appointed with soft-touch materials, but luxury buyers will likely focus their attention on the top-of-the line Limited, which is expected to comprise 30 percent of all RAV4 sales. The new RAV4 is an attractive vehicle whose looks belie its price point; the faux-leather interior is especially smart in the brown and black motif, where color blocks distinguish functional and comfort zones. Fully decked out, with navigation and Toyota's interactive Entune system, as well as optional all-wheel-drive, the top-of-the-line RAV4 clocks in at just under $30,000.
The Limited is similar in equipment to a base level luxury crossover, and worth a drive if you want to save money without compromising on amenities and comfort.
Vital stats:
Pricing and trim levels:
LE ($23,300) – Integrated backup camera, steering wheel-mounted controls, Bluetooth, ECO and sport modes
XLE ($24,290) – Adds alloy wheels, dual-zone climate control, power sliding moonroof, sport seats, fog lamps, plus optional navigation system with Entune
Limited ($27,010) – Adds 18-inch alloy wheels, adjustable power liftgate, premium Softex seating, heated front seat and power drivers seat, smart key with push-button start, optional JBL sound system
All-wheel drive is available on all trim levels for an additional $1,400.
Engine: 2.5-liter four cylinder; 176 horsepower
Fuel Economy (city/highway): 24/31
Safety Ratings: Not yet rated, but features a class-leading eight airbags