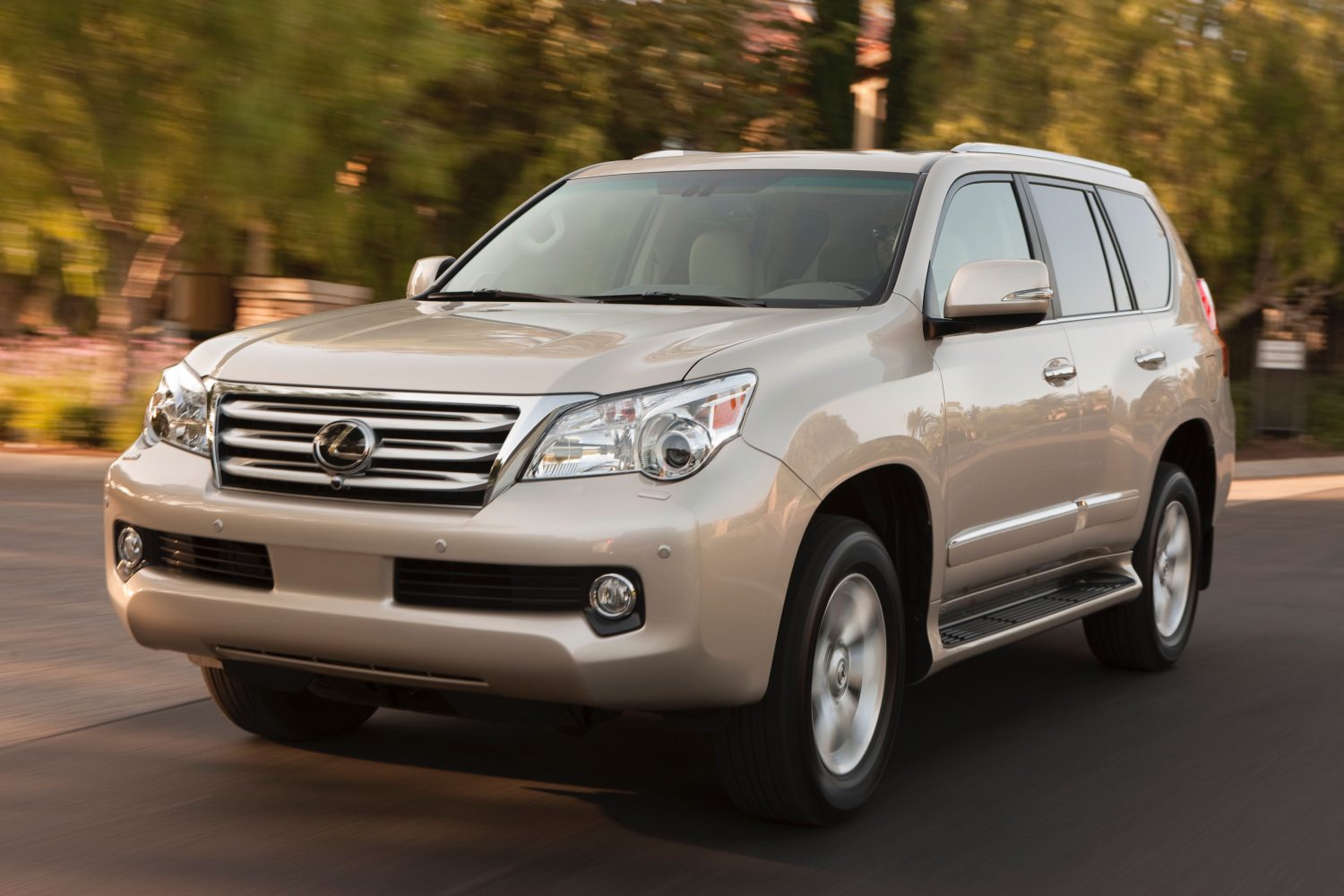 For every lifestyle, there are any number of vehicles to satisfy the needs and wants of the drivers who live them. Families, outdoor enthusiasts, young professionals, retirees – each of these groups has different desires and essentials. And there are sedans, SUVs, sports cars, even minivans, that will oblige. The Lexus GX460 is suitable to satisfy those who need to haul multiple occupants and a lot of cargo, and who desire true off-road capability.
The Lexus lineup features a trio of SUVs, with the GX slotting between the RX and the LX. For 2013, the GX460 is an exact carryover from the previous model year, and is beginning to show its age, lacking some of the advanced technology features found on the RX and on recently revamped Lexus sedans.
Despite falling into the middle of the lineup, the GX is still a big vehicle, and it drives like one. On the plus side, if you need to transport seven people in comfort, it certainly fits the bill. And while we expect that few will find their way further off road than the occasional dirt parking lot, the GX has true four-wheel-drive capability, including Crawl Control to navigate through dirt, mud and snow, steep grades or rough ground. Basically, the system regulates engine speed and braking force so that the driver can concentrate on steering through tough terrain without having to think about brake or throttle. It can also tow up to 6500 pounds with the optional towing hitch.
It is versatile, no question, suiting the soccer mom who eschews minivans, and masculine enough for a dad to feel comfortable in as well. But, there are a few drawbacks. First, there's the side-hinged rear door to access the cargo area. Toyota finally did away with this feature in the RAV4 for the new model year, and Lexus would do well to follow suit. Secondly, as mentioned, while Lexus has upgraded the user interface of its system operations on most other models, utilizing a mouse-like control knob on the center console to access audio, climate and other systems, GX still employs the previous system, which seems clunky in comparison.
And while GX features the Kinetic Dynamic Suspension System to reduce body lean and improve handling response, it still drives every bit as big as its 5300+ pounds. The body on frame construction, hill-start assist control, and downhill assist control do make it ideal for off-road performance, and it still provides a civilized, if not spirited, on-road experience.
Inside, you'll find all of the expected luxury amenities and family-friendly options like a dual-screen entertainment system and easy access to the third row. On the Premium model, you can get a wide-view front and side camera system to enhance visibility in tight spaces, which is extremely useful in a vehicle this size.
Overall, the GX460 is a versatile vehicle that is at home on mountain and desert trails, in the carpool, or on excursions to Home Depot and Costco to stock up on essentials. However, it is a bit past its freshness date, yearning for some of the upgrades found on current Toyota and Lexus models. In terms of amenities, performance and driver experience, Mercedes GL is miles ahead of the GX. It will be interesting to see what Lexus does to close that gap.
Vital stats:
Pricing and trim levels: GX ($53,795) – Full power accessories, ECO driving indicator, Lexus Personalized Settings, premium audio system with iPod and Bluetooth connectivity, full complement of safety features and off-road technologies
GX Premium ($58,590) – Adds heated steering wheel and second-row seats, HID headlamps, rear air conditioning, wood trim on the steering wheel and shift knob
Engine: 4.0-liter V-8; 301 horsepower
Fuel Economy (city/highway/combined): 15/20/17
Safety Ratings: Not yet rated
Lexus is the title sponsor of Arizona Foothills Best of Our Valley Finale Party on April 25. The fourth-annual Best Of Our Valley contest highlights the creme de la creme and names a victor in hundreds of categories. Click here to purchase tickets.