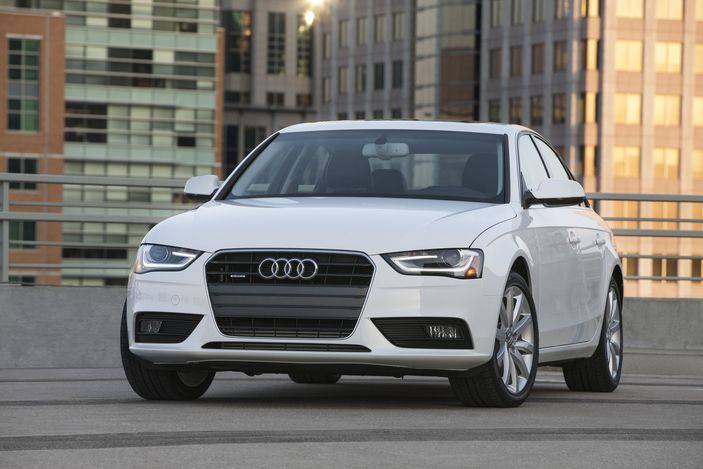 The entry-level luxury car – one could argue that it is as important to a carmaker as its flagship vehicle. After all, you know what they say about first impressions. If Audi can wow a young professional with the A4, BMW with a 3-series or Mercedes with a C-Class, chances are, there will be an A6, 5-series or E-Class in his or her future. Or maybe even an SUV for the family.
Audi's entry-level sedan, the A4, has been the brand's best-selling model for four decades, and enters its eighth generation with some minor design and mechanical upgrades. I'd argue that the only thing entry-level about it is the price.
In terms of cabin-comfort, the A4 is akin to a midsize sedan, with adequate legroom for adults in the rear seat, a rarity in this class. In my opinion, Audi has the best-looking interiors in the business, and the A4 lives up to that reputation. It is conservative yet classy, using quality materials and attractively colored ambient lighting. Where BMW and Mercedes use "leatherette" in their entry levels, Audi employs the real deal, with leather surfaces and trim that add to the sophistication of the cabin.
And, for the most part, controls are intuitive. However, getting around the Multimedia Interface (MMI) that comes with the navigation package may require a trip or two to the owner's manual in order to become proficient in operating it.
And the A4 is fun, with sporty drive characteristics, responsive steering and more than adequate power for passing and getting up to highway speeds with ease. There is none of the lag so often experienced with turbo charged engines, and shifting on the Tiptronic transmission is seamless. There's certainly no push-you-back-in-your-seat power, but the A4 grips firmly during cornering and gives the BMW 3-series a serious run for its money. And with quattro all-wheel drive, the A4 will be equally comfortable on short runs to snowy climes up north.
I only had a few minor quibbles with the A4, a manually operated tilt-telescoping steering wheel being one of them. And, I've become so accustomed to rear-backup cameras, it's rather disorienting to back out of a driveway or parallel park without one; this is not an available feature on the A4.
But overall, those looking for an entry-level luxury car with all the desirable amenities, a sporty, fun drive, and that is a little more "grown-up" feeling than a BMW 3 series, would do well to add the A4 to their test drive list.
Vital stats:
Pricing and trim levels: Three models are available: front-wheel-drive A4 equipped with an eight-speed CVT ($32,500); quattro (Audi-speak for all-wheel-drive) with a six-speed manual ($33,400); and quattro with eight-speed Tiptronic ($34,600). For each model there are three trim options:
Premium highlights include eight-way power seats, halogen headlights, leather seating, power sunroof, automatic climate control, tire-pressure monitoring system.
Premium Plus ($4,200) adds heated front seats with driver memory, three-zone climate control, convenience package with iPod interface, Bluetooth and garage-door opener.
Prestige ($9,750) adds MMI Navigation plus package, Bang & Olufsen sound system, advanced key.
Price as tested: $40,310 (quattro Tiptronic with Premium Plus package)
Engine: 2.0-liter, turbocharged four-cylinder; 211 horsepower
Fuel Economy (city/highway/combined): 20/30/24
Safety Ratings: Top Safety Pick by the Insurance Institute for Highway Safety; 5 Stars from the National Highway Traffic Safety Administration