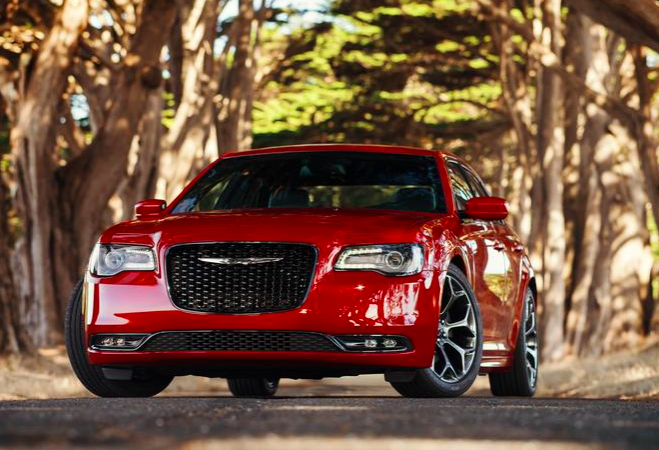 By: Brandon Randall
The new Chrysler 300 Limited has hit the showroom floor with some exciting changes for 2015. Nothing overly expansive or inspirational, but enough to keep our interest, while still maintaining all of the core principles that make the 300 popular and easily recognizable on the street. Namely, standing out from the crowd with its good looks and powerful presence, carting around four adults in quite comfort and not breaking the bank with a very reasonable base price at just over 30K.
The newest model has undergone fairly extensive front and rear re-styling. The traditional blunt nose and large grill is flanked by automatic bi-function halogen projector headlamps and LED fog lamps. In the rear we find a small, cosmetically purposed duck fin spoiler and chrome LED tail lamps that sit over a brightly tipped dual exhaust system. The high waist line of the Chrysler 300 combined with its wide stance and 17" aluminum wheels make for a car that looks planted and powerful.
As 'put together' and the exterior feels, on the inside there is something irritatingly unappealing about the button configuration and overall layout of the Chrysler 300's cabin. There's just an inescapable lack of polish that's enjoyed in almost every European luxury sedan that gnaws at you. Soft touch materials are found throughout, and the front seats are trimmed in leather, heated and 8-way adjustable with lumbar support. The rear middle seat is tight thanks to the hump from the transmission tunnel, and rear visibility is limited due to the cars high waist, chunky B-pillars and small rear windows.
What is impressive is the list of safety and tech features you'll get at such a low price. To help keep you safe, the 2015 Chrysler 300 comes with adaptive cruise control, a lane departure system, all speed traction control and more. Despite all of that, if you still manage to get yourself into a wreck, there are enough airbags to make you feel like your being cuddled by the marshmallow man from Ghostbusters.
A full color instrument panel in front of the driver and another 8.4" touchscreen in the center stack features the latest Uconnect system, including voice commands. There's a media hub and dual remote USB ports for charging your smart devices. A meager 6-speaker sound system may not sound very top end, but offers enough volume with only minor distortion thanks in part to how quite the 300's insulated cabin is.
Powering my 300 Limited is a 3.6L V6, making a respectable 292 hp and 260 lb-ft of torque. RWD is standard equipment with the option of an AWD version. If you're still hungry for that classic American V8 muscle, there's a fire breathing 5.7L option. Thankfully, a smooth 8-speed automatic transmission is now available on all engine sizes.
Around tight corners, the 300's sheer mass is hard to hide. This is a car that feels more at home on long open stretches of highway than windy mountain roads. It's planted and secure, with a smooth ride and approachable price tag. For a bit more green you can up the ante with the 300C Platinum model, where you'll get a sport tuned suspension, more chrome accents, full leather, paddle shifters and even cupholders that are heated and cooled.
The new Chrysler 300 Is more sensible than the barefaced and bold Dodge Charger, but not so unassuming as the Toyota Avalon. If you have fatter pockets, the European market offers a plethora of better options. The Hyundai Genesis is a big win as well. Ultimately, I never fell in love with the new 2015 Chrysler 300 Limited. For everything it does well, the 300 lacks that special something that gives a car character and heart. Even still, it's easy to appreciate how much it offers for the price. More than enough to remain a very popular choice in today's competitive full-size sedan market.
Price as tested: $35,255