When it comes to making a major purchase like a luxury vehicle, the buying experience counts almost as much as the driving experience. The way you feel about the purchase is largely dependent upon how you, as a customer, were treated by the employees. And happy employees generally provide the best service to their customers.
Now, one of Arizona's top dealerships, Scottsdale's Schumacher European, Ltd. owns the distinction of being one of the Top 100 Best Dealerships to Work for in the United States and Canada, as determined by Automotive News.  Schumacher was named the 27th best dealership to work for and was the only dealership in Arizona given this distinction. It was also the only Mercedes-Benz dealership in the United States and Canada to be listed in the top 100.
Dealerships were assessed on benefits, ethics and business practices. Schumacher European offers employees exceptional health benefits, hosts annual wellness fairs on the premises, serves up monthly barbeques on the roof and employs a firm policy of hiring staff that reflects the diversity of the dealership's client base.
"We have always believed that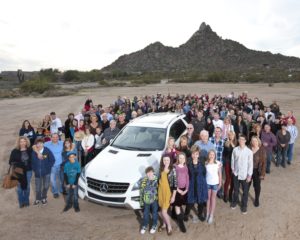 our employees are part of the Schumacher family," says Werner Schumacher, owner. "There are people here who have been with us since almost the beginning of the dealership. This is an accomplishment we're very proud of."
"There's so much that goes into being named a top dealer to work for," says General Manager Kevin Steele. "I think it is proven through this ranking that if you treat your employees fairly and with respect, they will be loyal and productive people."
Schumacher European, a family owned business since 1987, offers Mercedes-Benz, Sprinter and smart car products. Schumacher European is one of the nation's leading Mercedes-Benz retailers being ranked #1 by Arizona Business Magazine readers for 13 years in a row, and honored as the 2012 recipient of the Better Business Bureau's Business Ethics Award.
For a complete ranking and more information about Automotive News' Top 100 Best Dealerships To Work For award, click here.