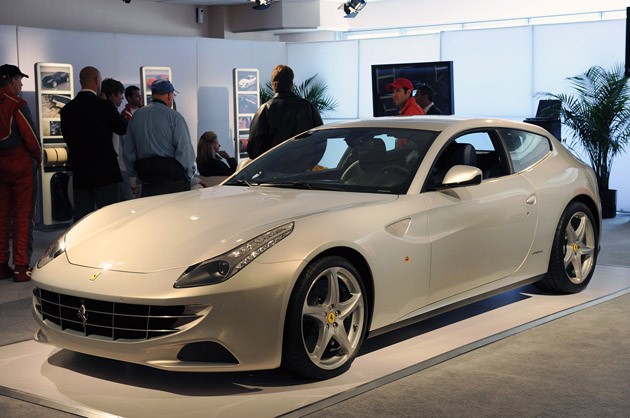 This weekend the new Ferrari FF received a private showing at Mazda Raceway Laguna Seca during the Ferrari Racing Days.  This comes a short while after it's international unveiling at the Geneva motor show earlier this year.
The Ferrari FF is a four-wheel drive four-seater with a mid-front V12.  Some are saying that it is the most powerful and versatile car Ferrari has ever built, and the 458 Italia sporting the HELE (High Emotions Low Emissions) System which cuts CO2 to just 275 g/km, certainly backs up their case.
This new emissions figure represents a reduction of 15 percent and is another remarkable achievement for the 458 Italia which has already received over 20 awards from the world's most prestigious car magazines. The 458 Italia now boasts the lowest emissions of any sports car in its class on the market.
Exceptional sporty driving is guaranteed by the FF's transaxle architecture (mid-front engine with gearbox over the rear axle) and the positioning of 53% of weight to the rear of the car. Meticulous attention has been taken in lightening the engine (new castings), body-shell (new aluminum alloys and production processes) and a host of other components. The interior has also been optimized through the use of high-tech materials such as magnesium for the seats. Third generation Brembo carbon-ceramic brakes are now lighter and longer-lasting, with virtually negligible wear during normal use on the road. All of these innovations have combined to produce an absolutely exceptional weight-power ratio of 2.7 kg/CV, a new benchmark for this kind of car.
Styled by Pininfarina, the FF's lines effortlessly reflect its signature uncompromising balance of sportiness and versatility. It can comfortably accommodate four in its body hugging seats and spacious cabin. It's adequate trunk space can also be extended as the rear seats fold down independently. This means that the FF offers more luggage space not only than any other car in its category, but also many four-door sedans as well.
Phoenix Arizona auto enthusiasts can keep an eye out for the Ferrari FF at Scottsdale Ferrari.  Phoenix Valley auto enthusiasts may also want to mark their calendars for Thanksgiving weekend, when the Phoenix International Auto Show takes place at the Phoenix Arizona Convention Center.