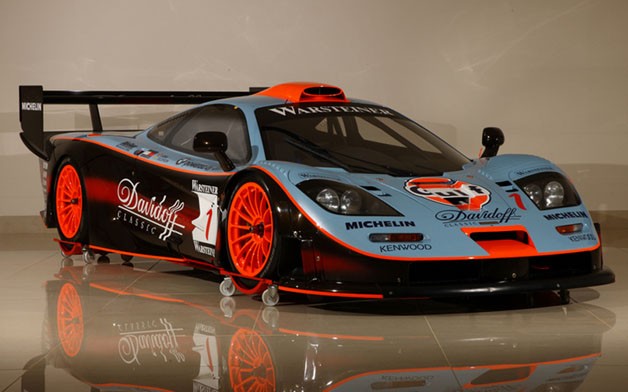 There are certain names in the world of the supercar that command immediate respect and awe.  What Bach is to classical music, what Tiffany is to lamps, what Bose is to noise cancelling headphones, the name McLaren is to world of high end extreme racing machines.
The main difference between a McLaren and any other high end item is that even the most wealthy and determined of automotive collectors and enthusiasts can have a hard time finding a McLaren owner who is willing to part with their holy grail of the racing world.
This August Phoenix Valley car collectors will have the rare opportunity to bid on just one such example at Bonhams Quail Lodge Auction in beautiful Carmel, California.  Not only will they be bidding on one of the most beautiful and rare vehicles in the world, but also one with a history that places it well within the realm of four wheel legends.
The McLaren F1 GTR made its way to the front of the pack as THE dominant force in endurance racing in the late 1990s.  The F1 GTR was such a breakthrough design in fact that, despite its being a production vehicle rather than a purpose built track only prototype, it managed to declare an overarching victory at the 2005 24 Hours of Le Mans.
McLaren only built 28 examples of the F1 GTR.  Further, only ten of them were aerodynamically customized for the track.  The example going up for auction in Carmel just happens to be one of them.  And this specific example stands out from the ten: Built in 1997, chassis 028R contested the FIA GT Championship at the Nurburgring, the A1-Ring, Donington, Spa, Mugello, Sebring, Laguna Seca and Suzuka.
"We are delighted to have been appointed by an international collector to represent this breathtaking piece of competition machinery," says Mark Osborne, Head of Motoring at Bonhams. "Racing legends like the McLaren F1 GTR rarely if ever appear at auction and Bonhams' appointment speaks volumes about our leadership in this sector of the market."
Adorned in Gulf and Davidoff racing colors, the McLaren F1 GTR will go to the highest bidder for a price that no one can exactly determine.  To offer a point of reference, the last time anyone put a price tag on this car it commanded nearly $4 million.  So Phoenix Valley car collectors should bring at least that much with them if they plan on making the trip out to the coast this summer.
The 2012 Bonhams Auction of Exceptional Motorcars will take place Thursday and Friday, August 16th and 17th of 2012 at Quail Lodge in Carmel, California