Is there a more staid vehicle category that of the mid-sized sedan? To me, the segment as a whole is analogous to a household appliance: it fulfills a very real need, and it's a nice feeling when you get a new one, but it's also not something that inspires a lot of passion or hoopla. Volkswagen has always been the quirky entry here, the Dyson vacuum, so to speak. It may be a little pricier, but it's also more distinctive, turning more heads than your basic Honda (or Hoover). You seem a bit more hip for owning one. And so we have the 2014 Volkswagen Passat as this week's test drive.
New for 2014 is a 1.8-liter turbocharged engine, which produces the same 170 horsepower as the 2.5-cylinder it replaces. The new engine has more torque, mostly in the lower range, which gives it better passing power and zip. Two additional engine options are available: a 280-horsepower, 3.6-liter VR6 and a 140-horsepower, 2.0-liter TDI clean diesel inline four-cylinder. The six-speed automatic transmission shifts effortlessly, and the Passat returns a smooth, quiet ride even at highway speeds.
Stylistically, the Passat hasn't changed much since Volkswagen redesigned it for the 2012 model year, moving production to Chattanooga, Tenn., making it a much bigger vehicle and lowering the price point by about $5,000, presumably to grab a higher percentage of the market share. The strategy seems to have backfired however; while overall car sales are up, U.S. sales of Volkswagen products are down by 13 percent. It seems that, by trying to appeal to the many, the brand may have alienated its loyal base of customers who were looking for something a little different, and were willing to pay to get it.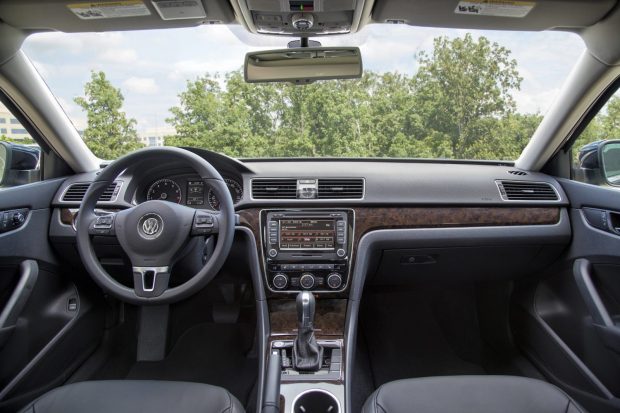 Still, the interior is exceptionally roomy, with plenty of room for five adults to ride comfortably, and a cavernous trunk to hold luggage, golf clubs or pretty much anything else that needs transporting. The leather-trimmed sport seats were very comfortable, bolstered nicely for long road trips and sharp driving maneuvers. Interiors are where VW has traditionally stood out, with striking lighting and quality materials adorning the dash and instrumentation. This iteration of the Passat still feels upscale, if a bit austere.
Outside, the Passat has an elegant profile. Clean, horizontal lines give it a timeless, geometric visual impression and the front is marked by Volkswagen's horizontal three-blade grille. Attractive though it is, Passat still doesn't stand out in the sea of mid-sized sedans navigating the roads.
All SE and above models come with a standard backup camera. Our SEL Premium was nicely equipped with Fender premium audio, heated front seats and all of the power and comfort features expected in a premium sedan. All Passats come with the Volkswagen Carefree Maintenance program, which covers all scheduled maintenance services for two years or 24,000 miles.
Overall, the Passat is about as fun as a mid-sized sedan can be. It is responsive, with excellent driving dynamics, plus, it's still a little cooler than the competition, a little more stylish. It returns great gas mileage (24/34/28 mpg, city/highway/combined) and has lots of room, making it a great road-trip sedan for both passengers and their gear. And, VWs are notorious for their staying power; Volkswagen boasts the most vehicles on the road with more than 100,000 miles (see the Super Bowl ad).
The very-nicely equipped Passat SEL Premium is $31,715 with the 1.8-liter engine and $34,265 with the 3.6-liter. TDI clean diesel models start at $26,675 for the base trim and $33,395 for the SEL Premium trim.