Mercedes unveiled its new S-Class, with the aspiration to be the best automobile in the world. Dr Dieter Zetsche, Chairman of the Board of Management of Daimler AG and Head of Mercedes-Benz explains, "Rather than being about safety or aesthetics, power or efficiency, comfort or dynamism, our aspirations were 'the best or nothing' in every respect. No other car stands for the Mercedes-Benz brand promise more than the S-Class."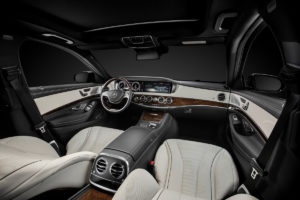 The exterior design is elegant and unmistakably Mercedes, with character lines and exaggerated surfaces flowing seamlessly from front to rear. Inside, the attention to detail and elegance are as expected in the front cabin, but luxury amenities also extend into the oft-neglected rear cabin. As Mercedes explains, this is because, while owners in North America and Europe can be found piloting the S-Class, in Asia, the flagship sedan is often chauffeur driven. Thus, the choice of four rear-seat variations, including those with massaging functions and active seat ventilation systems.
There are a lot of firsts with the new S-Class. It is the first vehicle in the world to not utilize a single light bulb; all interior and exterior lighting is LED. It is the first with road-surface scan, the ability to "see" bumps in the road and adjust the suspension accordingly. As a world first, the new S-Class Sedan has an "active perfuming system" as part of the air balance package. The system is switched on and off manually, with manual adjustment of the intensity, and individualizes the smell of the vehicle interior without changing interior smell permanently, or depositing perfume on fabric surfaces or clothing.
It also features a state-of-the-art sound system and redesigned command center for vehicle controls on the center stack. And safetywise, the S-Class takes the approach to avoid accidents and mitigate their consequences, by incorporating a number of prevention technologies — such as the PRE-SAFE system — as well as advanced systems to minimize a crash's impact on the vehicle's occupants.
It will be available in September with a 455-horsepower V-8 engine. All-wheel-drive and AMG models will arrive in November. Price has not yet been determined, but the current model year S-Class starts around $92,000, with the top-of-the-line S65 AMG starting at $212,000.