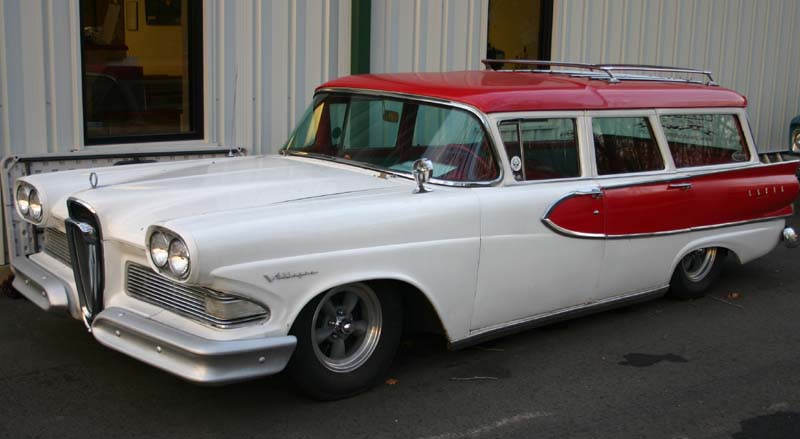 The desert, it preserves mummies, petroglyphs, and, with no moisture or salt in the air, vintage cars.  When this little fact is coupled with the geographic location of Phoenix (in the heart of hot rod country, and not too far from Los Angeles), and the popularity of the Phoenix Valley area as a retirement mecca, Phoenix auto enthusiasts will find that they are living in a strange vortex a sorts, except instead of finding good vibes and hemp jewelery like you will in other vortexes, you will find one of the hottest markets on earth for pristine vintage cars.
Ten years ago, even if someone realized all of these facts, finding the hidden automotive gems of the Phoenix Valley desert area was another story altogether.  One was pretty much limited to word of mouth, auto trader, and driving around in search of "For Sale" signs in back windows.  Today with Craigslist and other online sources such as Ebay, all of these other methods of the auto hunt are but distant memories.  Our gem today, the 1959 Edsel Villager Wagon, was found on the Phoenix Valley Craigslist page.
A second generation model after Ford originally introduced the Edsel Wagon brand in 1958, the Villager represents the middle trim luxury class of the three wagons sold under the Edsel umbrella (the other two being the Roundup with the base trim and the Bermuda with the high trim).   Unlike the Roundup, the Villager only came in a four door model, often featuring a 9 passenger seating arrangement, including a rear facing back seat.
Complete with boomerang tail lights, a unique rounded Edsel Ranger style front grille, and loads of chrome, the 1959 Edsel Villager Wagon is a classic worth owning.  It also is a rare vehicle which combines a classic vintage appeal with the cargo, passenger room, and mileage to rival that of a modern cargo/passenger vehicle.
The model found on the Phoenix Valley craigslist page has a pearl black exterior, baby blue interior, runs great, and comes in at under $5k, with possibility for best offer or pre-1970 BMW Motorcycle trade.  Someone will grab this gem soon, so hop on it if you are interested.