I am just over the moon about Hedi Slimane's latest collection for Saint Laurent. The Spring Summer 2013 show happened in Paris last week. It was as if all my childhood dreams all came together in one amazing fashion moment that I will yearn to recreate without the couture price tag. Being a fan of the late 60's and 70's Saint Laurent, like the smoking jacket a la Betty Cantroux and the slim sexy Safari inspired pieces that Verushka wore, I couldn't help but fall hard for just about every look.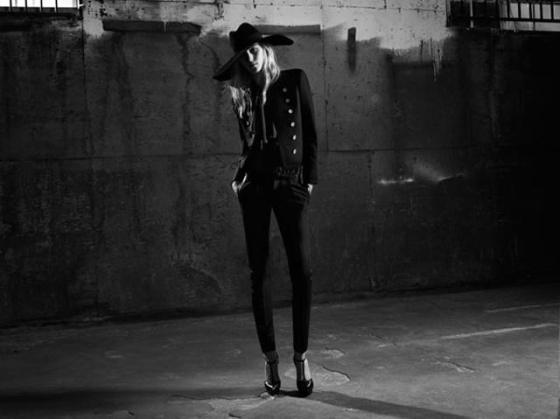 Who What Wear Reported this -The setting may well have been Los Angeles' infamous Chateau Marmont, as wide-brimmed chapeaux, Le Smoking jackets, bow-tie blouses, and slim trousers gave off a distinct rock royalty vibe, with a dash of that Spy vs. Spy look. Fringe jackets hinted at spaghetti westerns, while bohemian dresses teamed with long tassel necklaces had Stevie Nicks written all over them. A black leather lace-up jacket with four flap pockets offered a luxurious update to the brand's safari suit that Veruschka so famously modeled decades ago, and pointed-toe, t-strap heels lent a ladylike contrast to the collection's edgy looks. Rounding out the show, a series of dramatic floor-length gowns paired with capes perfectly captured Slimane's ladies-of-the-canyon theme. It was a strong first showing for Slimane under the Saint Laurent name, and given the collection's wearability, we expect to see plenty of its standout pieces on chic women this spring.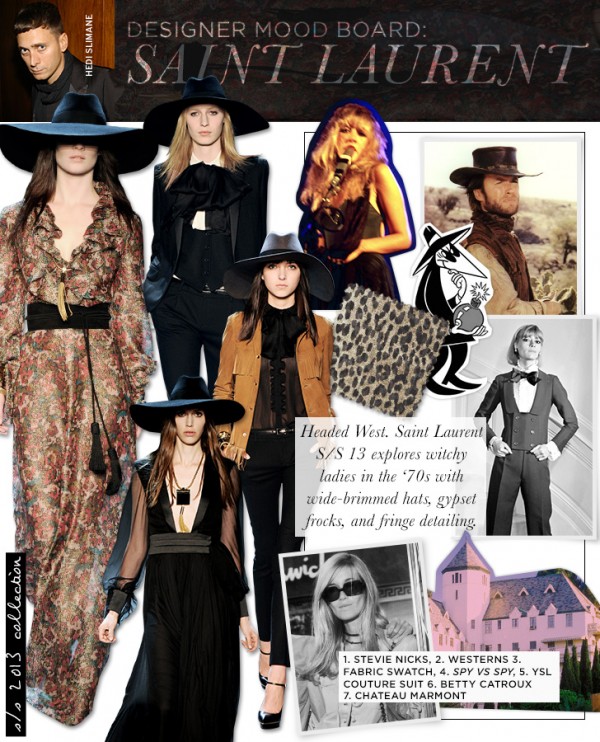 Remember a few months ago when the fashion world was squawking about the "rebrand" name change from Yves Saint Laurent to Saint Laurent? At the time the explanation was that the brand wanted to go back to its roots and honor the Saint Laurent name as it was on the early label…. Now looking at this collection which paid homage in such an incredible way to Yves himself, it seems a tad silly that anyone even began fussing about it to begin with.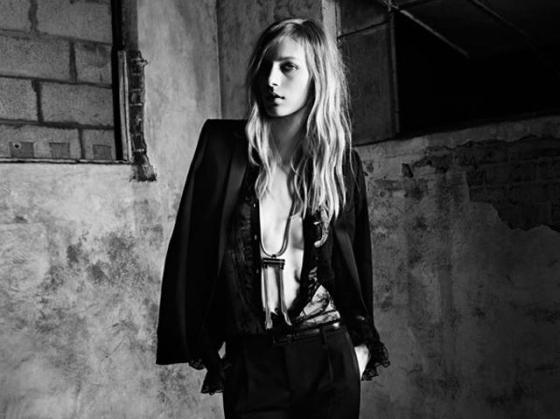 If you have a chance check out the amazing video from the brands website to accompany the collection. I've been told that Hedi also worked his magic behind the lens for the black and white print campaign featuring Edie Campbell and Beck Hanson (yes the uber musican) as well as a late December campaign with Julia Nobis. Have I mentioned how enamored I am with all of this? I would love to know your thoughts as it as well! And for an extra little fashion tip/bonus… it's Hedi not Heidi and pronounced Eddy not Heady…. Merci' and De Rien