Maybe it's just that Fall for the rest of the country is right around the corner but I am having a shoe split personality crisis. I need a new pair of sandals for what is sure to be the last long stretched out month and a half of heat and I am aching for a new pair of boots to replace my broken down pair of riding inspired ones… something in the beautiful black suede variety will do just fine thank you very much…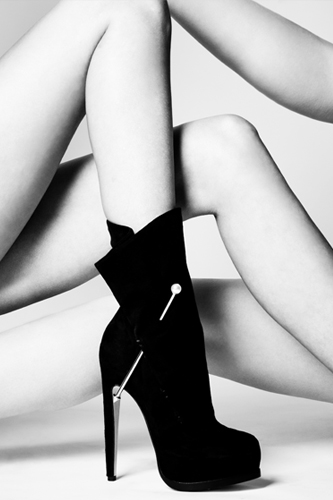 So when I saw the skyscraper heeled goodness of Richard Braqo's amazing shoe line I think I nearly choked on my gluten free peanut butter cereal (proving once again that cereal should not be in my food lineup) Here is a rundown of the amazing styles that we will be seeing from this up and comer for Fall from Refinery 29.
You know that moment when you see a shoe you just have to have? You think about it. You Instagram it. You tweet about it. Well, we found 10. Welcome our official pick for the new It shoe designer, Richard Braqo, who will be launching his very own label this fall.
Braqo first came to our attention for his award-winning collaborations with Cesare Paciotti. No wonder, as he's a bit of a prodigy — hailing from Ghana, Braqo (born Richard Kwame Brako) moved to NYC at 18 and studied at Parsons, before going on to work with the likes of Ikram Goldman, Acne Studios, and Helmut Lang. Oh, and his own custom creations are a favorite of Rihanna.
His crazy-unique debut is in line with fall's gothic romantic trend. Talking in advance of the September release, Braqo spills on some of the styles "The premiere collection is about juxtaposing the masculine details of a modern men's brogue with the feminine silhouette of a sharp five-inch stiletto. A fusion of something as classic and timeless as a pointy pump with a touch of the unfamiliar using elements such as 'the ankle bangle' and 'the pearled spear' as ornate details that refashion existing ideas about where accessories are placed."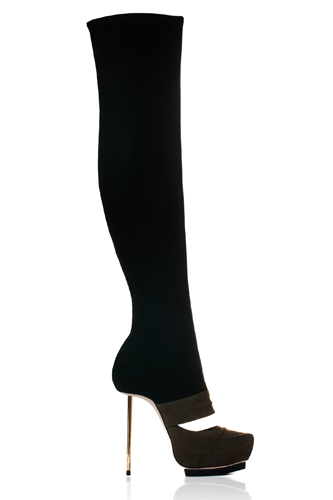 Designing for next-level, luxe shoe lovers — including those of you with fine Italian artisan requirements — expect a sophisticated color palette of sapphire, moss, and cobalt. Though we all know a collection isn't complete without a typical black and gold style, too, we're not expecting anything 'typical' about it — didn't you hear him, "pearled spear"…
Sources: Refinery 29 by By Alice Tate Photo's Richard Braqo