Rarely ever do I sit staring at the keyboard wondering what to write about. This morning those few moments of wrestling with a topic is a reality. It's not that I can't think of something to write about, but rather that I can't decide on which juicy topic I want to share. Should it be that Kim Kardashian is saying that she wants to run for office? In an unaired clip from her sisters show Khloe & Lamar she says she wants to run for Mayor of Glendale "in like five years". And the thing is… she has a chance. We scoffed at the idea of Ronald Regan bring president, Sony Bono in Carmel and even Arnold as Govenor…but we voted them in. Just the thought blows my mind… I would love to blame Ryan Seacrest for this one as he is the man responsible for Executive Producing this family circus that people can't get enough of…
But on to other more pressing topics…like beauty and fashion! If I haven't had the pleasure of meeting you, there is one thing that you might not know about me, I love cuff bracelets. In fact, I love bracelets of all varieties. I think this obsession goes back to my Madonna loving days of wearing dozens and dozens of rubber bracelets stacked and mixed with a myriad of rhinestone bangles thrown in. And perhaps it is also the most convenient piece of jewelry for a makeup artist to wear. Necklaces often fall in the faces of clients when I am bending over to do their makeup and those giant rings I love so much just aren't a safe thing to wield next to a persons eye when you are applying mascara or liner. So bracelets have become my staple piece of jewelry over the last thirty years.
And somehow they have also become the thing to wear among the formidable fashion crowd. Stacked as high as your imagination can take you, these wrist adornments are proudly displayed in Refinery 29's regular feature "Wrist Wars" Here are a few exerpts from their latest.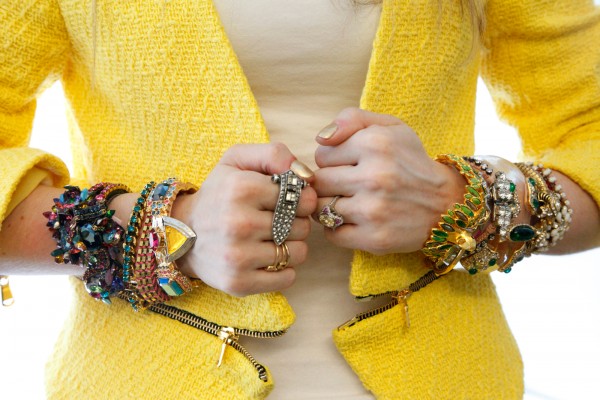 Ali Galgano, founder of Charm & Chain — "Refinery29's Wrist Wars, like all fashion conflicts, required that I assemble an ensemble of unparalleled beauty—an aesthetic ARMy, if you will. In my Charm & Chain arsenal, I always have two secret weapons of choice: a huge statement cuff and a more delicate, layering piece. These days, you'll rarely find me not wearing this multi-colored Confetti Cuff by Erickson Beamon &dmash; the kaleidoscope of jewel-toned colors goes well with both solids and prints, and is an essential for cocktail parties and weddings (I have many this summer!). My other go-to is the frieda&nellie bracelet on my wrist…I gave the designers an old friendship bracelet I had, and they reconstructed it, added vintage pieces, and gave me back a totally one-of-a-kind piece. It reminds me of my days at summer camp."
Left hand, from fingers up: Custom-made engagement ring, Alexis Bittar cuff, Giles & Brother bracelet, Braced-lets snap bracelets, Shourouk bracelet, Alexis Bittar cuff, Elizabeth Cole cuff, frieda&nellie friendship bracelet; Right hand, from fingers up: Made Her Think Ring, vintage ring, Mawi cuff, Lizzie Fortunato Jewels bracelets, DANNIJO cuff, Erickson Beamon cuff.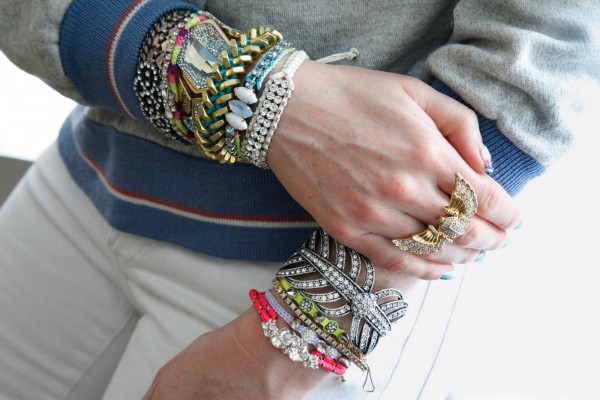 Ray Siegel, online fashion editor at LuckyMag.com — "I'm an extremist, so I either go jewelry-less or I pile on ALL of my blingy belongings at once. Ya know…to try to give Elizabeth Taylor a run for her money. I like mixing in those colorful, friendship bracelet-type ones that remind me of what I wore as kid."
On left hand, from fingers up: Noir ring, Sashi bracelet, frieda&nellie friendship bracelet, The Noise Girl bolt braceelt, Swarovski cuff, frieda&nellie friendship bracelet, Dannijo cuff; On right hand, from fingers up: Devora Libin friendship bracelets, Vintage tennis bracelet, Lulu Frost cuff.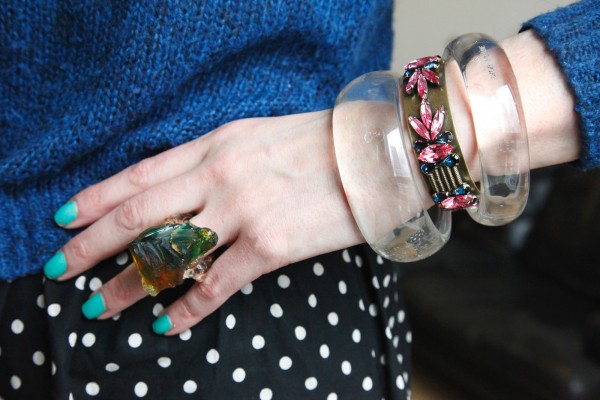 Ilirjana Alushaj, lead singer of Apache Beat, founder of Pop Manifesto — "My friend Jordan Askill was a designer under Hedi Slimane at Dior Homme, and these were one of the things he created. I stayed with him once in Paris and eyed them so he gave them to me as a gift. They are beautifully simple!"
From fingers up: McTega ring, Dior Homme bangle, Giles & Brother brass bangle, Dior Homme bangle.
You can check out the entire story here at Refinery29
Sources: US Weekly, Refinery 29