Add a bit of sparkle and brilliance this holiday season with bespoke fine jewelry by Meredith Young Jewelry.
The namesake jewelry designer fell in love with the natural beauty of minerals and the lapidary arts when visiting her grandparents' home in Green Valley, Arizona while growing up. Her devoted interest led her to take various art and metalsmithing classes in school, ultimately applying her skills and expertise to create her own eponymous line of one-of-a-kind fine jewelry that are works of art in and of their own.
Ahead are some favorite pieces from Meredith Young Jewelry that will light up the season and provide memories to last.
The Over the Knuckle ring from the Evil Eye Collection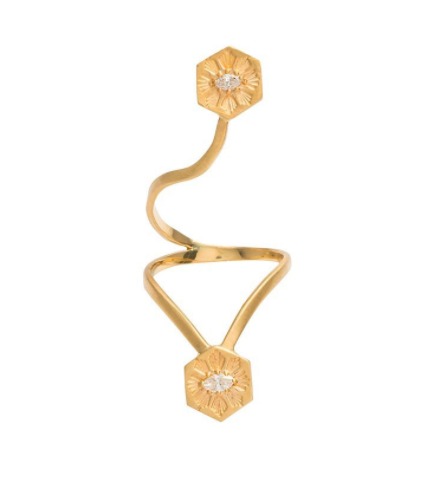 The Evil Eye Collection features round white diamonds inside the shape of the eye with rays of light behind signifying the evil eye tradition. The collection serves as a historical talisman and draws upon a myriad of cultures, which believe that wearing an evil eye protects the wearer from bad luck, injury or misfortune. 18k yellow over-the-knuckle ring with .14 carats of white marquise diamonds. $1,353.
The Atlas Bolo Bracelet is rose gold and from the Atlas Collection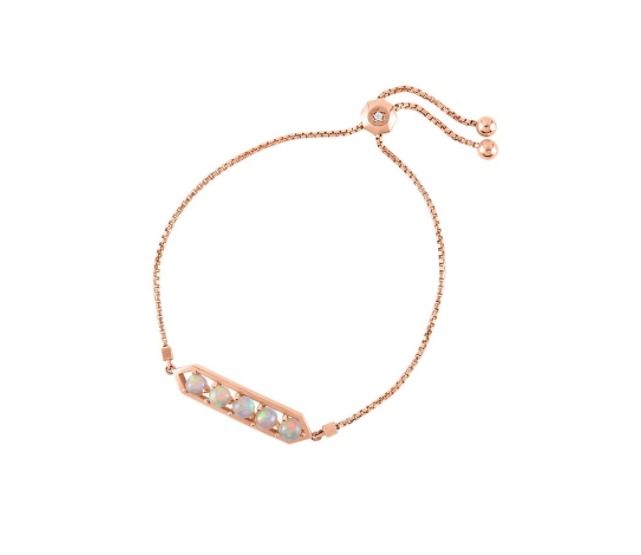 The Atlas Collection features spheres of quartz, moonstone and Ethiopian opals. White and rare mixes of diamonds cover the three prongs that hold and protect the spheres. The fragility of the earth is symbolized in the globes. Here culture supports nature; the two enhance one another. Fragile sensibilities are juxtaposed with old world craftsmanship. 14K rose gold bracelet with Welo opals: $1,744.
White Gold Controlled Chaos Ring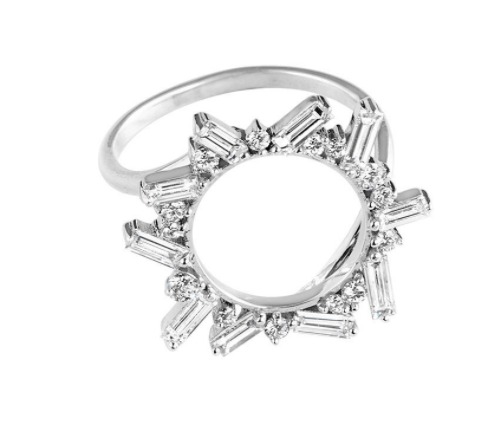 As the oxymoron suggests, the Controlled Chaos Collection plays stability off instability. Different sized baguettes and rounds are used in arrangements that can be grasped in a single glance. For example, these forms come together in a single plane like a circle, faceted stone or organic geode shape. This kind of visual grounding allows the layout to stabilize only a moment before the composition of diamonds complicates the idea of a pattern. Often times, the diamonds only move partially around another material or shape to imply a type of destabilized order in progress. Like the chaos theory, Meredith sought to create an aesthetic system that hinted at order even if it was just a whisper. 18k white gold ring with white baguettes and round diamonds: $4,543. 
18k yellow gold pendant of white baguettes and round diamonds suspended on a double chain. Total weight is 1.07 carats. Pendant measures 7/8″: $5,143.