French designer Jean Paul Gaultier revealed to the press that the theme of his Spring Couture show in Paris was "punk cancan" leaving eyebrows a tad raised but as always the real deal was far more entertaining than the imagined.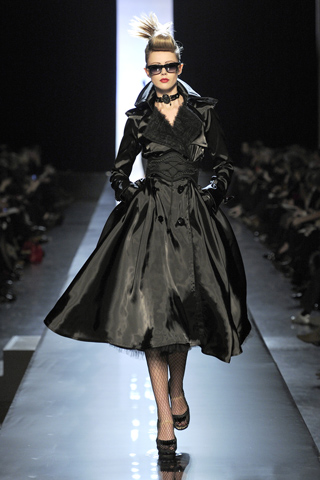 Safety pins, fishnets, Mohawks and punk music are nothing new for JPG but after his recent split from Hermes' the idea of a punk theme had editors and spectators wondering if the master of rebellion was going to rehash all his old habits. The answer delightfully… yes and no…. Of course we aren't talking about those tattoo sleeved shirts or clingy little mesh skirts that are sold in better departments stores, we are talking about the couture frocks that Gaultier is famous for. Of course we remember the Madonna cone bra's and even the bondage semi bare breasted Madonna on the runway soon after her famous sex book flew off the shelves or what about the mind blowing costuming in The Sixth Sense. I don't know about you, but I find something new to look at every time I see it.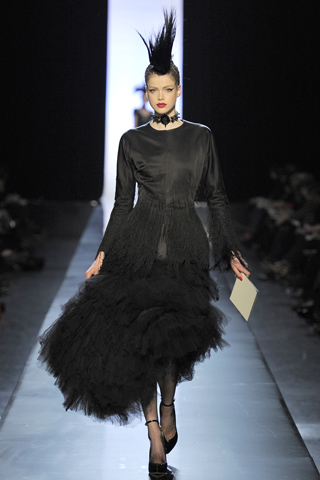 A surprising touch in this show was the voiceover narration of looks by Catherine Deneuve in French the same way an original couture show by the designers on Rue Cambon did it back in the day.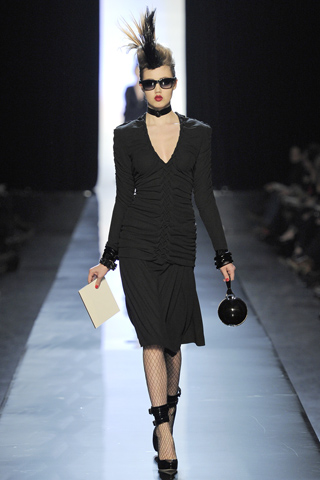 Anarchy in the U.K. this season meant plenty of tulle, crepe sheaths, silk skirts, cropped bomber jackets adorned with plenty of punk like accessories. It's no secret that Gaultier is a master at tailoring and even with pins, studs, crazy hair and bright burst of color the curve accentuating silhouettes are unmistakable. The corseted bodices, ruched dresses, skirting, tartan details and straightjacket like dresses are so incredibly French and feminine that it's hard to deny that Jean Paul is on a roll. The evening- wear from tuxedo dressing to grand mermaid style gowns was at times embellished with the cliché' punk bits but for the most part the glamour was revealed en mass and oh so chic.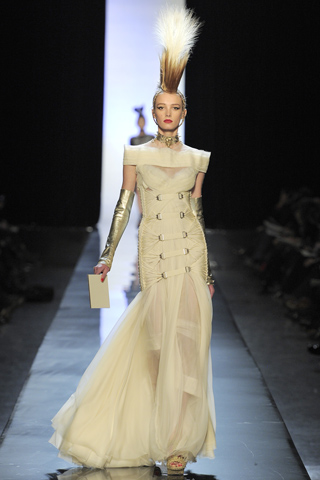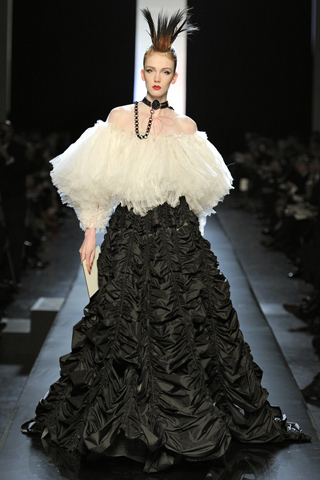 And just when everyone thought that maybe Gaultier took his chic to a semi -serious level, he paraded androgynous Andrej Pejic in a bondage like bridal look… and as the show wound down the usual camp was not absent, but rather done with a touch of sophistication. For the finale a spirited and entrancing Crazy Horse dancer named Psykko Tico cancan-ed her way down the runway, flashing her knickers and a gap-toothed grin all the way….priceless!