Okay, so I admit I had something completely different planned for todays post. I was going to finish sharing with you a few great summer makeup bargains but, after a lovely evening of nibbles and cocktails at Olive & Ivy with FGI we all attended the most anticipated movie in the hearts of fashionista's from coast to coast. Sex and The City 2. It was just as promised a fun girls romp from NYC to Abu Dhabi. As always the fabulous one-liners and fashions did not disappoint. Our theater was even complete with a few drag- fans decked out as characters from the movie. The "Carrie" completely nailed the white Halston dress so closely I almost thought it was the real deal… the wig however not so great.

So on that note, can I just call attention to those amazing gold glittered Louboutins on Carrie in the opening scene with the Halston Heritage dress…. Meow! But I think mama may need to start a special shoe fund just for the heels in this movie. I also loved the Halston Heritage pleated flowing dresses that Carrie wore through much of the movie…one in blue, one in orange, Ms Parker does Halston proud I must say.
In fact all four ladies looked smashing in the opening scenes. I have to give it up for Kim Catrall who looks just as spectacular in her 50's as she did in her 40's when the show first started. I for one am gaga over the fact that this movie is even in existence with four women over forty at the helm! We have to give huge proprs to Michael Patrick King and SJP for that. I can't think of any other movie that bridges the age gap… twenty-something, forty-somethings and sixty-somethings alike swoon over these women and their wardrobes!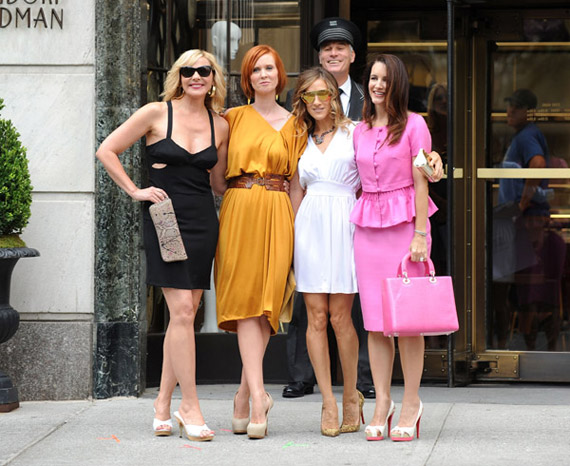 Miranda's character had some surprisingly feminine outfits for this flick. I loved the Hermes white dress with the jacket when she and Carrie were at the market in Abu Dhabi. And though Carries outfit was totally unwearable for everyday life I have to admit, I dug it!
Without giving too much away, I thought the dress Miranda wore for the wedding was absolutely gorgeous and sexy as was Charlottes.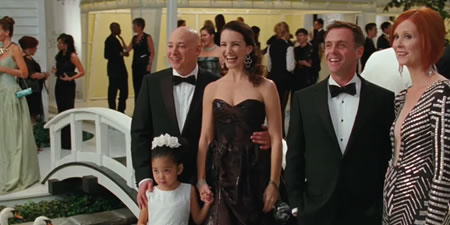 And Samantha's jewel encrusted number really did look amazing on her… So if you haven't already made your way to the theater to catch this magic carpet ride, take a little time this holiday weekend and get "Carried away"…I know, I am sorry, I hate that cliché' too but I couldn't help myself.