I cannot believe that Valentine's Day is just around the corner. In college and beyond there was a bit of a joke between my friends and I when we did not have a significant other, we would always say we are celebrating Arizona Statehood Day. Because Valentine's Day and the day our fine little valley became a state was one in the same.
So this year whether you are celebrating with your main squeeze, or you decide to celebrate the official birthday of Arizona why not indulge in a little treat for yourself…. A box full of chocolate and some divine lingerie perhaps?
The chocolate part is easy and I have the lingerie part covered thanks to Who What Wear.com These ladies have gathered some of the sexiest and prettiest lingerie I have seen lately…. Of course after my education on bra fitting recently, bear in mind that lingerie with little or no support should only be worn for special occasions not everyday…trust me your girls will thank me later!
Edited from WWW.com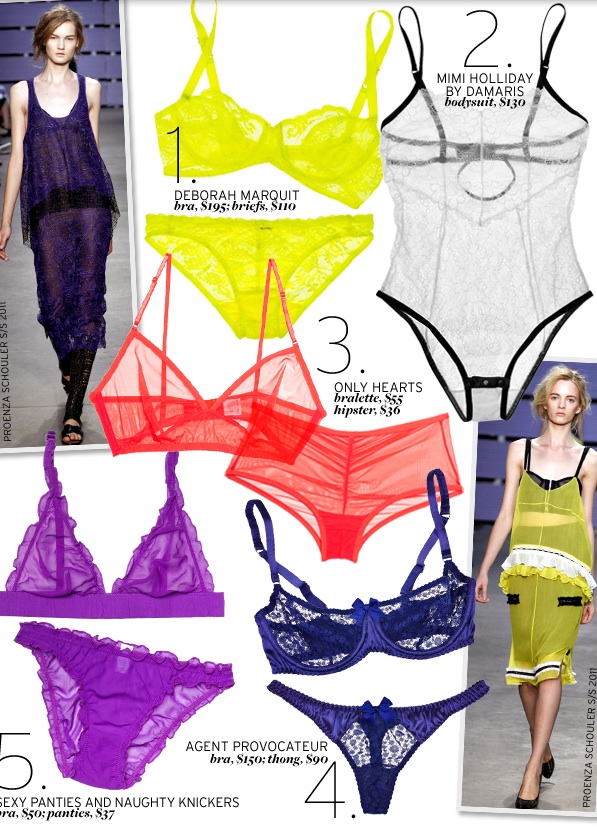 1.Deborah Marquit French Lace Balconette Bra ($195) and Briefs ($110) in Fluorescent Yellow _ Deborah Marquit's highlighter-yellow pieces elicited many squeals from the offices of WWW. And with good reason: there's something so lovely about the contrast of the classic French lace balconette bra and matching pair of briefs with such a shockingly modern color. This is also a great set to let peek out of your Spring floral and stripe blouses and dresses
2. Mimi Holliday by Damaris Piece de Resistance Lace Bodysuit ($130) _What our next piece lacks in color, it more than makes up for in stunning style. This white lace bodysuit is gorgeously sheer with the contrasting black velvet trim. Worn underneath a silky blouse, this bodysuit is the sort of foundation piece that will make you feel elegant all day—or night—long. Need something with a little more support or just want a bra-and-panty version of this bodysuit? Try the Piece de Resistance Lace Underwire Bra ($85), which goes up to an E cup, and the matching Lace Tanga Briefs ($55).
3. Only Hearts Whisper Bralette ($55) and Whisper Ruched Hipster ($36) in Real Coral While we love this warm and flattering tone on everything from lipstick to party dresses, it's particularly magical on lingerie. Only Hearts' amazing Whisper Bralette and Ruched Hipster are a testament to how pretty and powerful spring's must-have hue can be, especially on such refreshingly understated designs. Additionally, you should check out American Apparel's Micro-Mesh Triangle Bra ($14) in Scarlet and the Micro-Mesh Low Slung Panty ($11) in the same hue. _
4. Agent Provocateur Roxie Leopard-Effect Lace Underwired Bra ($150) and Lace Thong ($90)_As one of our favorite purveyors of fancy-yet-kinky lingerie, we often associate Agent Provocateur with elaborate garter belts and ridiculously luxe pasties. And while the British brand definitely knows how to do naughty in a high-class way, they've also designed a beautiful cobalt blue bra for spring, complete with matching underwear. The sheer lace has a subtle leopard print that's just a little risque, while the vibrant hue makes it totally au courant. Editors will tell you it's worth the splurge even if only to make you feel like a Bombshell
5. Sexy Panties and Naughty Knickers Flirt Soft Bra ($50) and Flirt Knickers ($37) in Purple _For those who love lingerie that offers a blend of femininity and strong form, definitely check out the Flirt Soft Bra and Knickers from Sexy Panties and Naughty Knickers. Available in the stunning purple shown above, as well as fluro pink and black, the look is streamlined but supportive.