Guest post by Alison Goodman, marketing director Scottsdale Quarter
I don't know about you, but when it comes to fashion, I have complete European Envy, which of course originates with the ladies of France. French style can be summed up in two words: effortless chic.
H & M – Black Camisole and Deep Purple Skirt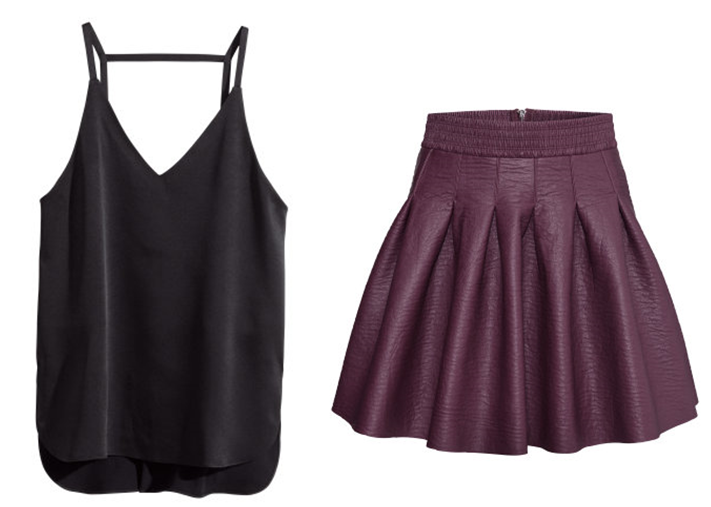 A black silk camisole, like this one from H & M, may quite literally be the perfect topper: it can be paired with matte black tuxedo pants, a short flirty skirt (this one's also from H & M) and dark denim. Wear it under a black blazer, fur vest or moto jacket for winter. It's a go-to staple in any Parisian's wardrobe.
Express – D'Orsay Gray Flats

French women wouldn't dream of being uncomfortable, but that doesn't mean they'll sacrifice style. A pair of flat, pointed-toe D'Orsay flats from Express are the perfect shoes for walking all over town… not to mention, they'll go with everything in your closet, from a mini LBD to slim jeans and a white button down.
Calypso – White Linen Shirt

Speaking of white button downs, this is another staple that every woman should have in her wardrobe. Dress it up by tucking it into a black pencil skirt or dress it down by half-tucking it into a pair of track pants. CALYPSO St. Barth has one of my favorite styles.
Dr. Martens – Fold-over Combat Boots and Planet Blue – Cigarette Pants

Another style staple for the French? Fold-over combat boots, like the ones from Dr. Martens. Create an edgy look by pairing them with a floral sundress in the warmer months, but be sure to keep them on hand for cooler temps. My go-to look is to pair these with black leggings, like the ones from Planet Blue, and an oversized sweater.
Sepora – Nars Lipstick in Heat Wave and Kendra Scott – Earrings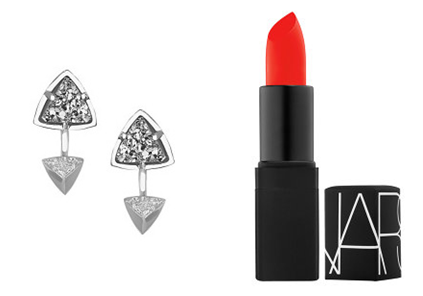 Another key to dressing like the Parisians is to keep your accessories simple, like with this silver embellished pair of studs from Kendra Scott Jewelry. The ultimate simple accessory, you ask? A bold red lip. My go-to shade of red is Nars' Heat Wave, found at Sephora.