So yesterday was my birthday. In years past I might have been a tad freaked about by the number, and maybe I would have focused on the new wrinkles forming or the list of things I didn't accomplish. But not anymore, that is the amazing thing that happens if you let it. You begin to become more comfortable in your own skin… and now I am looking towards all of the amazing things that I want to do rather than the things I haven't done.
I did attend an amazing women's networking event yesterday, not just the "I am pushing my card at you" kind of event but a room full of women that really share and are interested in building up one another. At the event I met an impressive woman who is just shy of turning 50. Earlier this year she packed up and moved here to our fine state. No friends and no family in sight. She was just ready for an adventure. To me that takes a certain amount of courage… very few women I know in her circumstance would have done the same. And to me that is what having birthdays is all about… looking ahead and creating adventure to come.
Obviously, I know you didn't stop by here to read about my birthday… so how about a little fashion business? Can you imagine anything more lovely than a shoe museum? If you can't then the Museum at FIT in New York will be the place to be between February 8 and April 13, 2013.
Apparently shoes have kicked designer handbags to the curb as the "it" accessories to own. I hold Sex and the City fabulously responsible… before that show, women were perfectly fine with regular old heels…and once we became shoe obsessed shoe designers rose to the occasion.
From WWD details about the show.
"Shoe Obsession" will feature about 150 contemporary styles, highlighting extreme and imaginative looks that have helped catapult footwear into the fashion spotlight. These items come from established designers, fashion houses and newer names.
Included in the exhibition are silver rhinestone-studded shoes by Manolo Blahnik and Christian Louboutin's spiked Pigalle pumps from his fall '12 line, as well as a fall '12 feathered pump from the limited-edition Rendez-Vous collection by Roger Vivier's artistic director, Bruno Frisoni. Additional looks are by Nicholas Kirkwood, Alexandre Birman, Alessandra Lanvin, Charlotte Olympia Dellal and others.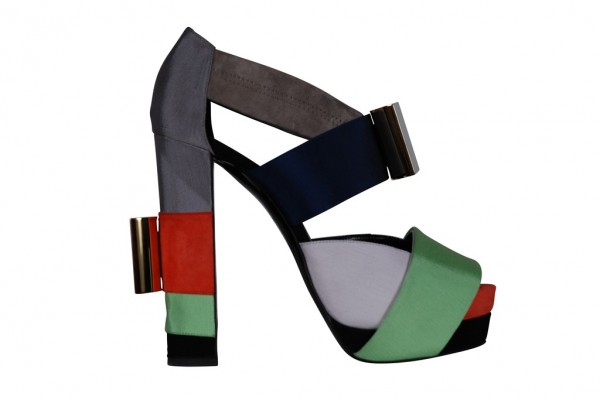 The show also has a celebrity angle, with a pair of 18-inch Lady Pointe shoes by Japanese designer Noritaka Tatehana that were worn by Lady Gaga in a television performance.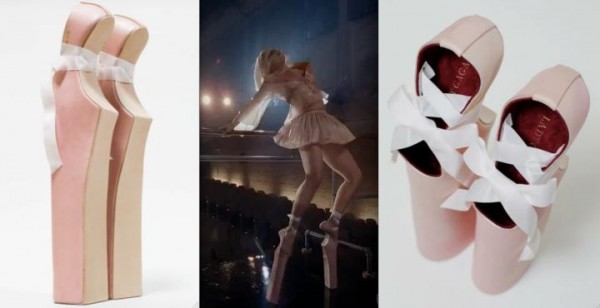 On the flip side, the curators have featured shoes from everyday women with extensive personal collections, including jewelry designer Lynn Ban who owns 20 pairs of heels by Azzedine Alaïa.
The exhibition will be accompanied by a book titled "Shoe Obsession." Royalties will benefit the school.
Admission to the show is free and open to the public.
Sources: WWD and FitNYC
Photos: FIT