So far this season I have missed out on at least two party opportunities to wear my Lanvin for H&M dress. Normally with my small wardrobe I rarely have pieces hanging in the closet with tags still on them like some people I know…. A phenomenon that I don't really understand. So, if you see me one day soon sipping a Starbucks while wearing a killer eggplant colored dress…you will know why. Even though I have probably never been called a clothes horse, this year it seems that deals are bigger and better than ever before, which of course make me want to stock up on all these amazing finds.
It's no secret that I am a longtime lover of Net- a- Porter and La Garconne so when I see these babies roll out anything remotely interesting I am there… cybernetically speaking of course.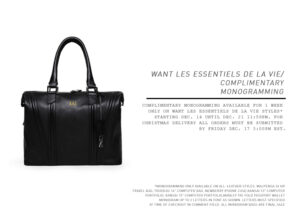 This week La Garconne is having an amazing promotion for anyone that loves a personalized gift… or as luck may have it…a gift to self! They will provide complimentary monogramming on Want Les Essential De La Vie bags and leather goods. Some restrictions apply (like two initials only etc) the sale is good for one week only from December 14- December 21. But if you want your perfectly personalized gift delivered before Christmas you must order by December 17. So ladies, if you have always dreamed of owning a monogrammed bag a la' Jackie O this is the email, memo or big hint to give to your guy for the holidays. Plus the bags are so classic yet cool that you will want to use them for decades to come. Lagarconne.com
And of course in the grand Breakfast at Tiffany's tradition a monogrammed piece of jewelry is far to hard to resist… why even Holly Golightly adored her monogrammed phone dialer. And as a recent recipient of a robin's egg blue box with a white ribbon I can say that Tiffany's carries a clout and nostalgia that is not soon forgotten. So for $100 mere bucks or less you can snag a Tiffany's mini double heart pendant, or a keyhole heart that's so delectable and charming the giftee will never want to take it off.
Or this tiffany & Company interlocking ring for only $200. A pretty and impressive gift that will delight the senses… especially when the recipient sees the little Tiffany's box!

Both are available at Tiffany & Co stores or online at tiffany.com .